The skateboarding scene in the Arab world is spreading far and wide. Now, dedicated skaters are close to building Jordan's first crowdfunded skatepark for refugees and local communities.
Arriving in the country at the start of the millennium, skateboarding began to thrive in the fringes; only a handful of regulars shred the streets of central Amman these days.
Yet the 7Hills project, which aims to help "under-served refugee youth in Jordan," has resonated with skating enthusiasts all over the world. The campaign has just surpassed its initial fundraising target of $18,500 on Indiegogo and is now well on its way to becoming a skateboarding success story.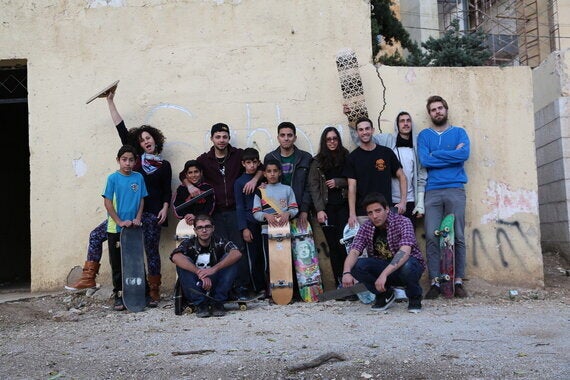 The initiative was first put in motion by a tight knit team of veteran skaters living in the Jordanian capital; they include Arne Hillerns, head of German nonprofit Make Life Skate Life, Mohammed Zakaria, pioneering creator of "Arabia's first skateboard company" Philadelphia Skateboards, Kali Rubaii, who runs ISLAH, an international non-profit, and Jon Chaconas, an engineer and skatepark builder.
"The size of the skateboarding community here has been pretty stagnant for some years," says Chaconas. "7Hills will hopefully get it growing again."
While the team had initially planned to seek out corporate sponsors to fund the park, Chaconas explains that they opted to take a grassroots approach and crowdfund the project instead. "It seemed doable, so we went all in on it, and it worked! The park will be community-funded, community-built, and community-owned," he adds.
The 7Hills campaign has also partnered with NGOs such as the Collateral Repair Project (CRP) and ACTED, in order to establish free skateboarding lessons for Iraqi refugees as well as displaced young Syrians living in Zaatari, Jordan's largest refugee camp. As of November 2014, official statistics put the number of refugees in the camp at nearly 82,000, with more than half aged under 18.
"The park will allow these kids the opportunity to interact with and befriend others their age living in Amman," Chaconas says. "We want to eliminate any economic barriers to skateboarding so that even the poorest local residents can learn to skate."
Volunteers from Europe and the US will arrive in the country next week to kick off construction of the park, which could also feature a renovated skatehouse if extra funds are raised.
This community centre will not only serve as a social space for new skaters, but store loaner skateboards and provide protective equipment free to use. Chaconas explains that these are vital steps to ensure youngsters of all backgrounds in Jordan will be able to take part.
"The skate-house will also increase skateboarding's long term sustainability in Jordan," says Chaconas. "And those who show true dedication will be allowed to keep the boards as their own."
But how difficult was it to receive permission from authorities to build the park? "It turned out to be surprisingly easy," Chaconas recounts. "We were able to get a meeting with city councilman Hussein Alharasis and immediately had him on board once we explained that we were doing this purely out of a love of skateboarding and not for profit. He pitched the idea to the mayor of Amman, who gave us the official go-ahead."
It's clear to see that the 7Hills team view skating as more than just a hobby, and stay firm in the hope that aspects of the sport will benefit young refugees in particular. "Skateboarding is something special. Since it is not a team sport, progression comes totally from within one's self, which builds a unique type of self-confidence," says Chaconas. "Many skateboarders I have met will say that skateboarding saved their life, and I know that 10 years down the line people will be saying that in Jordan."
The 7Hills funding page remains active online, and the skatepark is set to open to the public by the third week of December. You can follow their progress on Facebook and Twitter.
Image credit: Jessica Q. Chen