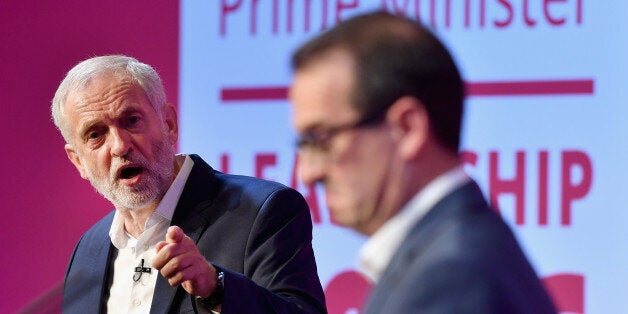 As you may have noticed, Ed Miliband is still MP for Doncaster North. He won with a majority over 10,000 in May 2015 - six months after a sensational constituency poll by Lord Ashcroft suggested he could lose the seat.
Race was startled by last week's poll for the Times pointing to a Jeremy Corbyn landslide bigger than last year's. This contrasted with a projection he had produced for Saving Labour supporters showing Owen Smith with a narrow lead.
What particularly surprised Race was YouGov's findings that Corbyn was ahead among trade union affiliates by 62% to 38% and among those who had paid £25 to become registered supporters by an extraordinary 74% to 26%.
How could this be right, pondered Race, when Saving Labour had recruited 120,000 new anti-Corbyn voters in these categories? The new recruits had been digitally tracked from Saving Labour to the Labour party website. At that end party officials could see where new recruits had come from. Party sources confirmed to Race that Saving Labour were comfortably ahead.
As a veteran of 30 years of polling experience he concluded there was something wrong with YouGov's methodology. He contacted YouGov with detailed questions about how they had constructed their panel.
He acknowledges that "YouGov is highly professional and has a good track record in polling the general public and in previous Labour elections." He expresses sympathy with them in the uniquely difficult task of polling the complexities of the Labour selectorate
He stresses that "unlike in public elections pollsters do not have access to the Labour party's lists of members and supporters, and can therefore not construct an accurate sample."
For their part YouGov say their result is robust but "obviously, polling of this nature is incredibly complex and any poll is just a snapshot of opinion at that time. Each poll comes with a margin of error and there is far more room for error with research of this type."
Race's contention is that because YouGov has no direct access to the 120,000 new voters they failed to capture a highly significant in the selectorate. "They simply do not know who these voters are", he says. "They are very different in composition and political views from previous groups that have been polled. The electorate has been significantly changed."
A key fact that emerged during his discussions with YouGov was that just 50 of the respondents in the Times poll had joined the YouGov panel since the referendum on June 23rd. "This is precisely the period in which Saving Labour was active", says Race. We recruited 120,000 people in a brief period in July and early August. Almost all of these would NOT have been on YOUGOV's panel. It seems certain therefore that their panel of registered supporters is highly unrepresentative."
The crucial point about registered supporters is that those who paid £3 to vote in 2015 lost their right to vote unless they had become full members or paid £25 to re-register in a narrow window between 18th and 20th July.
It emerged that YouGov revised their methodology following the publications of the Saving Labour projection of the result. Race says, however, "we believe they action they took made their problem worse not better."
What YouGov did was to identify people in their existing panel who said that they had been registered supporters last year and who had been Party members in the group struck off by the Appeal Court decision and added them to the registered supporter group. But these two groups are known to be heavily pro-Corbyn. The effect says Race, was that YouGov "compounded their sampling problem rather than solving it." He reaffirms his view that "The election is too close to call."
In 2015 pollsters, including YouGov called the General Election wrong. At 10pm on May 5th the broadcasters delivered a huge shock to Ed Miliband --and the rest of us. If Reg Race is right, Jeremy Corbyn is destined to get a similar shock at around 10am on September 24th.
Don Brind is a former former BBC political correspondent and Labour Press officer. He is a supporter of Saving Labour.