Are you ready for AW14? If you're not sure what to wear this season, here's my top trends to inspire you.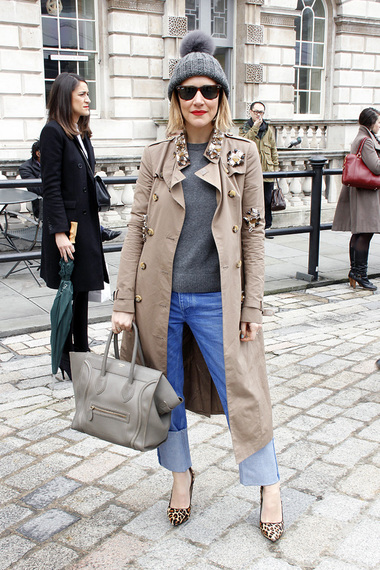 WIT's Laura Fantacci at LFW
Zips
Exposed zips are having a high fashion moment as seen on the catwalks of Dior, Stella McCartney and Alexander Wang for Balenciaga. In the denim world they have moved from being simple ankle zips to instead add detail on the pockets and thighs. They give a strong, directional look following the biker inspired trend. Take a look at how cool fashionista Kinvara Balfour looks with her Paige Edgemont jeans teamed with a statement knit or a wardrobe staple leather jacket.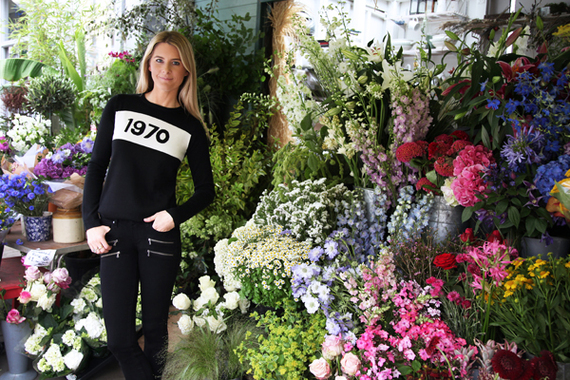 Leopard print
Leopard print is a perma-trend, as seen at the shows of Givenchy and Chloe, and deserves a place in the modern wardrobe. This look is timeless so consider a piece from La Prestic Ouiston, a French brand which I love as it uses vintage inspired prints mixed together. For all out leopard, go retro with the beautiful silk twill Dehors Silk Trench or the Classic Panther Shirt. Team with white skinnies like Kinvara below for a chic look.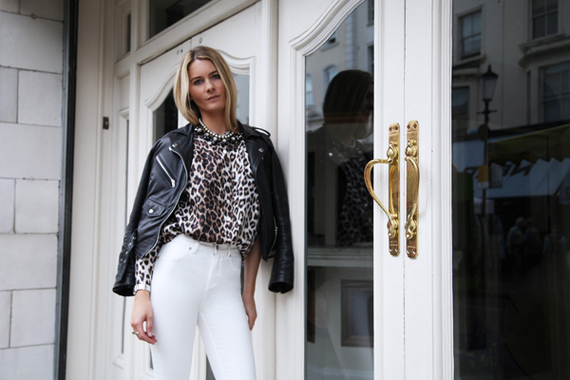 Oversize/outsized knits
Oversize is gathering pace with slouchy sweaters and long chunky cardigans taking to the catwalks of The Row, Peter Pilotto and Prada. Think block colour, think pastels, think prints, anything goes. Leon & Harper have a beautiful standout piece with a Bohemian inspired piece mixing leopard print and autumnal colours for an easy throw-on to wear over jeans and a tee. For super luxe knits try a cashmere style like the girls pictured from blog WeAreTwinset are wearing, Philippa Bloom and Sarah Tankel Ellis have team their slouchy knits with cool boyfriend jeans.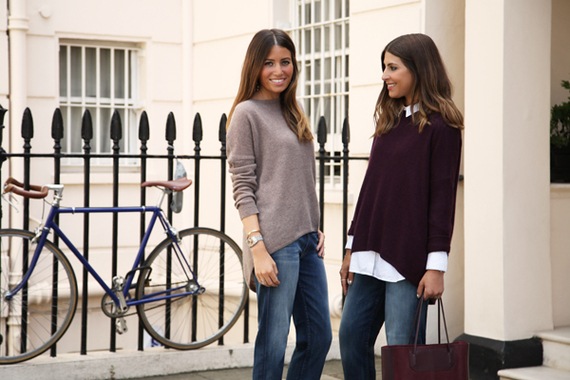 Monochrome
Monochrome can be versatile as seen on Celine, DKNY, Louis Vuitton and Bottega Veneta but this season either go chic or go sporty. Bella Freud specialises in fine knits with slogan designs as worn by Kate Moss and Alexa Chung, these are delicate pieces with phrases like 'Ginsberg is God' and simply '1970' on them. For sports luxe Aiko's collection is cool and edgy from graphic tees to their oversize sweaters. The phrases are clever and irreverent with 'Sayonara Paris' and 'Aurevoir Tokyo' perfect for a girl on the go. Or go classic with black jeans, crisp white shirt and black jacket as worn by my good friend Maria Hatzistefanis founder of Rodial.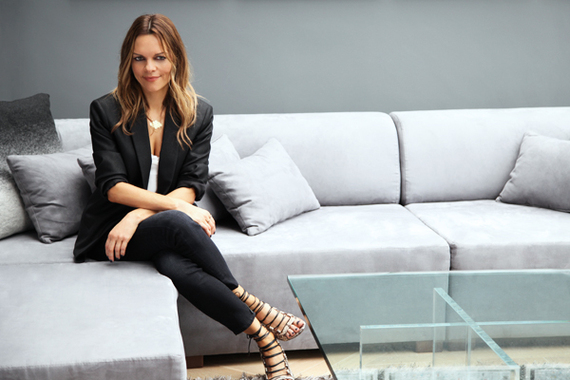 Grey
Grey was everywhere at the AW14 shows, notably Derek Lam, Emilia Wickstead, Valentino and Micheal Kors. It continues to be a understated, elegant alternative to all black, adding a slightly softer side to your look. For tops, slouchy slogan jumpers from Wildfox are soft and cosy whereas Eleven Paris offer graphic tees with art inspired prints. If you're looking for the jeans in the perfect shade of grey, try high-waisted IDA Rizzo in Foggy London as worn by WeAreTwinset blogger Philippa Bloom.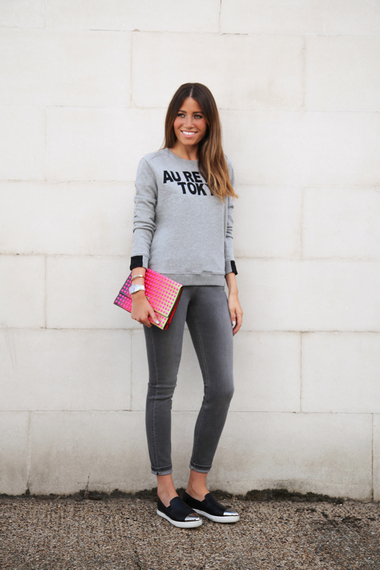 Art
Art is providing light relief this season with fun, bright colours and prints adding to basic shapes this season as seen on the catwalks of Matthew Williamson, Dries Van Noten. London-based designer Simeon Farrar adds neon coloured paint to his pieces overlaying it with the ditsy print floral sweater. A tweet I sent about my glittery Miu Miu sandals having a neon sole inspired his grey jumper with 'My glitter neon soul' written on it surrounded by a pink heart. How cool does this look worn by the queen of vintage style Carmen Haid with leggings and trainers. For a nod to the 80s try a neon rainbow black long sleeved top with a unicorn emblazoned on the front to embrace the trend.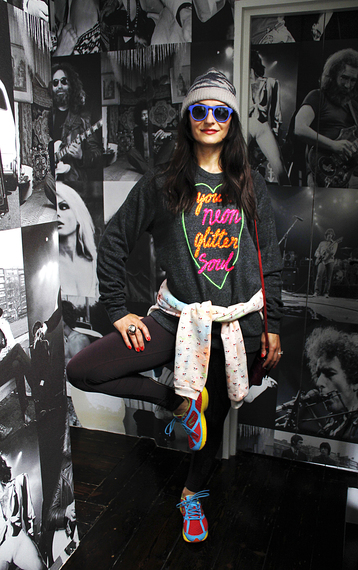 Metallic
Metallic is softer and more subtle this season, edging into your day-to-day wardrobe as seen at Marc Jacobs, Christian Dior and Mary Katrantzou. For AW14 you'll notice plenty of metallic thread, glitter and sequins adorning tops and knits. Mauro Grifoni is an Italian brand with metallic detailing in their slouchy long sleeved Lucemax Knit and matching hat for Winter. I love how fashion and beauty editor Lisa Haynes wears hers with a statement necklace and printed jeans - fabulous!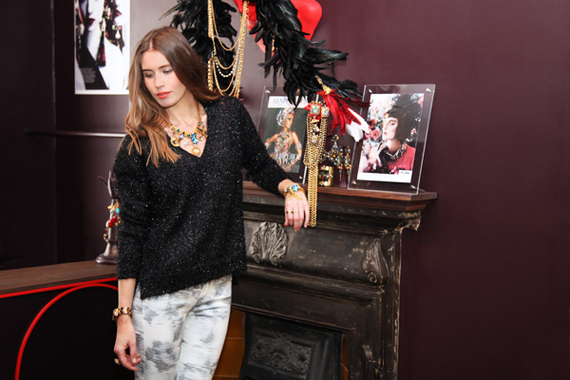 Oversize trousers/ Boyfriends
Although the skinny jeans still reign supreme, boyfriend jeans are continuing to be a contender for the crown. I wear mine high-waisted in a dark indigo turned up at the ankle in the style of Marilyn Monroe, she was the inspiration for my IDA Bobby Dazzler Jeans in Fifties Monroe. I also love the loose boyfriend jeans from Current/Elliott or Frame Denim to wear with heels like the queen of shoes her self Natalia Barbieri of Bionda Castana. Wear them rolled up or cut the hems off to wear loose and frayed at the bottom. If you love the shape but like a print, try printed pyjama style loose trousers and team print on print for a high fashion look.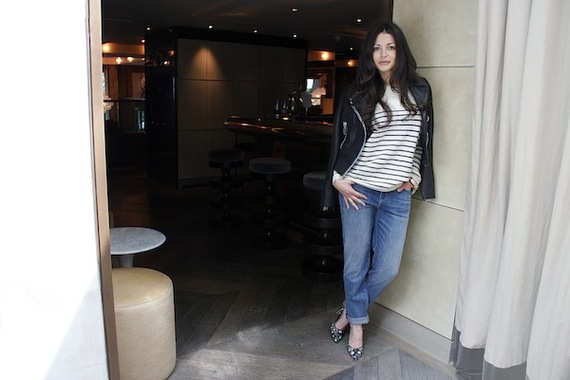 Tweet me with your new season suggestions and any denim dilemmas!