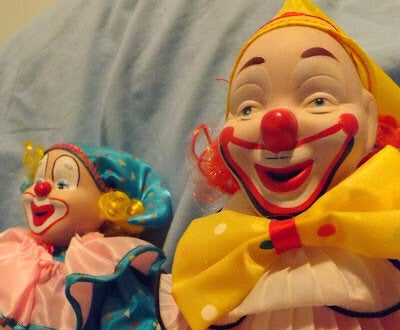 Every day is something day, but forget clown day, because clowns have an entire week, from Aug 1 - 7 every year. It was even written into American law by President Nixon. To celebrate, here are 15 facts about funny men!
1 - The word clown is believed to come from the Icelandic word klunni, meaning a clumsy person.
2 - The earliest record of the word clown dates from around 1560.
3 - Clowns are nicknamed Joeys after the early 19th century pantomime star Joseph Grimaldi.
4- Grimaldi was the first panto clown to wear white face make-up instead of a mask.
5 - The full name of Krusty the Clown in The Simpsons is Herschel Shmoikel Pinchas Yercham Krustosky. He's voiced by Dan Castellaneta.
7 - Traditional clowning centres on the relationship between the 'whiteface' (the straight man) and the 'auguste' (foolish or mischievous clown).
8 - All straight man/funny man comedy double acts, such as Laurel and Hardy, are derived from circus clowning.
9 - The first circus clown was called Mr Merryman.
10 - Coulrophobia describes the fear of clowns.
12 - The first killer clown in fiction appeared in the 1892 Italian opera Pagliacci.
13 - Johnny Burnette had a hit with Clown Shoes, written by PJ Proby.
14 - Ronald McDonald was first played by Williard Scott in a 1963 TV commercial.
15 - Serial killer John Wayne Gacy was a clown known as Pogo.
This post originally appeared on the author's blog Circus Mania.
Popular in the Community