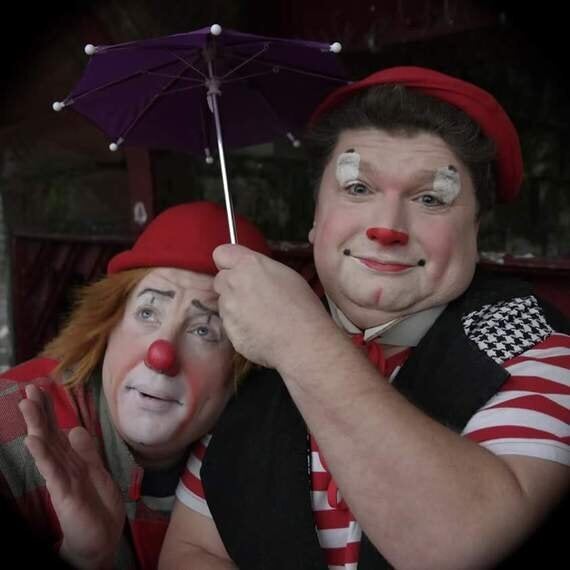 Smartii Pants and Bobbo (image: Mike Brittain)
Clowns have been in the news for all the wrong reasons lately, but Bobbo Roberts and Ian 'Smartii Pants' Williams are preparing to put the emphasis back on funny business in a new show that they say features "proper clowning in a panto-like theatre show."
The story is set behind the scenes of a traditional circus and Bobbo, who grew up in one of Britain's oldest circus families, took time out from preparing the show to tell me what's involved in starting a new show from scratch:
What is the title of your new show, and what's the storyline?
The new show is called "Trouble at the (Big) top" It features a failing circus as a backdrop where all the acts have walked out leaving only the ringmaster and a clown to put on all of the acts between them. It allows for the use of a lot of clown parody acts and gives a lot of room within the framework for a lot of proper clowning and play to involve the audience.
Who's idea was it and what was the inspiration?
Ian and I had been bemoaning the lack of proper clowning and wanted to show audiences what we loved about real clowning. I suppose the inspiration came from various sources, The Crazy Gang, Norman Wisdom and The Pickle Family Circus over in the USA certainly helped but our main focus was on breathing life into some old concepts by performing them with the audience not at them. Oh and of course mention needs to be made of the amazing work Tweedy does with his one-man show.
Will it be just the two of you or is anyone else in the cast?
At the moment the intention is to run as a two-man show/crew. We'll be tweaking the show so we can run the sound and lighting cues ourselves whilst mid act and trying to incorporate sound effects in to polish the production. Only with today's technology is this possible and we want to make a show that may be set in a simpler time but is really of its time.
What can we expect to see in the show in terms of clown routines etc?
There will be various acts represented such as juggling, strongman, magic and a parody on animal acts. Of course for the changeovers there will be various other clown bits thrown in to allow for costume changes. The framework will remain the same but every performance will be different as each audience will help shape it as they join in and come along with us. Overall it will be burlesque in the truest sense of the word, parodying whilst at the same time reverie the acts we put on.
How did you meet Ian and what made you decide to team up for this show?
We move in similar circles and realised when we chatted we had a similar passion for real clowning and the humanity in it. We ended up talking over coffee quite regularly when one day we suddenly decided talking was getting us nowhere and we started writing instead. Our good friend Simon Thompson (Clown Noir) has been touring a one-clown show for a while and really encouraged us to look deeper than the same old gags and to go into a room and play with the props till we found some truth. We went into a room and played around for a week in character and came out thinking this could actually be something good.
What are the challenges of starting a show from scratch?
Time is the major consideration, writing and rehearsing the show takes time as does building props and editing music not to mention sewing costumes and designing posters. It really is a two-man effort to get everything done. We've set ourselves a target of performing an early draft of the show as a fundraiser for a local Boys Brigade before the end of the year to give ourselves a deadline to work to.
You've started a Go Fund Me campaign to support the show. How much are you hoping to raise and what do you need to buy?
The target is £3000 but we're not only looking to raise money. We are lucky in that we have friends in the business who may have drapes and set pieces lying around. Ian used to teach sound engineering years ago but neither of us has a PA system as our backgrounds are not as party entertainers.
When are you planning to tour and what sort of venues?
We're previewing the show this November to get a feel for what works and then by next year we'll rewrite parts and start touring in the first quarter of 2017. We're looking to play intimate venues so we can maintain eye contact with the full audience. Eventually as the show grows we'll be looking to include local drama and dance schools and speciality acts in the show to give them a chance to perform.
Is there anything else you'd like to add about the show or other forthcoming appearances?
We both have jobs coming up for the Christmas season with our solo acts. Ian is working some street jobs and I have some appearances at the Britannia Panoptican music hall. We'll be appearing together again at CGUK 2017 in March and we're taking the show to Limerick fringe in April, then we'll be working at Holbaek clown festival in Denmark in August. It's a busy old year but if you have a passion for what you're doing it's worth the effort.
This interview originally appeared on Douglas McPherson's Circus Mania blog.