Celebrity hair stylist James Brown is the latest famous face to talk about the profound impact losing his hair has had on his life.
The hairdresser - whose clients have included Kate Moss, Sienna Miller and Emma Watson - first noticed his hair was starting to thin on top in his early twenties.
But it took another 20 years for him to find the confidence to seek professional help.
Now, following a successful hair transplant, Mr Brown has talked openly about the agonies he suffered losing his locks - and how he hid his bald spot for years under his trademark hat.
He admitted: 'I live [my life] going through airports, from LA to London, and I used to panic about having to go through airport security.
'It got to the point when it was so bad, I didn't want to take my hat off. Those minutes before going through security and taking my hat off, they were torture for me.'
Not everyone reacts badly to losing their hair, but for some, like Mr Brown, it can be a genuinely troubling experience.
Don't just take it from me.
A major new study has revealed that hair loss can in fact trigger serious psychological breakdown - something my colleagues and I have believed for a long time.
Furthermore, researchers found it could even lead to exaggerated feelings of ugliness and, in the worst cases, trigger body dysmorphic disorder, where sufferers experience acute anxiety about their looks.
Doctors found that the 'enormous emotional burden' of going bald could lead in some cases to low self-confidence, mental disorders and even impaired quality of life.
The study is a major, and very welcome, piece of research into the psychological impact of hair loss.
Male pattern baldness (MPB), the main cause of hair loss, affects an estimated quarter of men by the age of 30 and two-thirds by the age of 60. So it is not necessarily someone else's problem for many British men - and, indeed, some women.
Don't misunderstand me, some men are happy losing their hair. Indeed, many wear their baldness as a badge of honour, feeling it suits them or reflects their personality. Others do not.
And until now the links between hair loss and mental issues among these men and women has been mostly anecdotal - shared via patient experiences, and in discussion among my colleagues in the hair replacement community - rather than scientifically proven.
Researchers at the Charité - Universitätsmedizin Berlin - one of Europe's largest and most prestigious teaching hospitals - studied hair growth, hair disorders and changes in hair density and quality among patients.
I have previously argued that the impact of baldness has been ignored or dismissed by many in the medical establishment.
I concede, of course, that losing one's hair is not in the same category as experiencing, say, a heart attack or stroke. The affects may not be immediately life-threatening.
The new research makes clear the impact of hair loss can have equally far-reaching, and, sadly, devastating consequences.
Recent successful hair transplants on celebrities like footballer Wayne Rooney, actor James Nesbitt and X Factor judge Louis Walsh have helped make the procedures more socially acceptable.
But solid research like that from the Charité - Universitätsmedizin Berlin will help educate those who see hair loss as a purely cosmetic issue.
Men and women alike go through a series of psychological stages when their hair thins. It might be difficult to measure, but there are all sorts of side-affects of that trauma on day-to-day life.
And the researchers also found that initial natural thinning could trigger self-inflicted conditions like trichotillomania - where sufferers exacerbate hair loss by repeated twisting or pulling.
Again, these so-called 'psychotrichological' disorders might be accompanied by feelings of disfigurement, depressive and anxiety disorders including social avoidance.
Sadly hair transplants are not available on the NHS except in the most acute circumstances. And they are not cheap.
Wayne Rooney's operation, where follicles are painstakingly matched over two days to the surrounding hair for a totally natural procedure, cost in the region of £15,000 - though there are cheaper procedures in the region of £4,000.
It is thoroughly commendable that people like James Brown are willing to talk about their own hair loss and treatment in public. It lends credibility to my own experience as a surgeon and, I hope, will help others muster themselves to take action.
As Mr Brown admitted: 'I have the confidence now, it's mine, it's not going to fall out - it's my hair, it's incredible and I really wish I'd had it done it ten years ago to save me those years of hell. It's incredible.'
The good news is that treatments will become cheaper over time as the procedures advance. The results will be even better and they will become more widespread.
Until then, hair transplants should not be seen as mere vanity measures.
Hair loss can have far reaching consequences - and an underlying impact on well-being - as this important new research has shown.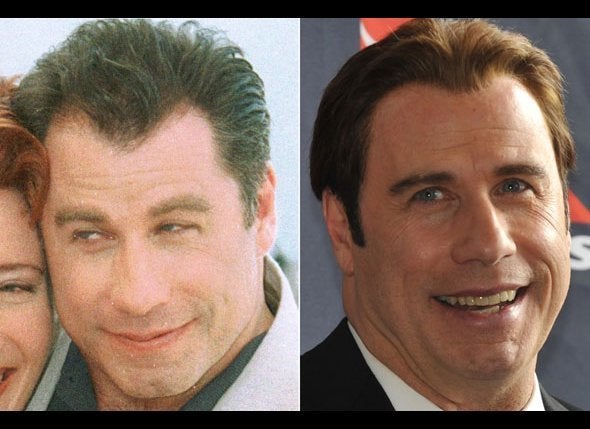 Celebrity Hair Transplants
Related