Some are calling for their abolition. Others continue paying for their services. One certainty about animal encounter companies (also known as mobile zoos - a misnomer as a zoo license is not required) is their ability to divide opinion. Even the number of companies in the UK is contested, with Captive Animals Protection Society (CAPS) estimating 160, I would suggest closer to 300.
Since starting a personal quest to find my perfect pet in 2011, I have been welcomed to the homes of many animal encounter companies. As founder of Pet Nation, I have also worked alongside companies who share my passion for animal welfare and education, to help spread my "warts and all" observations about pet ownership. I remain pet-free and the search continues, but my opinions on the profession have evolved.
Initially, the prospect of someone "bringing the zoo to you" seemed odd, but exciting. Unlike zoological gardens which have cages and distinct boundaries, mobile petting zoos allow close proximity and generally encourage handling. Raccoons, tanukis, skunks, foxes, genets, meerkats, (generally offspring of former fur farm animals and zoo stock bred for the pet trade), African pygmy hedgehogs, ferrets, parrots, pythons, iguanas, tarantulas and other unusual animals could be experienced in the comfort of my own home. The childhood menagerie in my mind, shaped by Sir David Attenborough and The Really Wild Show, could become an unlikely reality!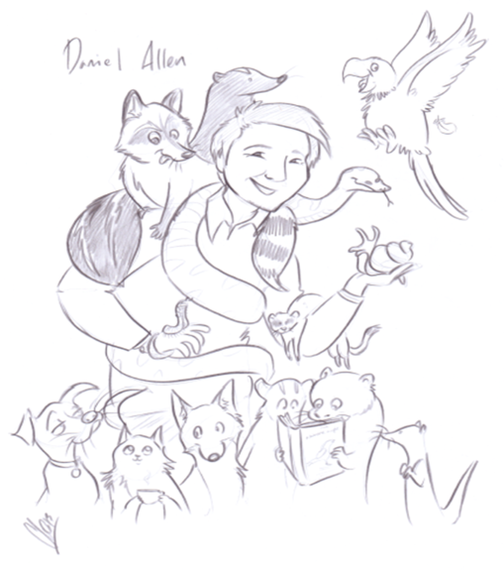 Access to the unfamiliar, a sense of privilege and convenience is of course the appeal. Personally, I like the experiences they facilitate. I like the educational message some professional proprietors share with the public. I also like learning about exotic animals at close proximity. What I dislike is the lack of regulation, and the rise of start-up companies with neither the knowledge nor experience to share such specialist animals with the public. The problem with animal encounter companies can be split broadly into two main areas: animal welfare, and, public safety.
On November 14 2013 the profession became national news when Steve Rowlands, owner of Tropical Inc, was convicted of 34 offences under the Animal Welfare Act 2006. As a speaker and animal handler, Rowlands was known for being knowledgeable, experienced and engaging. His national diplomas in Animals Care, OCR advanced certificates in Herpetology, and, regular appearances on ITV1's Alan Titchmarsh Show seemingly support this.
Yet the standard of his public encounters was not being judged, rather the private living quarters of his 70 exotic animals. A whistle-blower working with CAPS revealed that behind public performances, coatis, meerkats and other exotics were kept in dark, cramped, filthy, and in the words of the judge, "despicable" conditions. The case was indefensible. An individual had lost sight of the very reasons for his success - the animals in his care. Rowlands admitted he made mistakes, was handed a 12-month sentence suspended for two years, but not prevented from keeping or working with animals. Passing sentence Deputy District Judge Nalla Lawrence said: "He has learnt his lesson... This prosecution has prompted him to wake up."
This was certainly a wake-up call for everyone in the exotic pet trade. Of course, the investigation, exposure and toppling of a high profile encounter company was strategic. CAPS had their first feather, so to speak. It would be a mistake, however, to judge the reputation of a profession in relation to one legal case. It would also be remarkably naive to think that no other animal encounter company is concealing the same or lesser standard of care for their unusual animals. Yet this, it is important to note, is not restricted to encounter companies, or even exotic pets. RSPCA led prosecutions prove that animal cruelty and neglect is universal. In fact, in 2012 the number of convictions under the Animal Welfare Act relating to exotics was 152, compared to 635 for cats, and 2,568 for dogs. Perspective is needed to understand the CAPS campaign.
It must be acknowledged that CAPS focus on "mobile zoos" arguably conceals an agenda - a broader opposition to the exotic pet trade. Animal encounter companies are the public face of a relatively private and unconventional hobby, profession and trade. This is something the vast majority of the public know little about. The term "mobile zoo", for example, is misleading. Skunks, raccoons, coatis, meerkats, marmosets, tarantulas do not require zoo licences or a Dangerous Wild Animal licence. If desired, these animals can be picked up from a pet shop or breeder with the same ease as buying a hamster or goldfish. Many levels of reform are required.
From my experience, I would say the majority of animal encounter companies I know of, even those I would not want to be associated with, meet the Five Freedoms as interpreted by RSPCA inspectors. All, I think, would unite to condemn any company which is found not meet such welfare standards. If abolitionists are interested in animal welfare, rather than trophy prosecutions, why are they not considering the transportation conditions of exotics to and from public events, the close proximity of predator and prey animals, or the intentional pulling of babies from their mothers to help ensure such animals can be hand-reared and thus become encounter friendly?
Unique animal experiences are in demand. Children's party experiences, petting experiences, unusual photograph experiences, unusual filming experiences. Animal professionals with self-awareness soon realise most clients merely pay for the presence of unusual animals, rather than the teaching ability or knowledge of those who run encounter companies. The best in the business also excel in the latter.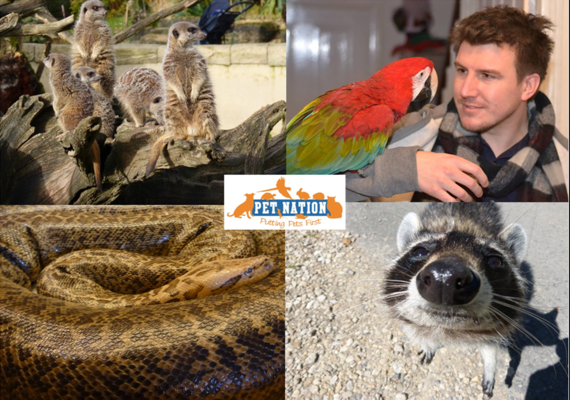 Who then are the animal men and women that facilitate such experiences? What is their background? Are they qualified? Are they safe to be around children and vulnerable people? With the profession completely unregulated, this is difficult to determine. I personally would not work with animal encounter companies without proof of:
1. A year trade experience or animal specific qualifications.
Anyone can buy exotic animals and ask for a fee to share them. Would you want just anyone allowing you to handle animals which were only recently removed from the Dangerous Wild Animals license? Raccoons and tanukis have sharp teeth and claws and like to play rough.
2. Public Liability Insurance (PLI).
Accidents happen. Those without insurance show a lack of consideration for the public who pay for their services.
3. Enhanced Disclosure and Barring Service (DBS) checked.
Individuals with a criminal record can work safely with the public. An enhanced DBS check (formerly called Criminal Record Bureau CRB checks) is required for those 'caring, training and supervising children or vulnerable adults'. If you are investing in animal experiences, make sure those facilitating such experiences in nurseries, schools, homes, hospitals, and, mental health institutions are not a danger.
4. Risk Assessment of animals in public settings
What would you do if a large boa constrictor constricted around your neck? Unlikely but possible. Companies with risk assessments should have considered every eventuality, and should have a plan of action in place. This is linked to the PLI.
5. Performing Animals License.
A remnant of circus regulation - despite its name this is not a license. It is a fee paid to the local council which registers animals used by animal encounter companies. Some councils insist on them, others are far more relaxed. Once registered, the council has grace to visit the living quarters of encounter animals. Responsible companies should insist on having this.
Cleanliness is also vital to help reduce the risk of zoonotic disease - hand sanitizers must be used between handling species. I strongly urge anyone reading this to adopt the same five form policy. Without doing so, the person bringing the zoo to you "could be" inexperienced, uninsured individuals with a criminal record, no awareness of safety requirements or what to do in an emergency, using animals unregistered by the local council.
It is certainly time for change, but what can be done? Should animal encounter companies be banned? Well. Some individuals should be dissuaded from sharing their pets with the public for a fee - misinformation is not education, nor are petting experiences. Others should not be allowed to advertise their services as "education" or "therapy" without the appropriate qualifications.
At this stage, I think a ban would be a draconian measure and totally unnecessary. The sensible move would be to establish a regulatory body, self-regulation in collaboration with independent animal professionals. Consistent codes of conduct, compulsory certification, a common consensus on which animals are suitable for travel and handling, a public database, and the ability for a transparent board to strike off companies who do not meet minimum standards. The Tropical Inc case proves the Animal Welfare Act 2006 does protect animals from mistreatment, when such mistreatment is identified. It would, however, be helpful if future punishments are more severe.
There needs to be a universal standard for all councils, whereby the Performing Animal License is a prerequisite to practice. The fee should be raised substantially to fund administrative changes and training, and be renewed on an annual basis. Annual inspections should also become the norm. Exotic pets are a privilege. In the right hands with the right rules the public can benefit from encountering them. Regulation encompassing animal welfare and public safety is key. It is now time for such reform to become a reality.