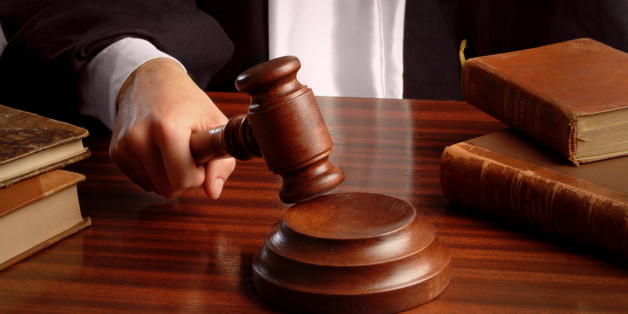 ene via Getty Images
A few months ago, a rape case that involved a teenage girl and professional football player Ched Evans took an astonishing turn when the judge ruled that it was a "rare case" in which it would be appropriate to allow "forensic examination" of the young girls sexual history, behaviour and preferences. I was infuriated that a teenage girl who had been groomed, abused and humiliated could be treated so badly by our own justice system. This week I feel as though things have just got worse.
33-year-old Fakhara Karim was the victim of a violent campaign of abuse at the hands of her now former partner, cricketer Mustafa Bashir aged 34. The court heard that he had beaten Miss Karim with a cricket bat during jealous outbursts, held her by the neck, poured bleach down her throat and forced her to take tablets while ordering her to kill herself.
She reportedly told the court how her confidence was crushed by her abusive husband who berated her for wearing westernised clothes and called her friends "English slag girls". Bashir admitted assaulting and causing actual bodily harm against his former partner. So, what's the problem?
The problem is that Judge Richard Mansell QC ruled that Bashir would not be jailed on the grounds that he was 'not convinced' Fakhara was "vulnerable" because she is "an intelligent woman with a network of friends" and has a university degree. No, that's not a typo and your eyes aren't deceiving you.
To say that a victim is 'too' intelligent suggests that the victim is somehow blameworthy which is never the case. No matter how beautiful or intelligent or sexy or loud or successful a woman is, the perpetrator is always at fault. Judge Mansell's verdict is a complete shambles.
I have said it before and I will say it again. When my ex-partner tried to murder me by putting a gun to my head, I was at the top of my game. I had reached a point with my PR companies where I was the go-to for giving voice to the voiceless; I was winning awards for making waves in marketing and diversity. Yes, I consider myself to be an intelligent woman. I also had a vast circle of friends and colleagues and a close-knit family. My greatest obstacle to freedom was my own overbearing feeling of shame. I lived a lie because I believed that if I spoke up, people who looked up to me and perceived me as a strong, capable, independent woman would see me as a fraud and as weak. I was afraid that all the things that had made me successful would be the very same reasons I might be disbelieved or misunderstood. It was after this experience that I realised that domestic abuse doesn't discriminate.
Just weeks ago many of us sat and watched Helen Bailey's murder unfold; the brilliantly intelligent and successful author murdered by her partner. Two women are being killed every single week in the U.K because of domestic abuse.
How can a victim be discriminated against by the court for not matching their obsolete idea of what a victim looks like? What kind of example is Judge Mansell setting to the perpetrators who continuously look for cracks in the system? I don't use the word discrimination lightly but it seems as though female victims are discredited for almost anything; for their sexual preferences, for their clothes choices, and now for being too clever, and all the while their abusers are being sent home smiling all the way at how flawed the system is.
It's worth noting that Judge Mansell's own wife is successful and highly intelligent barrister, Michelle Colborne QC. Does that mean she can never be the victim of a crime?
Sentencing Mr Bashir to an 18-month jail term suspended for two years, Judge Mansell ordered him to attend a workshop entitled 'building better relationships', pay £1,000 in costs and said he was banned from contacting Miss Karim. Meanwhile Miss Karim has been left with emotional and mental scarring that will likely take her years to recover from.
This case is dangerous. It implies that a perpetrator isn't actually a perpetrator if his victim is intelligent and has friends, which is so far removed from reality I can't actually believe it. All too often, domestic abuse victims fear they won't be believed because of the stigmas that exist; domestic abuse doesn't affect the well-educated, the middle class or professionals. Those of us who work in this field and beyond are constantly urging women to speak out about their abuse. We assure them it's the best possible thing to do (it is) and cases like these do nothing to encourage women to do so.
40% of our young people are already being subjected to relationship abuse and 84% of teenage girls believe that abuse is their own fault. Is it any wonder?
I had hoped that we had moved beyond these conversations enough to accept our new reality, but if our judges still need educating on something as elementary as this then it makes our jobs so much harder and it's just so unnecessary.
The abuse Miss Karim experienced was unacceptable. So was her treatment by the judicial system. Would the perpetrator of a robbery or assault be sent home with a fine if the victim was intelligent?
A victim is a victim. Believe me, when this man poured bleach down Miss Karim's throat, she was very vulnerable. For a victim to be deemed as anything but vulnerable show a complete lack of understanding on Judge Mansell's part. Surely its high time we said goodbye to the outdated and outmoded thinking that is perverting justice in modern Britain. I certainly think so.