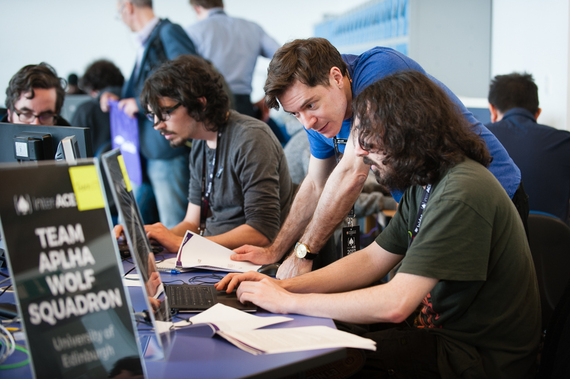 University students compete at the Inter-ACE competition. Photo courtesy of Inter-ACE
One of the biggest challenges facing businesses, political institutions and individuals is cyber security. In Germany this week, the Government has revealed that its websites are being subjected to daily assault ahead of its parliamentary elections, while GCHQ have recently warned that British elections are at threat from cyber-attack.
As well as protecting data and preventing hacks, one of the major issues surrounding cyber security is the much publicised skills gap. A recent report from cyber security professionals association (ISC)2 identified that by 2021 the shortage of skilled workers in the cyber security sector will reach 1.8 million globally. This growing void is leaving individuals, companies and the state exposed to attacks from cyber criminals and terrorists.
Companies and Government alike are developing comprehensive training programmes, designed to ensure the cyber security defenders of the future have all the tools necessary to protect us, and the businesses they work for, from cyber criminals.
However, universities across the UK have a vital role to play in equipping these cyber security professionals with the necessary skills to enter the industry. University staff must ensure that candidates are receptive to training, by providing an adequate framework of knowledge to them, instilling a solid foundation of principles and theories behind where these problems come from.
Cyber security, however, is an ever-changing industry with cyber criminals constantly finding new ways to attack and exploit vulnerabilities. In industry, training often focuses on teaching a particular skill. A university's job, instead, is to teach the ability to learn new skills. At the same time, universities need to combine theory with the development of practical skills in a real-world environment, thus allowing students to test what they've learnt and teaching them how to apply this in a realistic environment.
One way to enable students with the vision to do this is through face to face competitions. Bringing together different individuals to apply their cyber security abilities in a collaborative and competitive setting allows students to implement the skills they have been taught, while learning new ones in the process, all in a fun and inclusive environment.
This was the intention behind the Inter-ACE competition, which is backed by the National Cyber Security Centre (NCSC), Cabinet Office, Leidos and NCC Group and was held on Saturday, March 18. It was designed to give budding cyber enthusiasts a platform to test and improve their skills in a real-life simulation, meet like-minded individuals, and learn more about careers in the sector by introducing them to key players in the industry and government.
Cyber security competitions give pupils the opportunity to implement the skills and theory they have been taught at university in a realistic environment, while learning new ones in the process, which will help grow them in to the cyber defenders of the future. It also teaches them to adapt to their surroundings and think on their feet, priming students to be trained in industry and make a real impact.
The need for these type of events is being recognised across the world. For example, the winners from this year's Inter-ACE competition will now be guaranteed a place in the annual Cambridge2Cambridge (C2C) cyber competition later in the summer, which is jointly organised by the University of Cambridge and the Massachusetts Institute of Technology (MIT) Boston, US.
This time, the teams competing at C2C will be mixed to include cyber defenders from the best universities from across the UK and US, who will come together to learn best practice in cyber security and demonstrate their ability to become future cyber defenders.
Universities from across both sides of Atlantic have realised the importance of giving the most talented students a platform to test their skills and knowledge. We will only see staff entering the industry with the right skill set if they are given the platform to put theory into practice in real-life simulations. After all, the bad guys are organised, so we have to be too.