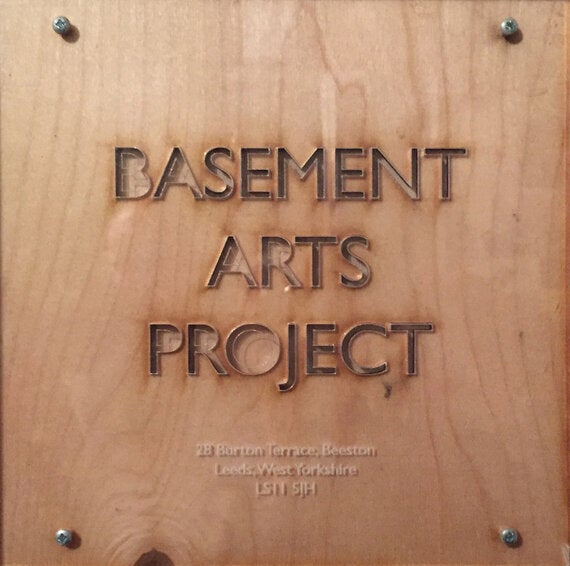 One could say that all English cities and towns outside of London are the little to its rather large footprint both physically and culturally. That would certainly be the view of many Shoreditch or Peckham hipsters but it would really be off the mark. There is so much cultural life going on outside London - much less in Scotland, Wales and Ireland (North and South) and that if you stay in London (like so many New Yorkers who never go further than Brooklyn) you really miss out. I have tried to write about exhibitions outside of the capital as often as my travels allow and make the point of going to see shows not in London. On a recent visit to Leeds, I saw another type of little and large in terms of the size of spaces and shows but whose works were equally as interesting.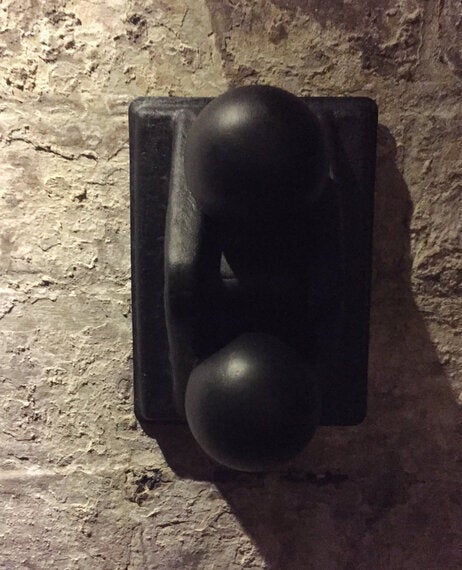 Ryan Riddington, Suppedaneum (2015)
On the smaller scale was Ryan Riddington's show Home Address at Basement Arts Project and the much larger British Art Show 8 at the Leeds Art Gallery. The Basement Arts Project is literally that, a project space in the home of Bruce and Debs Davies which they share with their young children, who added a bit of performance art on the night by sweetly dancing around the show enjoying themselves. I think the grownups did as well, despite the downpour from the Abigail storm. The space has been going independently for just about four years and they invite artists to create a project for the space and sometimes offer them a guest room upstairs during the install. Artists leave traces on the walls from past shows that somehow interact or possibly comment on the current iteration. Denise Hawrysio had a similar project space in South London called the Malania Basarab Gallery in the early 1990's for a much shorter time. But the idea is a great one that works in different spaces and at different times.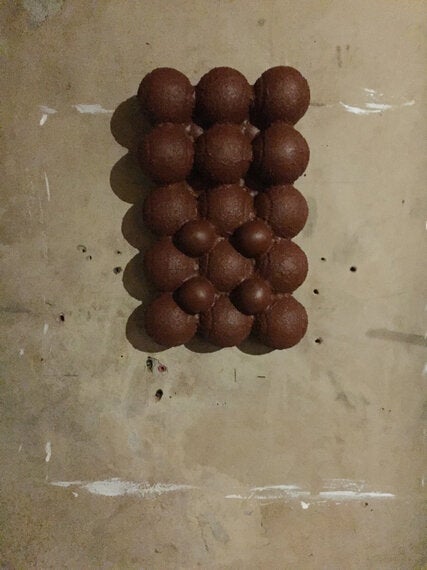 Riddington has taken the theme of home and placed into the space a series of objects and images that work to undermine the comfortable quality of our general understanding of home. Coming down the stairs into a darkened space one might think the home was that of Fred West and the images of filthy mats taken in a gay sauna Chariots II, shift the idea of the home to that of Jeffery Dahmer. There are small sculptures that poke out of the gloom, Suppedaneum (2015) is a black object that on closer inspection is formed from two light bulbs while Cold Comfort (above) features tennis and ping pong balls covered in a thick coating that could be a burnt sienna paint or even dried human excrement. Decorative Coping (Dead Arms) sees tiny photographic cut outs of over stuffed leather chairs and prepares us for the glare of the second room. In there we find a clump of a piece of furniture on the floor called Chesterfield (2010) which looks like it too has come out of a gentleman's club but via the backdoor after a Bullingdon Club party. There is an air of excess to all this minimalism and the erotic sensibility hangs in the air like left over sheets.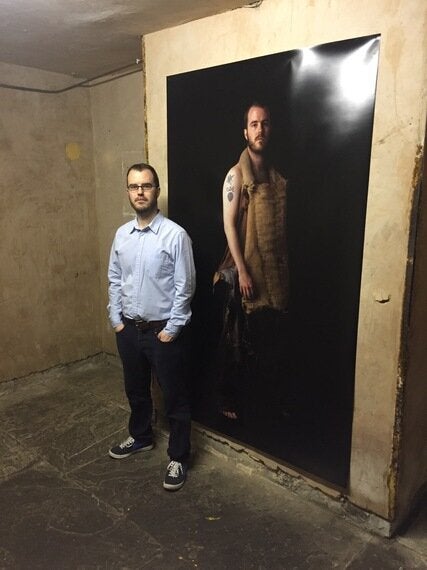 The main piece in this room, lit by a very harsh fluorescent bulb is a self portrait as a piece of furniture called Foil . The image is printed life sized and sees the artist in a different part of a distressed sofa. He looks a bit like a medieval butcher or maybe one of those people who dress up on the weekends to engage in Tudor battles before or after some ritualistic hanky panky. I think that is why the work hands together so well. They pose the erotic as the mundane and yet as the other, the unique. Riddington makes it clear that whatever it is that turns us on, in the home or outside, is our affair and as long as we are not actual butchers, everyone else needs to keep their nose out of it unless they are invited in, and then they darn well better participate! The final piece in the room is called Comforting Drawing 1 (from 2012) which looks like a piece of 1970's fabric but is an abstract drawing of tens of thousands of lines that hints at the cold comfort to be found alone in such a basement.
Riddington packs an awful lot into the relatively small space without having it feel overcrowded which in a way, is the opposite of the British Art Show 8. The Leeds Art Gallery is a huge white monolith of Empire and I always think it looks rather crude next to the very beautiful Henry Moore Institute but that is my taste coming to the fore. The Leeds Art Gallery is much better on the inside and is packed, almost stuffed, with work in Show 8. It seems odd to me that it should feels so crowded as the curators have given most of the work a lot of room to breath (especially the videos) but I came away feeling oppressed. Maybe there are too many pieces by each of the artists or maybe too many artists, though for such a huge show aiming to present the current scene, the 35 or so artists included is not too many. I think it could be that the show is such a wide spread of ideas, media, and thought that no whole comes from the sum of its many fine parts. So often I had no idea why one artist was shown next to another and often they cancelled each other out. There are lots of artists whose work I like and have written about (Ryan Gander, Lynette Yiadom-Boakye, Daniel Sinsel to name a few) but the stand outs did just that, they were apart from most of the other work.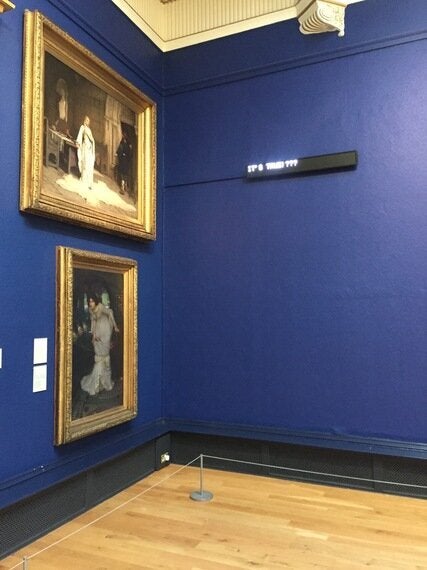 Cally Spooner's Damning Evidence Illicit Behaviour Seemingly Insurmountable Great Sadness Terminated In Any Manner (2014) is an opera for the Youtube generation that sat in a room of Pre-Raphaelites. An LED opera surtitle display machine (above) flashed comments from online replies once fans had found out that their heroes had used technology to enhance their performances. Shade is thrown on Beyonce "if you can't trust her, who can you trust?" as well as Lance Armstrong. There are even times when the text is sung in the space, though I sadly missed it on my visit. It is a quirky piece that works so well to critique itself as much as the heroes, and calls into play the whole of institutional presentation, including the British Art Show 8 itself.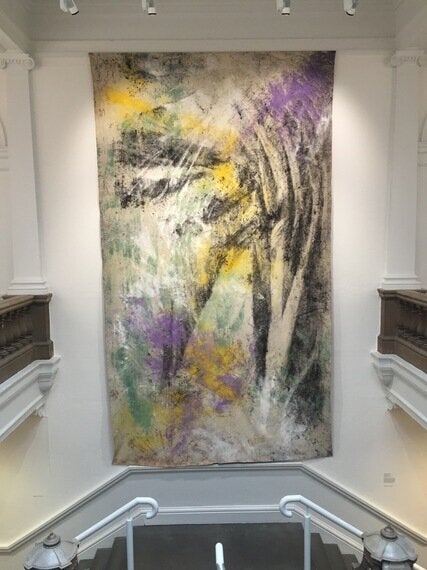 The other work that spoke loudly was placed in the large staircase and therefor was more or less on its own. It was one of Jessica Warboys' large Sea Paintings (above) where she places huge canvasses in the sea, throws pigment on them and then returns them to the sea to have the water alter the marks and all but wash out the colour. It was a very strong work that was well placed.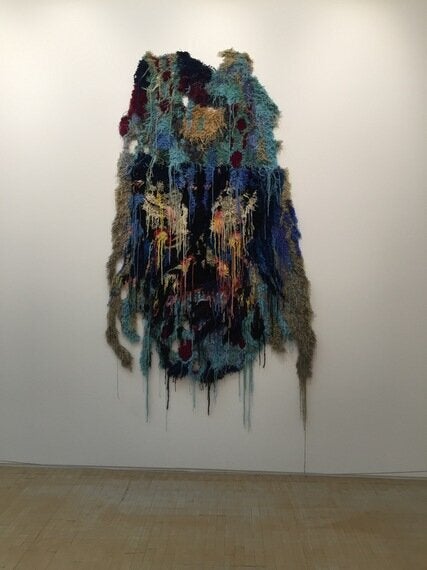 I also liked Caroline Achaintre's ceramic mask works and her seemingly mad textile paintings Mother George, 2015 (above) and Simon Fujiwara's shaved fur coats in a series called Fabulous Beasts 2015 (below). The coats are shaved and were then stretched out onto frames and would have looked just as great and just as creepy at the Basement Arts Project.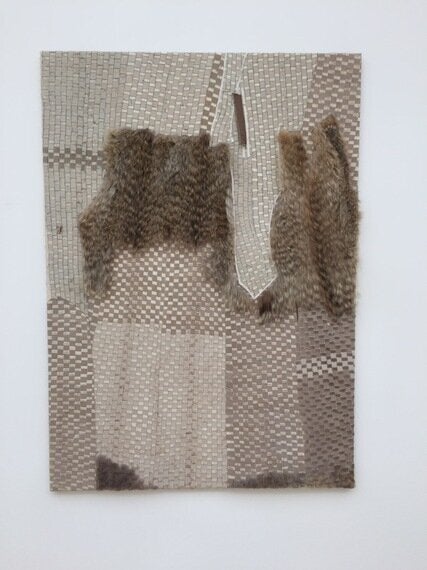 Runs until 22 November, 2015
Runs until 10 January, 2016
All images courtesy of the author.