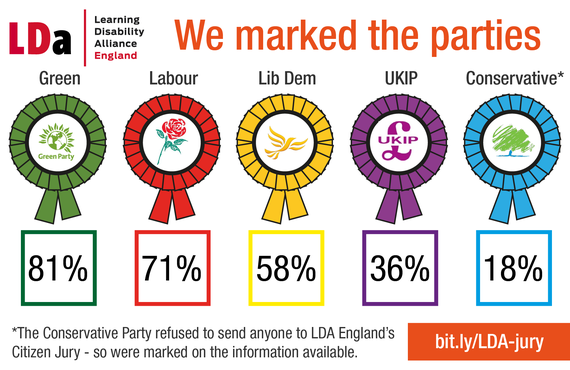 The results are in. People with learning disabilities and their families have marked all 5 main political parties in England, based on whether they will defend the rights of people with learning disabilities in the future. It's good news for the Greens (81%), not bad for Labour (71%), terrible for the Conservatives (18%).
Timed to coincide with the seven-way debate on ITV, the Citizen Jury Event saw a panel of people with learning disabilities and their families ask questions of:
Labour Party - Kate Green - PPC for Stretford and Urmston - Disability Spokesperson
Liberal Democrats - Baroness Barker - Spokesperson on Health in the Lords
Green Party - Marion Turner-Hawes - PPC for Wellingborough and Member of Green Party Disability Group
UKIP - Star Etheridge - PPC for Wolverhampton North East - Disability Spokesperson
However there was one empty chair. Despite an invitation from Baroness the Professor Sheila Hollins and Gary Bourlet of People First England the Conservative Party, on behalf of Learning Disability Alliance England (LDA) chose not to attend the event. In fact they never even replied to the invitation, nor to the many subsequent requests.
This stands in stark contrast to the way in which the Conservatives have publicly represented their attitude towards people with learning disabilities, for instance David Cameron told Mencap: "It is really important that as well as providing the support that people with learning disabilities and their families need, MPs of all parties listen to the challenges they face." Perhaps people with learning disabilities are only valued by the Conservative Party when they provide nice photo opportunities?
Their refusal to turn up was not entirely unexpected. Why would the Conservative Party, whose Government has been so harmful to people with learning disabilities, wish to be held to account by them? It was much easier to hide and to hope that the media would - as usual - show no interest. But this was why we developed the Citizen Jury model. For, even if a Party refuses to turn up, they can still be marked - on their record, their promises and their attitude.
Over the next 33 days LDA will share this information across the whole community of people, families, friends, carers and supporters. This is a large community, possibly 5 million in size, easily enough to swing the vote in key constituencies. Hopefully this will put some swing into the swing voters.
It is this very viciousness, found both in Government policy, and in the media, that has brought such a wide and powerful alliance together. Not that this is easy. Some charities, like Mencap, found it too difficult to join the alliance. They understand that the new Lobbying Act has now put them in an impossible position, for if they want to make any strong political statement about the Government or party policies they will be forced to register with the Electoral Commission as a 'lobbyist'. But no big charity, relying on government contracts or private donations, wants to be seen as a lobbyist.
Nor is this a new problem, for as Robin Jackson outlines, in a major survey of public policy for people with learning disabilities; charities have increasingly shifted from the role of advocate, to the role of contracted service provider - a servant of the state. This makes effective advocacy very difficult. Too easily charities can become complicit with bad policy, particularly as their silence will be read by the media and by the public, as tacit support.
LDA, on the other hand, aims to be political - not partisan, but political. How else can the rights and interests of people with learning disabilities be defended? For the lesson of the last 5 years is an obvious one: without power, you're powerless.
Hopefully more people with learning disabilities and their families will vote, and will use this information to inform their vote. But this not just an issue for that important minority group - it is an issue for all of us. Last week, at a debate in London, James Browne of the Institute of Fiscal Studies (a pillar of the establishment) commented that it was extraordinary that, given the poor state of public finances, the Government had been able to find more money to give to the rich. The question we must all ask is whether this is the kind of society we want to live in - one where the needs of the rich come first, and where disabled people and people in poverty are targeted for cuts.