Sat here in Vienna, at the final meeting of the Sport Respects Your Rights European conference, I caught myself thinking about the responsibility those of us lucky enough to have a public voice have in ensuring we are clear in what we say and that our words don't silence others on the same platform.
Opening the conference, former Spanish Olympic Gymnast, Gloria Viseras's gave an emotive and compelling account of the grooming, manipulation and utter control she experienced at the hands of her gymnastics coach, enabling him to sexually abuse her. Her delicately spoken, yet powerful voice had us, the audience, hanging on her every word. Later in the afternoon, the pain of hearing from a male survivor of sexual abuse was audible, with one delegate sat next to me taking a deep breath as his courageous description of the fear he felt as a boy in the house of a sports coach, echoed around the room. Prof. Emeritus. Celia Brackenbridge OBE, gave an equally compelling presentation on her years of research, explicitly stating how it's
"vital we include male survivors in our research"
and reminding journalists present, the importance of reporting statistics in an accurate and correct manner.
Extremely powerful words from three truly inspirational speakers.
But at the very same time, I found myself filled with sadness, hurt and anger at those that choose to ignore us male victims/survivors, don't recognise us, or even worse, forget we're there.
TV presenter, Charlie Webster, delivered her own tragic personal story of abuse and the growth she has done as a survivor. I have the utmost respect for that, but struggled to stay with her as she repeatedly referred to sexual abuse as only affecting females and being a specific gender based issue. The boy inside me looked at his feet and remembered the shame of what happened.
Over in Manchester at the St Mary's SARC Conference, Director of Public Prosecutions, Alison Saunders, addressed delegates and in speaking about the importance of the Violence Against Women and Girls Strategy, chose to comment
"it doesn't really matter what you call the strategy, it's about the hard work that everyone's doing that's important"
So it doesn't matter that boys and men are missed out of formal policy?
Two people on public platforms, in one fell swoop, managed to momentarily take me back to the pain of my silence. The pain that kept me hurting for over ten years. The pain that fuelled the self hatred, self harm and self loathing. The pain that reminded me to not say anything... EVER! The pain that caused the silence. The silence created by the idea that males don't get sexually abused!
Hearing Charlie Webster actively ignore males, in such an important arena as sport, hurt. Hearing from my colleagues back in Manchester that Alison Saunders doesn't see the value in congruently mentioning boys and men, really hurt. I'm lucky enough to have the space and time to process these words, even publicly offer a rebuttal, as small as it may be.
But how many men in either of those rooms, still holding their silence, heard what Charlie said and read it as
"your pain isn't important"
How many men in the conference room back in Manchester heard Alison Saunder's comment and felt
"I don't matter enough to be mentioned"
Until we desist from ignoring and negating male victims/survivors from discussions of sexual abuse, rape and sexual exploitation, we will continue to keep boys and men silent and take it from me... silence is a potential killer.
But there is more sound coming through now.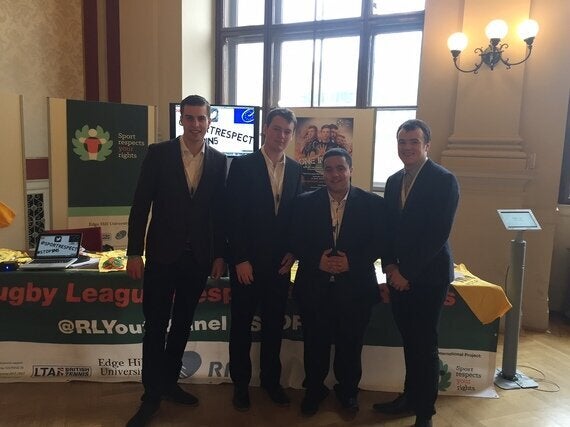 The Sport Respect's Your Rights UK team are standing up and making sure everyone is counted. I had the absolute honour and pleasure of getting to know some of the young men from the team, whilst in Vienna, engaging in conversations about the silence of male survivors, the impact of sexual abuse and exploitation, and listening to their thoughts and ideas was inspiring.
We constantly hear that children and young people are our future. Well, if that's true, then I am filled with confidence that comments such as those made by Charlie Webster and Alison Saunders will be challenged now and forever more. I hope those comments were made out of genuine ignorance rather than active neglect. But whatever the reason, I have absolute faith in the young men and women that are teaching the ignorant and challenging the neglectful.
I have been so inspired by their work that I want to offer my support to their energy in making sure that sport is a safe place for all children and young people, male and female. Maybe you should too?