This feature is part of a month-long focus around sustainable fashion across HuffPost UK Style and Lifestyle. Here we aim to champion some of the emerging names in fashion and shine a light on the truth about the impact our appetite for fast fashion has around the world.
Sustainable, green and ecologically friendly are words that get thrown around a lot these days.
But at Eco-Age, the consultancy firm behind the Green Carpet Challenge made so glamorously famous by Livia Firth, there are guidelines to uphold. They call them the "GCC Principles for Sustainable Excellence," and these include environmentally conscious rules as well as be-kind-to-all-humanity standards.
Luxury car company Mercedes-Benz on the other hand, has been at the forefront of creating a hybrid that, at once maximises performance, efficiency and cleaner emissions.
They were the first company to market a series produced hybrid vehicle with a lithium-ion battery, a more efficient approach to electric power, and always been clear (and clean, if you pardon the pun) that eco-friendly doesn't mean giving up on glamour.
Their 'Hybrid by Nature' campaign combines fashion with luxury automobiles and the results are everything we want from Mercedes-Benz, and more.
So the coming together of Eco-Age, Mercedes-Benz and Erdem, a London-based fashion brand which has become synonymous with powerful and elegant women, is quite simply a natural.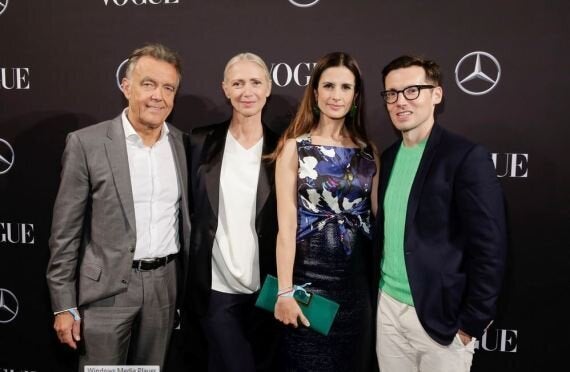 Mercedes-Benz's Wolfgang Schattling, VOGUE's Christiane Arp, Eco-Age creative director Livia Firth and designer Erdem Moralioglu
For the 2015 Green Carpet Collection, multi-cultural designer Erdem Moralioglu promises to wow, spellbind and break a few rules. But only fashion-forward rules, as all ethical, sustainable wear guidelines will apply, of course!
I caught up with Wolfgang Schattling, director of Motorsport Marketing Communications And Branded Entertainment at Mercedes-Benz, and asked him about this groundbreaking collaboration on a special anniversary for his company as well as the fashion world.
Mr. Schattling, what is fashion to you?
It means creativity, the highest levels of craftsmanship and technical expertise - the same requirements that we apply to the design process of our cars. But also, as a brand, we are proud to sponsor and support various fashion projects for over 20 years now. It's a world we understand very well and respect enormously.
And how do luxury and sustainable fashion come together in your opinion? Is such a "collaboration" possible or are the two concepts destined to contradict each other?
Luxury brands need to understand how to be more sustainable as customers are increasingly more eco-aware and demand that brands meet their needs. Consumers want to enjoy the best quality but also know they are in some way caring for the environment. These values are combined perfectly in The Green Carpet Challenge and are also embedded in Mercedes-Benz's DNA.
What is Mercedes Benz's commitment to sustainable luxury, specifically?
Sustainability is a core value for Mercedes-Benz. Our products are particularly environmentally friendly and energy-efficient in its market segment. We strive to fulfil environmental standards and deal sparingly with natural resources. Our measures for environmentally compatible and energy-efficient product design take into account the entire product life cycle -- spanning development, production and product use, as well as disposal and recycling. That is sustainable luxury for us.
This latest collaboration between Eco-Age and ERDEM marks the first time Mercedes Benz is also on board as official sponsor. Why now, what makes this collaboration extra special?
This year is our 20th anniversary supporting fashion, which began with the sponsorship of Mercedes-Benz Fashion Week Australia in Sydney and Melbourne in 1995. Today we are involved in over 50 platforms and events worldwide.
Collaborating with Eco Age's Green Carpet Challenge and ERDEM in this milestone year felt like a perfect match as it coincided with our sustainable motto for our S/S16 'Hybrid by Nature' fashion campaign, featuring our all-new Plug-In Hybrid GLC 350 e, which can cover up to 34 km in zero-emission all-electric mode. By 2017 we will have a total of ten plug-in hybrids in our portfolio.
When you, Wolfgang Schattling wish to make a conscious, Eco-Age inspired choice, how do you go about it? Is there a checklist consumers should abide to when making a major purchase, or even in their everyday life?
When you decide to make a purchase no matter how big or small, it should be based on the wish to purchase the best possible product. The best is created by the exciting interaction of the heart and the mind. The consumer needs to be engaged emotionally, whilst being convinced on a rational level.
This is what we strive for as a brand at Mercedes-Benz. Emotional means to reach people through pioneering innovation, trendsetting design and exceptional customer care. To convince the mind, we work hard to ensure energising comfort, exemplary safety, perceivable quality and holistic sustainability.
How has the concept of splurging, on a new car or an expensive handbag for example, changed in today's world?
These days, the trend is going back to people wanting to invest in quality over quantity and luxury over fast fashion.
Splurging today means taking the time to think about your purchase and not giving into the many temptations surrounding us on a daily basis.
It means purchasing a product that will retain its allure as the years go by - like one of our iconic cars.
And finally, three words that describe you?
Authentic, intelligent, emotional.
HuffPost UK Lifestyle is running a special series around Sustainable Fashion for the month of September. Livia Firth is creative director of Eco-Age and founder of The Green Carpet Challenge, and will be guest editing on 18 September. If you'd like to blog or get involved, please email us.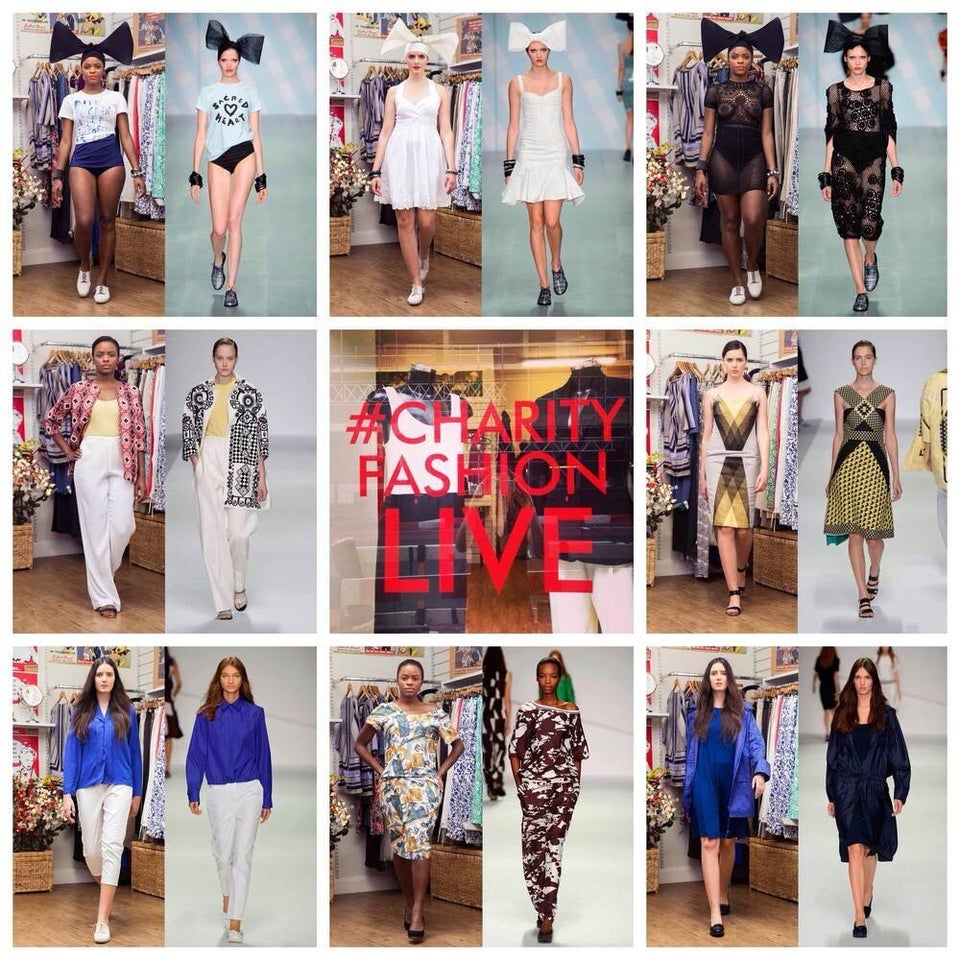 Oxfam Charity Fashion Live