There have been many memorable moments in my job presenting the Premier League matches on Sky Sports' Super Sunday and Monday Night Football shows over the last two seasons. I pinch myself on a regular basis as I travel round the country's best grounds and host matches in the world's most entertaining league. However, I don't think anything will beat the experience of presenting at Old Trafford last Sunday and the farewell to this country's greatest ever manager, Sir Alex Ferguson.
It was an honour to be there and a huge privilege to present the show. It was an emotional day from start to finish and what summed it up was seeing three Manchester United legends alongside me; Peter Schmeichel, Dwight Yorke and Gary Neville, all filming on their mobile phones the moment Sir Alex emerged out of the tunnel and through the guard of honour.
A personal highlight was walking on to the pitch after Sir Alex's speech. Coming out of the tunnel in to a sea of red and a wall of noise was a once in a lifetime experience. Presenting the last hour of Super Sunday on the field next to the podium, interviewing the likes of Ryan Giggs, Robin van Persie, Bryan Robson, Steve Bruce and Phil Jones, was a challenge, but one I will never forget.
Another thing I shall always remember was asking Gary Neville what would be going through his great friend Paul Scholes' mind before his final match at Old Trafford after 24 years at the club. Gary's reply: "Get home and have a Chinese". Priceless.
People often ask me what the key factors to presenting Super Sunday are. The first is preparation. The shows I present are always on my mind and I am in constant touch with my producer, Scott Melvin, through the week to stay on top of all the relevant stories. We then meet on a Friday at Sky Studios in west London to plan the show.
The other important factor to presenting live football on television is to always remember that the show is not about 'you'. It's all about the game and your job is to get the best out of your guests.
Monday Night Football is a totally different experience. Whilst on Sundays you are trying to be like a referee and a good performance is where you go un-noticed, Mondays are like driving a Formula One car. It's all about steering Gary. We are lucky to work with a superb production team, who are always looking to innovate, and Gary and I constantly need assistance working the various touch screens and gadgets!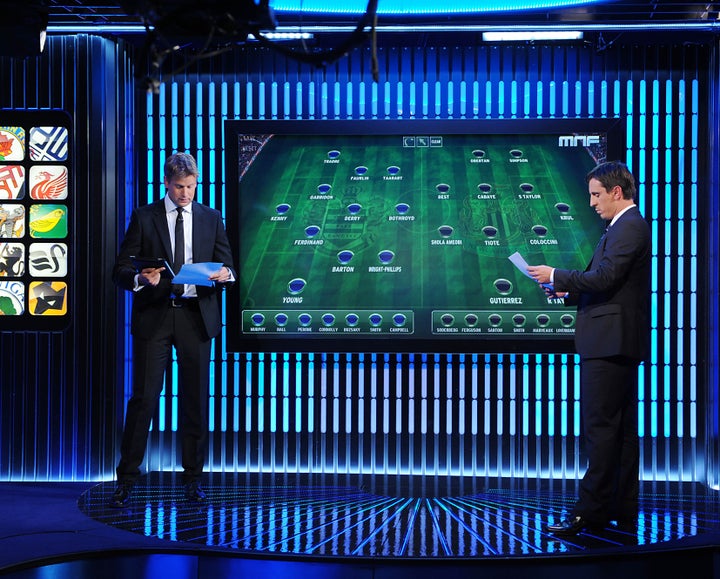 The first hour from 7-8pm on a Monday Night is the most complicated hour of television I'm involved in but it's also the most exhilarating.
The job is full of pressure. Pressure to get the words to camera right as there is no autocue. Pressure to ask the right questions. Once the game starts, it's all about reacting to what happens on the pitch and getting the story right.
This weekend can't possibly match the drama of the final day last season, which culminated in Martin Tyler's iconic "Aguerooooo" commentary. However, the 'north London shoot-out' for the Champions League should still be pretty dramatic. I will be in the studio at St James' Park staying across all the stories from the Premier League around the country.
I love football and watching football. I get to go to Premier League grounds every weekend and watch big matches alongside some of the game's greats. They watch a football match in a totally different way to you and me. I enjoy learning from Jamie Redknapp, Gary Neville, Graeme Souness, Glenn Hoddle, Niall Quinn and co. Next season Jamie Carragher is joining the Sky Sports team which I'm really looking forward to. 116 live Premier League games. Bring it on.
Sky Sports viewers can enjoy a record year of sport across six channels including 116 live Barclays Premier League matches next season, the British & Irish Lions, back to back Ashes, UEFA Champions League, US Open tennis and every race from F1.