I was so unhappy. Those first few days at Infants' school, a couple of months before my fifth birthday. All the other new kids in Mrs Sampson's class could at least write their names. I could not.
It wasn't a bad school but it did have an unconventional system of organising the children. Pupils stayed in the same class, with the same form teacher throughout their time at the school - a mixture of 4-7 year olds in each class. The younger kids learnt from the older ones and they in turn developed a sense of responsibility. But in those early days, with my self-confidence at rock bottom, the presence of older, far brighter pupils being taught in the same room only made things worse.
My first school exercise book is full of meaningless scribble. The thick pencils pressed hard on each page - the intense marks of frustration and anxiety. The book's card cover is missing - I ripped it off. The teacher, Mrs Sampson's handwriting in red ink - the word 'look!' - is angrily crossed out. I vividly remember my defiant act immediately after she'd written it. Of course I had no idea what it said.
My frustration spilled out beyond the exercise book and the confines of the classroom. At lunchtime, completely out of control, I'd run up and down the corridor screaming, switching off all the lights, hiding under tables, pushing other children over in the playground and completely ignoring the teachers. My disruptive behaviour caused such alarm, I was sent home for lunch every day for several weeks. Clearly they were baffled. The school's headmistress worried I'd grow up to become anti-social.
Then one day, our dinner lady sat down next to me. Peering at the pages of scribble, she asked me why. Her voice was calm and friendly. With a flourish, she took a pen out of her uniform pocket. And a few pages on from the word 'look!', she wrote her name in clear letters - 'Mrs Holliday'.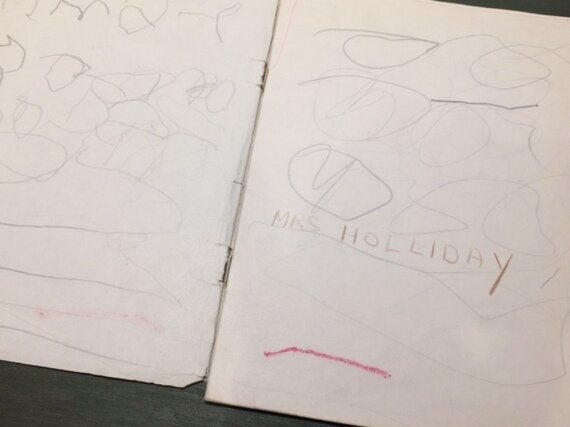 She took an interest in me and, looking back, I suppose she was one of those people who had the largest influences on my life - more than she'd ever know.
As with the policy of keeping the same teacher throughout the three years of Infants' School education, the dinner lady for each class remained the same too. And by 'dinner lady', we'd really mean 'lunchtime supervisor'. Not to be confused with the people cooking the meals, the class dinner lady would take care of, and be responsible for all of us during the long lunch break.
Of course, all of us can remember an exceptional teacher, who helped to shape us. But Mrs Holliday seemed such an unlikely person for this role, appearing from almost out of nowhere that day.
We remained friends and would talk about everything from the latest sitcom to the landing of the Viking 1 spacecraft on Mars. We'd send each other Christmas cards till I was well into my teens.
As an adult - now earning my living from reading and writing - I've often marvelled at how she transformed my life in a moment. For this I'll always be grateful.
Marie Holliday, died 20 June 2017 aged 92.