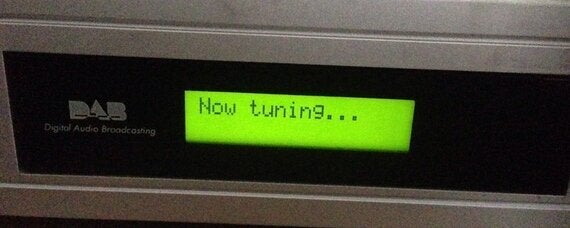 Gil Scott Heron said "The Revolution will not be televised". He was right in some sense. It will certainly not be televised but digitalised on the radio. Although that might not happen for quite some time as the government, BBC and commercial radio have been bickering for years on scheduling a date to switch from analogue to digital.
As a staunch supporter of Radio I was disappointed to hear that
Minister of State for Culture, Communications and Creative Industries, Ed Vaizey has indicated he will not announce a switch over date for DAB. Further delay or postponement poses a huge risk of decreasing the value of DAB especially towards the next generation of radio listeners who are consuming content elsewhere. The intended plan for the switchover to take place is when listening is above 50 percent or around that mark.
For music fans DAB is a necessity to give listeners more freedom and accessibility to radio from dull and repetitive content. The FM dial generally fails to offer real choice. Other than the BBC, Community and Independent networks the airwaves have gone Lady Gaga. The bigger groups have been consolidated.
Ten years ago there were at least three or four different groups it's now narrowed down to two. Most playlists across commercial radio stations are the same even though they are targeting different audiences. Local radio has been turned into Mcdonalds style franchise hubs with a central syndicated feed from one location. Many executives will argue that music has changed and different demographics can relate to the likes of Calvin Harris, One Direction or Rihanna as its essential to target key advertisers and to increase market share with one trusted broadcast brand. We seem to be replicating the US formula of tight and repetitive playlists usually repeated once every hour all day long.
DAB and online mediums should not be downgraded. Their presence has become useful alternative mediums and frontiers to providing a variety of eclectic and groundbreaking content. BBC Radio 6 Music is a success story of what DAB offers. It's a prime example of how to capture, keep and increase an audience who will stay listening. The station now has nearly two million listeners and continues to grow after been saved from closure. Jazz FM also continues to grow in reach with RAJAR figures increasing every quarter. So there are success stories so why are we still questioning its viability and doubtful of the digital revolution?
James Cridland, Radio Futurologist and Managing Director of Media UK, acknowledges the role and importance of DAB as a trusted medium: "DAB is great for national and regional radio. I'm a bit worried about local radio."
Will local radio be forgotten if the switchover takes place? How about community radio stations as well? The majority are non profit so find it hard as it is to break even. DAB multiplex costs are not cheap and would wipe their annual budgets just to stay on air. And the majority are owned by the bigger radio groups.
Shadow Culture Minister Helen Goodman has voiced her concern about the digital switchoff saying the leap "would hit the poorest households first". It's not down to class or the type of listener but most importantly when and how the switch off will be done. It's an easy and poor excuse to say DAB will exclude the poor when nothing has been done to fully promote what it has to offer and decrease the multiplex costs to be make it fairer for all networks.
Surely a campaign to increase awareness of digital radio could be put in place. First and foremost forming ongoing partnerships with car manufacturers and audio specialists should be implemented to allow listeners to trade their current radio units to be replaced with DAB accessible sets. All incentives can be devised in order to make the translation smooth, efficient and viable.
Gordon Mac, Kiss FM founder and now CEO of Mi-Soul (an online soul and dance based radio station and Smarta 100 winner 2013) explains why DAB and online offer the perfect opportunity for more choice on the dial and also encourages entrepreneurialism.
"Online radio gives entrepreneurs a chance to test the market and offer something different before considering DAB. Our listenership and fan base continues to grow due to the freedom and accessibility we have to be creative on the internet which is a different world to FM."
Spotify and other mediums are limited as they don't fully explore the depths of new music. Radio is still a powerful medium to break new music and educate an audience with groundbreaking content.
We should be thankful for the likes of Mi-Soul, Jazz FM, Amazing Radio and the glorious BBC for keep us on our toes by offering distinct and eclectic programmes. Without them our choice would be doomed and force fed with banal drivel all day long. It would be catastrophic if we sat back and let the digital radio revolution pass us by. I sincerely hope Secretary of State Maria Miller and Ed Vaizey will eventually make the right decision and set a date on December 16th for us to finally say goodbye to our analogue ambassador and beloved friend.