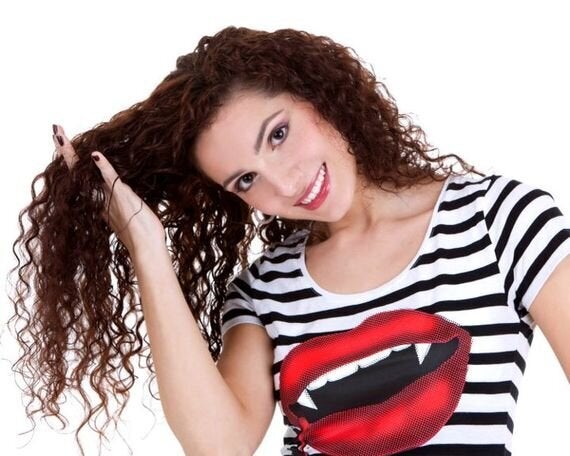 For thousands of years, beauty, status and wealth have been measured by the length, color and celebrity appeal of the follicular crown. A glossy mane symbolizes strength, health and vitality. Follicle worshipping has become the norm all over the world, and humans undergo daily grooming rituals to appease the Bedhead Gods.
Stereotypically, Mediterranean hair is known to be thick, curly, coarse and out of control. Most Greek babies burst forth from the womb inflicted with a plague of dark ringlets on their head. While some of the male Greek population are then struck by the curse of the Monk's Bald Spot, the females continue to battle with the wild haired monster long into old age.
I was born with a completely full head of hair, and when I was a toddler, it fell in soft waves that curled at the bottom. Yep that's me below with my dad -- check out the Greek bouffant on his head! (And his chest!)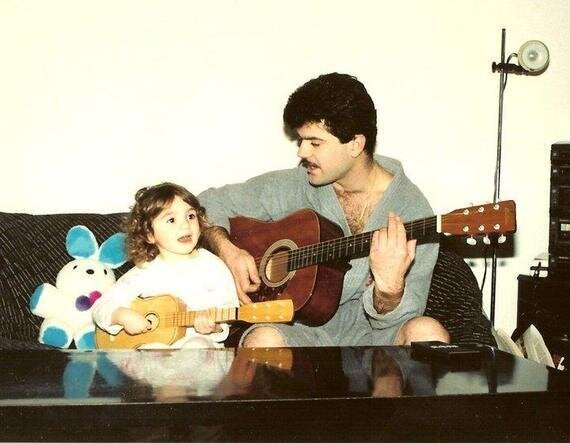 Then I hit puberty. And my hair got ANGRY.
Throughout my school years, I refused to wear my hair down and used to scrape it back into a tight ponytail that stuck out like Basil the Brush's behind. It didn't help that during this time I became a competitive swimmer and my hair would spend hours trapped inside a wet, soggy, swimming cap, desperate to burst free a la Sideshow Bob.
When I turned 16, Zeus threw me a lifeline and created Sunsilk, a range of hair care products that smoothed and comforted my wire woolly locks. Finally, I was able to wear my hair down, although I kept it wet most of the time with a centre parting so that I resembled a clown that had been caught in a torrential downpour.
When I hit 18, my Sunsilk regime came to an abrupt end as stores suddenly stopped selling it. I then had the mane cut shorter. Big mistake. When you have curly hair, it will always look shorter as the ringlets spring up at least an inch. So I ended up with a Sideshow Bob/SpongeBob SquareHead mullet afro... with layers.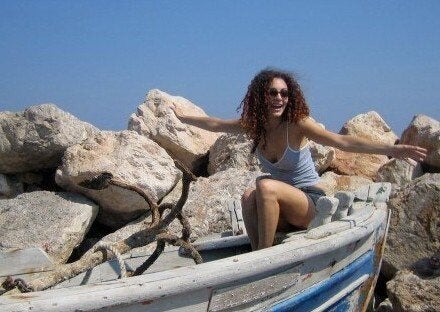 At university, I experimented with different hair lengths as well as color, going from a natural dark reddish brown to caramel highlights (that came out ginger).
By the time I started working in film and television, I had worked out that if I just drowned my hair in lots of conditioner, only brushed it when wet, and then put even more leave-in conditioner on, my curls would form tight ringlets and most of the frizz could be held at bay. Sadly, many of the hair stylists on set had no idea what to do with my head of snakes and would just stuff it all under a Jane Austen bonnet (I worked mostly on period dramas). One woman even tried to straighten my mane and broke her GHDs in the process. Ha!
After years of trial and error, I have finally pinned down the products that work for me, although I regularly test out new hair care brands.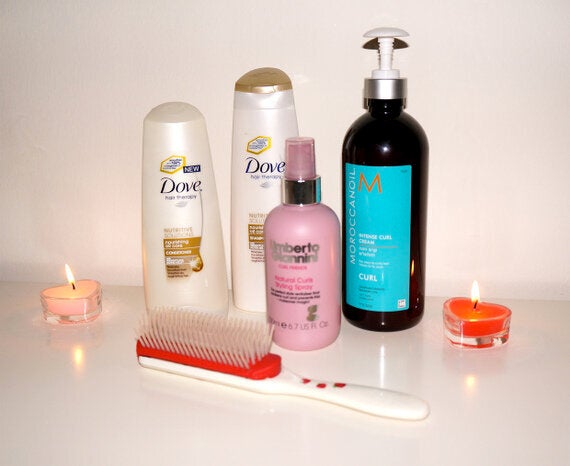 I have tried a range of shampoo and conditioners, some really cheap, some too expensive to dare talk about, but I still go back to Dove's Nourishing Oil/Intensive Repair range for dry and damaged hair. I like the creamy shampoo and the conditioner makes my hair really soft. What's more, at £2.99 my purse strings are still intact and there are often special promotions and buy one get one free deals.
I love the Umberto Giannini Curl Friends range from Boots - all the products smell great and the prices aren't bad either -- around £5 each (and don't forget your Boots points!). I don't bother with the shampoo/ conditioner/ hairspray and just go for the mousse and natural curls styling spray. I use the spray more than the mousse when my hair is dry, just to give the curls some moisture.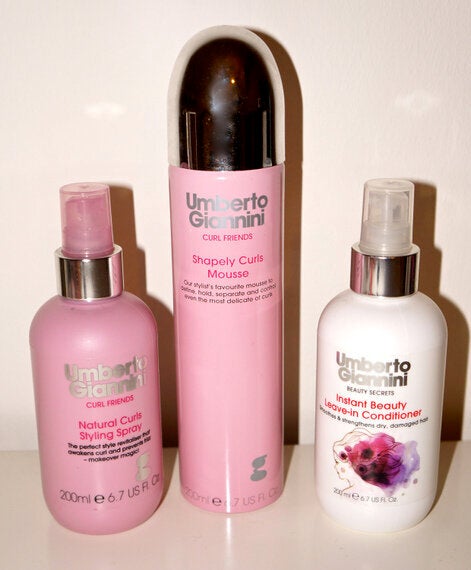 I don't wash my hair everyday as it tends to be on the drier side so needs time to calm down before I blitz it again. In actual fact my hair care routine is quite quick and simple. I wash once (sometimes twice) with shampoo, then I brush through the conditioner and leave it in. Leaving conditioner in is not generally considered a good idea but I need the extra weight to contain the frizz. I only ever brush my hair when it is WET; brushing it dry only breaks the hair. I then wrap my hair in a towel and give it a gentle toweling. I apply a small amount of leave-in conditioner or hair cream and brush through with my fingers, leaving the hair to dry naturally.
After attending a hair show, I was offered a promotional deal on the Moroccan Oil hair range so bought myself a large bottle of Intense Curl Cream. This is definitely more on the expensive side but I don't need to use a lot and it smells divine.
A cheaper alternative is the Umberto Giannini Beauty Secrets Moisture Mask (£5.61) and cheaper still is Vitapointe Leave-in Conditioner (£2.09 from Boots, also available from Superdrug).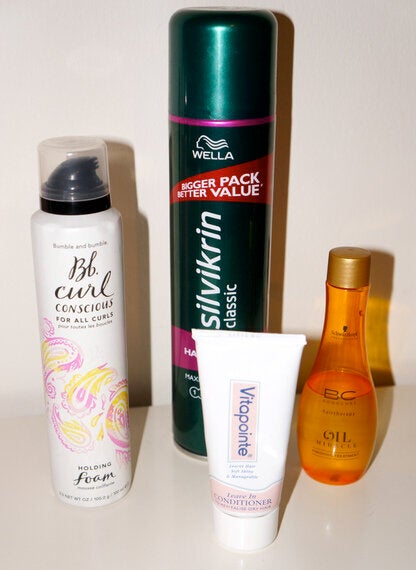 Bumble and Bumble also have their own curl range and I use various oils if I want to recreate the 'wet' look. I only use hairspray for when my hair is up (NEVER when my hair is down and natural).
So my TOP TIPS to tame that curly mane:
• Do not wash your hair too often - every other day is sufficient
• Use plenty of conditioner - don't be shy
• DO NOT blow dry - leave to dry naturally
Taming the mane can take time and effort, but the best thing to do is embrace what Zeus gave you and take good care of it. Despite the tough times, my hair and I are one (quite literally). I don't prefer my hair straight, in fact I think it takes away a little bit of 'me'. My curls represent the part of me that won't ever be tamed, the part that will always be a little bit wild. And no amount of hairspray, will ever tie me down.