 There is undoubtedly a direct correlation between the kind of 'fashionite' you are and the first section of any etailer that you're drawn to. I experience this daily, browsing the 'New In' sections of the shopping sites I frequent, as my eyes are forwarded to 'shoes'. So I guess I'm into shoes, then. I love a good heel. Although, I'm not so good at them. Samples sales have taught me that most often, scenarios involving my debit card and stilettos are to be avoided. You got me, I admit it. I've caved again, and again, and again.
Shoot me, for I am not one that can wear heels all day because that just isn't how it works. It's a nice idea, being able to glide around the office or peruse suburban high streets at ease en pointe. It's about as hard as actually walking en pointe, for more than an hour at a time. The only women - that aren't lying - when they say that isn't the case, I'm sure must have drivers. Or man-servants, chariots and magic carpets. Sadly I have none of the above, so flats and demi-heels it is for me.
But one thing I am good at is looking at shoes. And also loving them, hence the ever-increasing collection under my rail. It is dangerous, window-shoe-shopping. Thankfully Charlotte Olympia's Maddox Street store obscures most merchandise from public view. While they may be considered awkward to some, my frequent passing-by could end badly if anything else was the case.
When it comes to fabulous heels - wearable or otherwise - I am partial to an arty shoe. Not avant-garde per se, but a piece of fashion art that I might have mentally conceived during my pre-Vogue years. I'm talking pretty shapes, outrageous heels and the odd peep toe. The real McCoy, the classical art of shoes. Sophia Webster double-ticks this box for me with her fantastical constructions and dreamscape themes. And while my job allows me to wear such creations every day, I realise I am in a niche environment. As such, let me introduce you to Jerome C. Rousseau. Great name, right? If I swap hats from fashion to literary loving, I land on Jean-Jacques of the same name. So if for no other reason than that, Monsieur Rousseau junior is certainly one for your radar.
Initially inspired by overstated footwear, Cordwainer's export Jerome C. Rousseau launched his eponymous label in 2008. For him silhouette comes first, and that's something that I really like about Rousseau. A curved foot is deemed beautiful, by many. It would be rude not to mention some of his celebrity patrons - the divine Miranda Kerr, House's Olivia Wilde and Mad Men's January Jones are all women much braver and more collected than I, enviably successful in their heel walking. But I suppose they do have drivers, don't they?
But onto the shoes. There's a dose of snakeskin in this season's collection, while I spy some Perspex too. Animal skin and Perspex! Give Rousseau a pat on the back, if you please. And then the more accessible pieces make their entrée, for I am afraid that no snakeskin will be hitting my feet - the great height will give me vertigo. And then the shoe boots, a phrase I dislike but an item I adore. They are quite simple, and we know that is always key. There's a peach lace pair and a nudey studded pair, but they're gentle studs so nothing scary. Doesn't it sound appealing?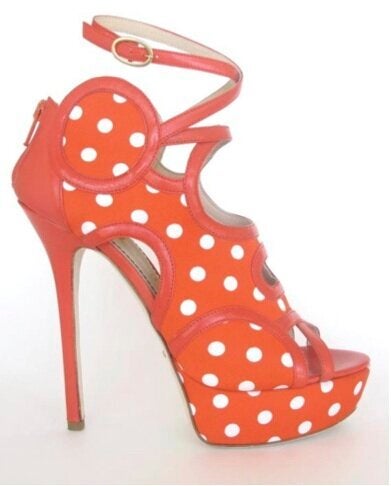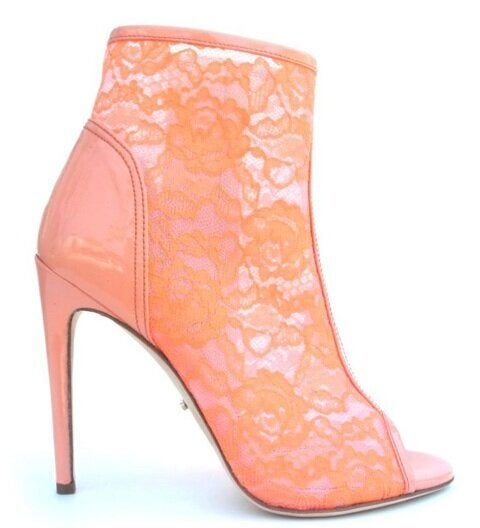 Treide sandal, £627 / Juda boot, £557, both available now
It was when my beady eyes came upon next season's collection that I needed some help standing. Those orange heels. They have a super cute little hook on the inner-heel - I'm not sure why but I like it - and the colour is splendid. I fell hook, line and sinker for the little beauties. Incidentally they come with covered toe in midnight velvet, and cheeky flock suede too. It's a lovely update on a simple court shoe design. The winter boots are nothing short of excellent too. In my ideal world, I'd sport a heeled boot daily. Dress them down with jeans, dress them up with a LND - that's Little Navy Dress, FYI. And Rousseau has a couple of pairs just right: a tan and black back-laced mix are making my heart hum.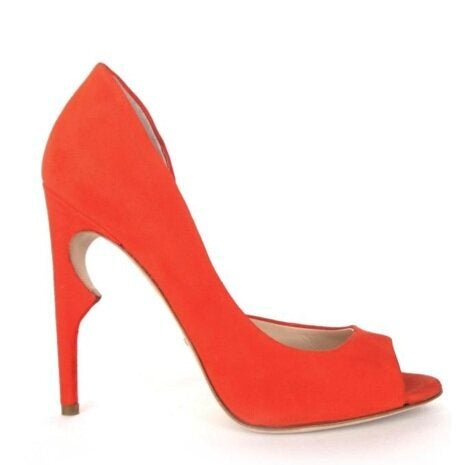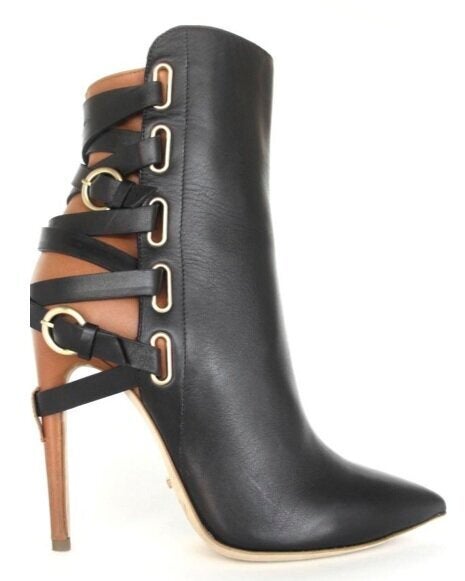 Bryant court £417/ Jiro boot, £767, both available August
So really, I don't know what you're waiting for. Your new shoes are sitting waiting for you.
Jerome C. Rousseau is stocked at jeromecrousseau.com, or visit Dover Street Market, London W1 for select pieces.
Related