I was lucky enough to borrow an Apple Watch a few weeks ago and trial it out...
I'll start by saying, it's not a product I'd usually be interested in (it's a bit too 'techie' for me) but I wanted to give it a spin because of all the hype, and because I like to make up my mind about things. As a traveller, there was part of me that wanted the Apple Watch to be the answer to all my travel woes, so it's from that perspective that I reviewed it. I headed into central London for the weekend and pretended to be a tourist, and put it to the test.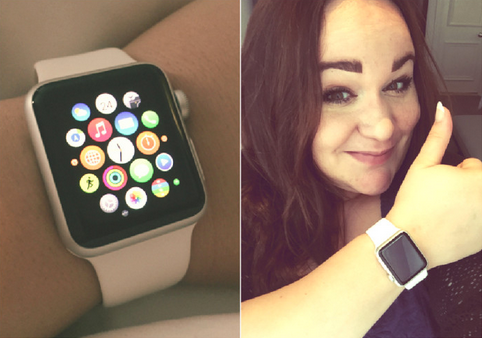 The appearance isn't too bad, it wasn't overly bulky, and it didn't weigh my wrist down. When travelling - I'd be worried about it looking too flashy (inviting unwanted attention) but I didn't have that issue at all really. A few people noticed it (mainly if the screen lit up), but the nature of the plain straps mean that it can appear pretty low-key, and it blends in with a normal low-key outfit.
The watch isn't exactly stylish with the afore mentioned strap (the basic rubbery one) but it does the job, and I think that rubbery strap would be the best option if you were using it as a travel accessory.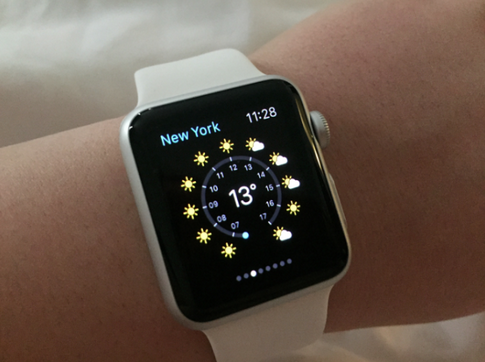 It takes a bit of getting used to - everything is so small - but once you have the hang of it, the responsiveness and user-friendliness isn't too bad. The most annoying part of the process was figured out how things work, and what this swipe means, and what that swipe means. But as with anything, after a day you've got the hang of it.
What was funny to get my head around, was that with most Apple products, the same rules apply - so I went in with pre-conceptions on how it would work. But because the Apple Watch is such a different product, it does work in a different way and you have to learn how to use it all over again.
Surprisingly, there are a few apps available that are extremely helpful for travellers, and it was when I discovered these that the watch made a bit more sense to me, and a realised it would be a good addition to any traveller's tech kit.
The in-built apps like the 'Maps' and 'Weather' are obviously extremely useful. The map one was probably my favourite pre-loaded app, because when we got a bit lost I didn't need to dig out my phone from my bag, I could just glance at my wrist. The navigation was on-point too.
There are external apps for the watch too, and other mobile apps have adapted to the Apple Watch API and I found a few that worked surprisingly well. I downloaded Uber (my favourite mobile app) onto the watch which was cool, and I used successfully a couple of times.
I also used the Booking Now app (the booking.com Apple Watch app) and booked a hotel through it. To be honest I was surprised by how well the app worked - I thought it'd be a bit fiddly - but the app was actually very user friendly and easy to navigate, if anything it made the process of booking much simpler. Flashback to a couple of years ago when I was travelling the world - and I definitely would've used it.
I was worried about getting water on the watch, and (as you'd expect) it did start to rain in London as I was wearing it. It's a lot of money to pay for a piece of tech that could so easily get caught out in the rain. If I was travelling somewhere like Asia this would be a big negative, the weather is so unpredictable there - and I feel constantly concerned that my £400 watch was going to drown itself in the tropical rain.
I also found it a little bit anti-social (I caught myself glancing at the notifications constantly), and I did notice that it drained my phone battery by a fair amount. The two devices connect via Bluetooth - which is the world's biggest drain on phone battery.
(I don't know if that's a true fact, but it sure feels like it for my iPhone 6).
When I'm travelling, my main priority is preserving phone battery - not draining it - so I'm unsure whether realistically I'd be able to use it on a daily basis if I was out and about in backpacking locations.
One thing it would be great for during travelling if starting conversations. As with anything new of exciting, the watch is a fantastic conversation opener. Which when you're travelling is fantastic to have.