The more I travel, the more I begin to appreciate my own personal space - wherever it is that I happen to be visiting. Whether it's a hotel, a villa or an apartment, it's becoming more important to be where we stay and not just where we are.
On a recent trip to Paris for the weekend, my boyfriend and I managed to time our romantic trip away with the worst weather Paris has seen all year, I'm guessing anyway!
What made all that terrible weather bearable though?
The fact that, after a long day sightseeing in the rain and wind, we had a beautiful hotel to come back to and dry off in.
It's personal preference though which type of accommodation you prefer, with the main choices being a villa, a hotel or an apartment sublet. So which accommodation is better in which circumstances? Well I've tried to help you decide below:
You should choose a villa if:
- You want value for money
- You want plenty of space
- You want to host an event too, such as a wedding or party
What villa websites would I recommend? I recently visited a website called Oliver's Travels who hand-pick all their properties. They've only just launched but the thing I like about Oliver's Travels was the quirkiness of the properties and the variety they had on there too - some properties were in castles, one was even on it's own fortress off the English coast! A lot of their properties sleep more than 10 people too - which is what I'd be after if I was booking a large villa. Space and plenty of it!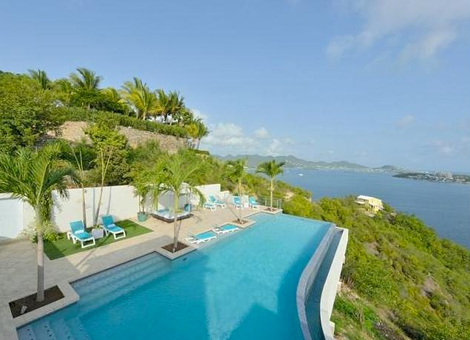 You should choose a hotel if:
- You like to have lots of amenities at your fingertips
- If space isn't always a priority
- If you love room service
- If you're travelling with business
- If you like to be central (when stopping in a city)
- If you like having breakfast included
Which Hotel booking sites would I recommend? I've always found good deals on Hotel.Info, so give them a try if you haven't before. As they're mainly used for business travellers, you can sometimes nab a real bargain. They were recently voted most popular website of the year 2013 for travel & leisure too - so I guess I'm not the only person who thinks they're good.
You should choose an apartment if:
- You're after something in a city
- You want something cheap in comparison to hotels
- You want to be central but still have space
- You want to feel like a local
Which apartment booking website should you choose? For me, my favourite is AirBnB. They have properties in many cities across the world, mainly apartments - and whilst websites like Oliver's Travels are perfect for those big stately homes, castles, villas and country getaways - AirBnB is a great choice for city getaways and city breaks. I stayed in Times Sq in NYC for a tiny price - and my view was worth a million dollars (see below!)