Being a parent is hard enough during the school holidays and keeping your children entertained is a skill in itself.
Firstly my two children are up at 6am every morning - "mummy, daddy, can we get up now?" - who needs an alarm clock when you have two boys under four-years-old to wake you up every single morning.
Then, once you're up you have to think ahead about filling the next 12 hours of your day, it's exhausting, well, more so for my wife, who is a primary school teacher and she has the tiring, yet joyfully rewarding task of spending the whole summer holiday with our wonderful two boys.
The 'school holidays' are not a holiday as such, trying to fill six whole weeks, five days a week, 12-14 hours a day is no mean feat - but for one week, we have found a solution, a saviour and some ever-lasting memories, much to my surprise.
We packed up our car with everything including the kitchen sink, (which we never actually needed) and headed off to Center Parcs in Longleat, which friends have raved about but I never actually believed them.
We weren't quite sure what to expect, we thought that when we arrived it would be a cattle market of cars lined up outside waiting to get in as it was the summer holidays, then you would be herded through to your accommodation, this wasn't the case and before we knew it, we were checked in, unpacked and ready to go.
Situated in the beautiful Longleat Estate is the simply stunning, Longleat Forest. The hilly landscape is truly spectacular and you'll see hundred-year-old Giant Redwoods and to get around, you can cycle, walk or catch the land train.
Our two boys have more energy than Usain Bolt and Mo Farrah combined, they literally don't stop running around all day long. Now I'm a keen runner and my wife a regular gym user but our sons leave us both tired at the end of the day, so to have a short break which is as geared-up as Center Parcs to cater for children was more than a welcomed break for us.
We were staying in a villa which was perfectly located, a five minute walk, or a two minute cycle from the central hub of the forest where all the restaurants, shops and the indoor and outdoor swimming pools were situated.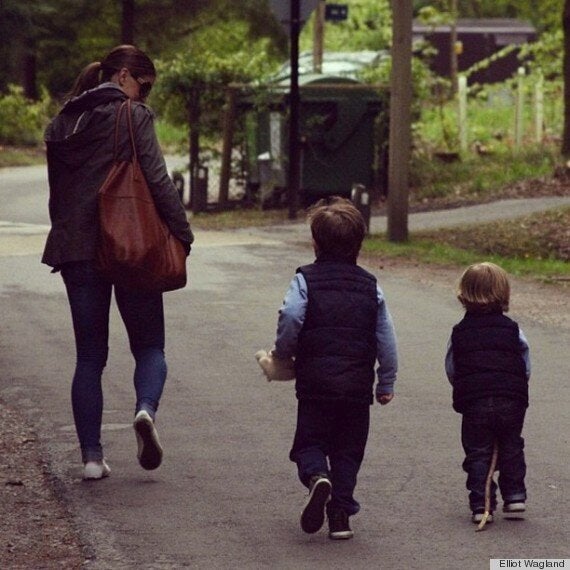 We hired bikes the moment we arrived and hardly walked anywhere all week. The boys loved being outdoors, cycling everywhere and our oldest son, even learnt to ride his first bike there, while I had the task of ferrying around our two-year-old on the back of my bike in his child trailer - and at one point I could swear he was berating me for going too slow.
The real treat came in the evenings, as any parent knows, trying to arrange a night out, even for a quick bite to eat can require military style planning and even then you're in a competition to see who can eat the fastest.
The restaurants dotted around the forest have been thoughtfully designed so you don't have to worry about rushing home, there's huge indoor assault courses, soft play areas and even computers with educational games and the restaurants cater for all taste buds.
Our sons were in their element, they participated in activities from the moment they woke up, even to the point of my youngest almost falling asleep playing crazy golf. But the real gem is the boating lake, it has a man-made beach which is fruitfully stocked with fish that follow you up and down the waters edge.
As a full time working dad and being able to spend so much time chasing my children around (for the right reason) is something you have to make the most of and soak up every single moment you have them.
Seeing them smile, laugh and enjoying their time with us will always be a time that I we'll cherish - and hopefully they will too.