There is much that makes a visit to Belgium an incredible experience. In addition to the role Brussels plays hosting the headquarters of the European Union, the city attracts tourists from all over the world. The picturesque medieval old towns in the countryside and the Flemish Renaissance architecture also deserve attention. But more than anything else, visitors to the country enjoy Belgian cuisine, including world-famous chocolate, waffles, and Belgian fries. And, of course, the beer.
It's nearly impossible to give an exact figure as to how many varieties of beer are produced in Belgium but it would be safe to say that there are nearly 1,000 brewed by some 180 breweries. Beer in the region dates back to the 12th century and was developed over the centuries at Trappist monasteries and in private breweries. Today Trappist beers are very popular in Belgium. Also popular are Abbey beers, originally defined as monastic-style beers but which are today produced by non-Trappist monasteries or branded with a vague connection to monasteries.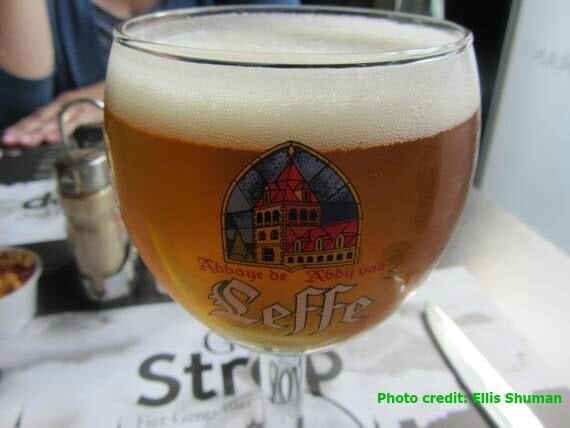 On a four-day vacation it's impossible to taste all Belgian beers, the most famous of which are the internationally produced draught-beer brands Stella Artois, Leffe, and Hoegaarden. However a good place to start is by visiting the Bruges Beer Museum in Bruges, capital and largest city of the province of West Flanders in Belgium's Flemish region and just over one hour away from Brussels by train.
Dedicated to the history of beer production around the world and in Belgium in particular, the Beer Museum gives visitors a modern, interactive learning experience. An iPad Mini is provided as guests walk around the exhibits listening to audio explanations and reading texts in ten different languages. Twenty beer-related quizzes test visitors' knowledge of beer in Belgium, beer types, and the brewing process.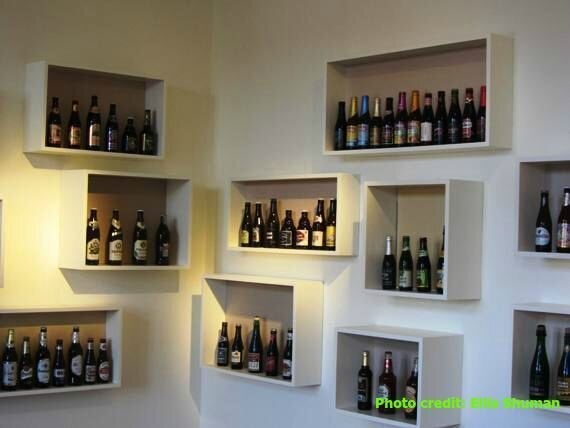 Visits to the Beer Museum wouldn't be complete without tasting a few of the country's most interesting beer varieties. The following are the ones my wife and I selected:
Palm - 5.4% alcohol content. A smooth drinking amber-colored beer with a honey-like mellowness and a fruity yeast aroma.
Palm Hop Select - 6%. A balanced connoisseur's beer with a hoppy taste and a touch of caramel.
Rodenbach - 5.2%. Mild fermentation. A red-brown beer with a sweet-sour flavor matured in oak casks.
Bruge Tripel - 8.5. A potent golden-blond colored beer with a bitter-sweet and smoky taste.
Steenbrugge - 5%. A refreshing wheat beer with a lightly smoked yeast aroma combined with a subtle blend of herbs and spices.
Steenbrugge Dubbel Bruin - 6.5%. A brown abbey beer with a malty caramel character and a fruity lightly smoked yeast aroma.
Along with beverages I drank at meals during my four-day visit, which included sampling a cherry-flavored beer that my wife ordered, I tasted a total of 9 different Belgian beer varieties. The experience gave me an appetite for more - a reason to make another visit to Belgium in the future.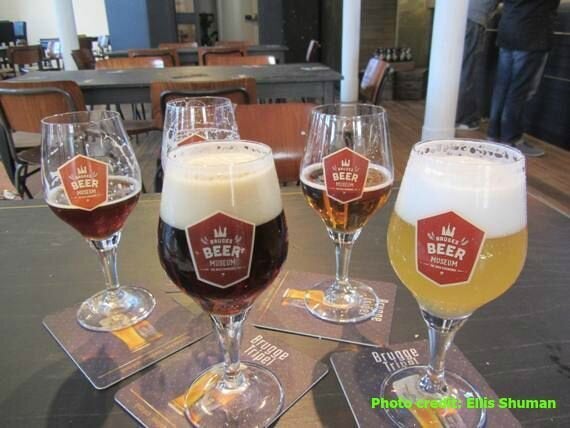 One thing must be clarified: one should drink beer in moderation. If you do, you will be glad to know that there are many reasons why drinking beer is actually good for you. All of this is explained to visitors at the Bruges Beer Museum.
Located between Bruges's iconic Market Square and the nearby Burg Square, the Bruges Beer Museum is open from 10am to 5pm. Entrance for adults is €8 without tasting, €12 with 3 tastings.