With the weather in London last week rivalling that of the Bahamas, it's no surprise I felt myself yearning for another holiday. One where I could lie in the shade of a palm tree, overlooking a white sandy beach, being serenaded by the faint echoes of a distant steel band whilst enjoying a cocktail so fruity it fulfilled my five a day with one sip.
But I live in London, I've got two toddlers, and I'm skint. So bang goes that idea.
However, the warm weather has inspired me to take a trip somewhere slightly more tropical, without leaving the smoggy streets of London. Having lined up a babysitter on Saturday, I took to the Tube to do a whistle-stop tour of the Capital's most tempting Tiki bars. Here's how it went...
Barsmith Goes Tiki
Farringdon's famous Barsmith is a great pub known for its expert mixologists. But in the summer the lack of outdoor space has failed to tempt in customers wanting to make the most of the sunshine. However, this is all about to change, because the upmarket venue has transformed itself into a tropical paradise, bringing the outdoors inside. Palm trees grace the doorway, flowers and Tiki Gods adorn the walls, and there's a specially created menu of Tiki pizzas, snacks and - most importantly - cocktails, to give you that South Pacific feeling in the heart of the City. Having consumed a showstopping Zombie, which is actually set on fire before you drink it, and a smooth Navy Grog which is served not on ice, but with an ice cone to sip the drink through, my partner and I headed off to our next venue. But not before snapping a selfie of my reflection in the quirky branded mirror in the washrooms.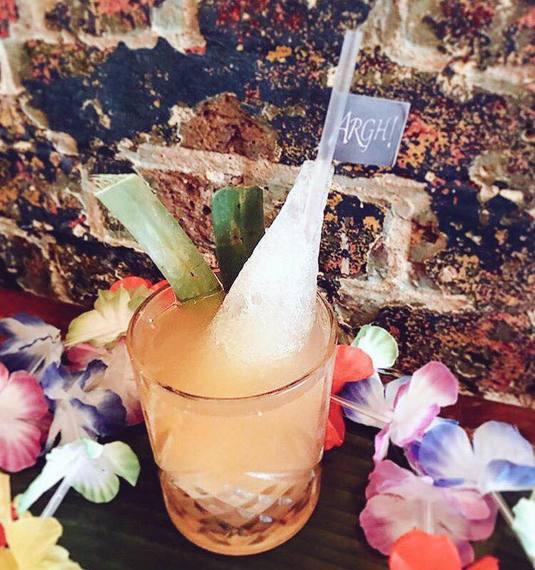 Image writer's own
Trader Vic's
Having sipped a few of the signature Mai Tai's at Trader Vic's you'd easily be forgiven for thinking you were in Hawaii rather than the Hilton Park Lane. This place is top to toe Tiki, from floor to ceiling. The no expense spared decor has given the venue the feel of a tropical Tiki hut. If you're not a fan of bamboo, this isn't the place for you!
Kona Kai
Found on the Fulham Road, Kona Kai is where west Londoners go for the ultimate cheesy night out. There are so many rum cocktails on the menu they have to be split into sections! Varying from 'new creations', 'old favourites', 'Tiki drinks' and 'classics', we soon found something we liked, and the wide range gives you the opportunity to try new spirit combinations you may not have considered.
South London Pacific
SE11's take on the Tiki vibe is slightly different, in that the dishes served are inspired by Vietnamese finger foods as opposed to the barbecue Hawaiian tastes at other similar venues. But the food is good, and with cocktails costing less than £4 until 10pm it's a definite party place. The music is cheesy, the floor a bit sticky, but who cares when you're on your fifth Pina Colada of the day?
Mahiki
No Tiki tour of London town would be complete without a trip to Mahiki, the Capital's most renowned Tiki venue. I hadn't visited this place since my Hen Do six years ago, and while the vibe has changed somewhat, and they're certainly less snobby about who comes in (I remember seeing punters being turned away for being too ugly many moons ago) it's got a great atmosphere and is the Daddy of Tiki in town. Drinks are pricey (but you're in Mayfair, what do you expect?) and the music is less cheese and more mainstream, but Mahiki has Tiki covered. By the time you're chucked out at 3am you'll be feeling more Hawaiian than ham and pineapple pizza. Enjoy!