What if you could spend one whole day eating pancakes and it wouldn't be frowned upon? Oh wait... PANCAKE DAY!
Don't be put off by thinking it's all plain flour, eggs, sugar and lemon... There are some new kids on the block for pancake bases including mashed banana and egg, mashed banana, yogurt and egg, ricotta and egg... but what if you can't eat eggs?
Recently on my courses, clients have told me that they are following an anti-inflammatory diet which requires eating only 2-3 eggs per week, dairy free and gluten free too. Seems fairly controllable however, when you get into the realms of being egg free, dairy free and gluten free all at the same time and wanting to make your favourite dishes without these - this is where it gets more interesting. Furthermore, these diets promote limited intake of specific high sugar foods such as pineapple and banana - So with the lack of known pancake base favourites, eggs and banana, we need to think outside the box.
Introducing you to... A Flax Egg. The Flax Egg has been around for quite a few years and often used in gluten free baking. Ordinarily, we find that it is not the most ideal alternative due to the heaviness and sliminess - thankfully, this is just what we want in a pancake!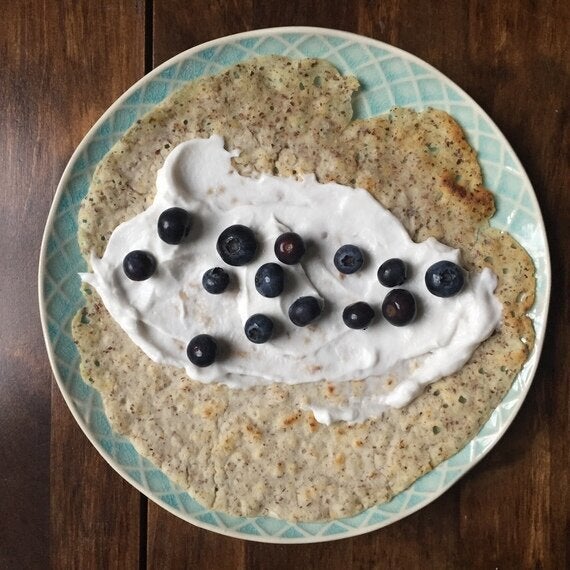 Photo Credit: Food At One
15g milled/ ground flaxseeds
In a small bowl add the ground flaxseeds and water, mix and set aside for 5 minutes to thicken.
In a mixing bowl add the flour and salt.
Make a well in the mixture and pour the thickened "flax egg" into it.
Add the milk and whisk together.
Set aside for 5-10minutes to thicken.
With a little coconut oil or rapeseed oil, pour the mixture into a frying pan over a high heat. Either tip the pan to spread the mixture or use a spoon to encourage it to become thinner (if you so wish).
A delicious filling idea:
Coconut yoghurt with some fresh berries - light, sweet & fresh!
I'd also like to introduce to you another no-egg approach... my Buckwheat & Chestnut Blini. Technically not a "pancake", yet with a little adjustment it can become just that. To keep it easier for you, I removed chestnut flour as sometimes this can be hard to track down.
Photo Credit: Food At One
Buckwheat No-Egg Needed Pancakes
250ml water or dairy free milk (for sweeter version)
15ml olive oil or rapeseed oil or melted coconut oil
0.5 tsp. salt (change to a pinch for a sweeter version)
In a mixing bowl add all the ingredients: buckwheat flour, water, oil and salt and set aside for 10-20minutes.
Check the mixture has thickened.
Pour a ladle full of the mixture into the frying pan.
Again tip the pan or use a spoon to spread out the mixture to either create a thin pancake or leave for a thicker pancake.
Try the buckwheat pancake with pesto spread inside - oh yes! Roll it up for a delicious lunch time wrap! A match made in heaven!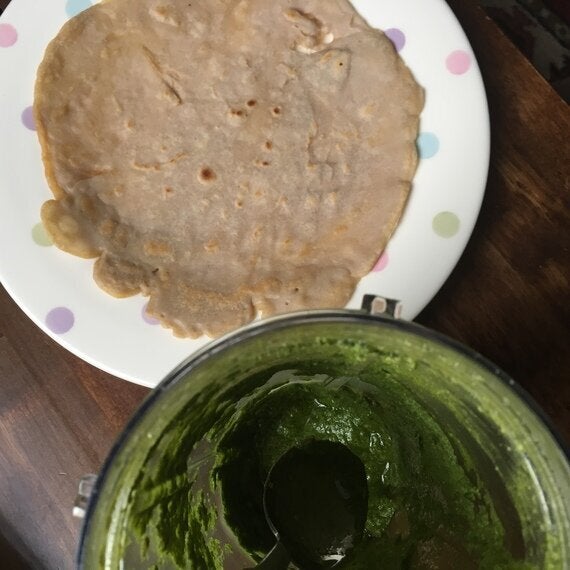 Photo Credit: Food At One
If you cannot decide between sweet or savoury, opt for something like almond nut butter, or coconut nut-butter. You can make your own by toasting some coconut flakes and then pop in a high speed blender, wait until the oils are released and it will suddenly turn from ground coconut to coconut nut butter. Spread this inside the pancake and fill a jar with any leftovers... Delicious on crackers and amazing at halting sweet cravings in their tracks! Recipe here.
If coconut isn't for you, toast some hazelnuts & almonds and even add a little cacao powder... Yes! This'll make your own chocolate hazelnut or almond spread. If you are avoiding chocolate altogether, try Carob which is a great alternative.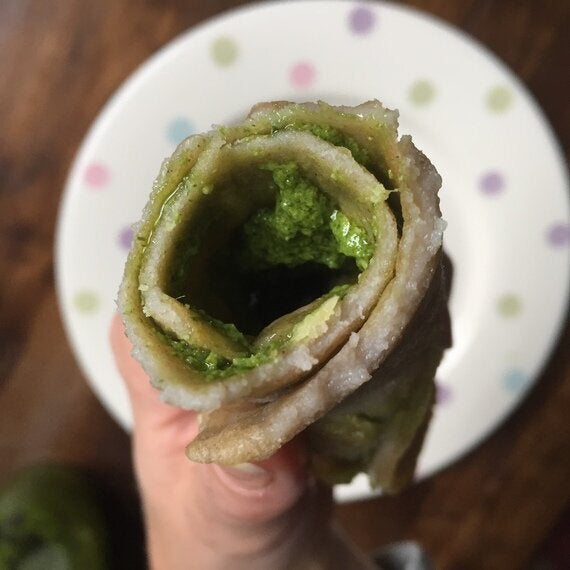 Photo Credit: Food At One
The Food At One way for Pancake Day:
The classic - a little sugar & lemon or perhaps your new nut butter!
These are just few of the variations available but they are egg free, gluten free, dairy free and sugar free and totally full on flavour!
Have a super pancake day!