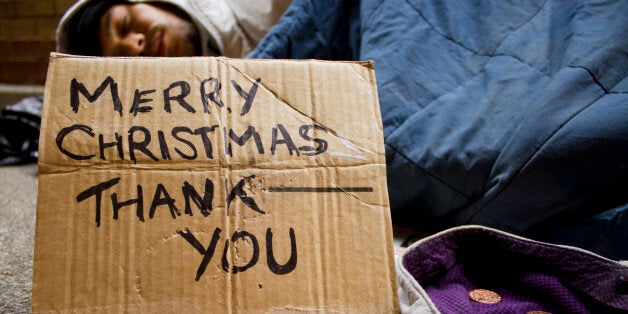 For many people across the United Kingdom, Christmas is a time of wonderful celebration. People get to exchange gifts and spend time with family and friends. They may even just look forward to some precious time off work. However, some people won't be so lucky this Christmas. One in five people in the UK are struggling to put food on the table and heat their homes, whilst more than half a million people were dependent on food banks (statistic from Oxfam).
This Christmas, instead of buying those extra gifts for yourself, why not put your money towards improving the lives of these vulnerable people? Here are a list of five charities in need of your help this Christmas.
This Christmas, there will be 120,000 children across the UK whom are homeless. Shelter are a wonderful organisation that are striving to combat such an awful statistic. From offering support and advice about housing to lobbying the government and local authorities. They campaign relentlessly for housing justice, and whilst they do a wonderful job, they do need our help. From as little as £5 you can help a family find somewhere safe to sleep for the night. Don't have the money to spend, but still want to help? There are many volunteering opportunities across England and Scotland. You can donate items to their shops or make your Christmas purchases through them. You can even participate in fundraising events or organise your own!
Barnardo's works to ensure that all children's needs are met and that their voices are heard. Their purpose is to transform the lives of the vulnerable children in the UK. In 2014 - 2015 there were 3.9 million children living in poverty - that's 9 children out of every classroom of 30 (Statistic from Child Poverty Action Group). Barnardo's works directly with 240,000 people every year and run over 960 essential services across the UK. These services include counselling for abused children, fostering and adoption services, vocational training and disability inclusion groups. Donating £5 a month could help support one of their services such like the Schools' Education Programmes that help teach children how to stay safe and how to access help if they need it. They also have many volunteering opportunities , charity events and charity shops, if you are looking to help in other ways.
Child Poverty Action Group (CPAG)
Poverty affects one in four children in the UK today, CPAG is an organisation working to support those vulnerable children. They create and promote solutions that they believe will tackle these injustices, whilst also providing information and training for those who work with those vulnerable people. In London they work directly with users of food banks, helping them resolve those issues that have meant they rely on food aid. You can help CPAG by providing a one off or monthly donation, participate in fundraising events or be part of their campaign network.
The British Red Cross are a global charity that respond to conflicts, natural disasters and support vulnerable people from both within and outwith the UK. They provide first aid training, respond to disasters, provide short-term mobility aids, support refugees and asylum seekers, teach people how to prepare for disasters, and more. They have more in-depth information about the support they provide over on their 'What We Do' page. From as little as £2 a month you can provide water purification tablets for 8 people, allowing them to access safe drinking water more readily. You can also help the British Red Cross by donating or purchasing from their stores, volunteering, participate in events, play their lottery, and there are even many opportunities for young people to get involved.
These are just five of the many wonderful charities across the United Kingdom helping to provide support for those vulnerable. There are of course many more organisations that need your support, many of which you can find over on Charity Choice's Database. Don't worry if you can't provide money to these charities, how about spending a few hours of your week helping them deliver their services? Instead of binning old clothes and other things you don't want anymore, why not donate them to a charity instead? Even sharing fundraising events can make a big difference and increase the amount of donations they receive. We all have a role to play in combatting poverty in the UK, let's make that goal we stick to.
HuffPost UK is running a fortnight-long focus around helping others this Christmas. Giving Back will shine a light on the organisations and individuals making a difference in their community, tackling issues such as loneliness, homelessness, food waste and financial struggle. We'd also love to hear your stories.
To blog for Giving Back, email ukblogteam@huffingtonpost.com. To keep up to date with our features and find tips on how you can make a difference this Christmas, follow the hashtag #GivingBack.