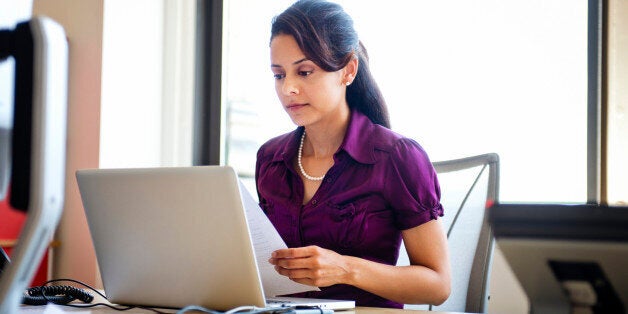 Over the past few years, we've seen the technology industry in the North East thrive and I think it's safe to say that the area has established itself as one of the leading knowledge hubs for cloud computing, software development and data analytics in the UK. This development has put new demands on workforces and it's my belief that companies must now raise the profile of STEM (Science, Technology, Engineering and Maths) careers so that supply of talent can meet demand. One way of tackling this problem is attracting more women into the industry. We know that women make up 46% of the general workforce in the UK, so why is it that they only hold 15.5% of technology positions?
From my experience, the drivers of this problem stem from a misunderstanding amongst young girls about what a career in the technology sector requires. Many continue to listen to the hype that the industry lacks creativity and opportunities to collaborate as a team and yet those of us in the industry know this couldn't be further from the truth. The whole sector is built on teamwork, bringing together diverse skills and pooling resources to develop innovative IT solutions to enable change for our clients.
I've also seen how influencers in the market can create further barriers by placing pressure on girls. From a young age, girls are bombarded with toys that drive them towards the caring professions, steering them away from STEM roles; a situation compounded by a lack of women in the public eye with careers in this sector. Whilst girls should have the choice to choose careers in any sector we need to provide them with alternative role models who are within their grasp and I long for the day when the next generation of Dallas and its ilk has female drillers, surveyors and best of all business leaders who are capable and aspirational.
That's why I chose to get involved with the #NEDigitalGirls event which took place a few weeks ago. Over 300 girls from across the region attended and we made sure that their day offered a window into different aspects of the industry. It also served as a great platform to introduce the girls to successful women within STEM. A number of high-profile women prepared videos that were broadcast on the day which explored their own careers and provided encouragement to the attendees. These included contributions from: Formula 1 test driver Susie Wolff, Microsoft's Central and Eastern Europe General Manager, Trudy Norris-Grey, TV presenter and maths guru Carol Vorderman and Baroness Dido Harding, the chief executive of TalkTalk.
Talking to the girls and watching how they worked together in the workshops was inspiring for me. These were young girls, many of whom had never considered a STEM career, who were having their preconceptions challenged. The whole event was summed up perfectly by one attendee who told me that, prior to the #NE Digital Girls, she had always thought she had to study English, even though she wasn't very good at it but now she could see a variety of career paths in front of her, including opportunities in STEM.
This experience highlights the necessity of events like #NEDigitalGirls to provide young girls with the right knowledge, skills and experience to explore the full range of careers available to them. This message needs to be spread nationally if there is to be any change and the industry has an important role to play. The next generation of women need to have strong visible idols who are mathematicians, scientists and inventors. Collectively, we can demonstrate to girls that society doesn't have to limit their future career opportunities - the choice is just wider than they imagined.