The memories your children will treasure can't be bought.
Climbing trees, damming the stream, building a fort under a sheet without being hemmed in by timetables and homework: these are the feel-good moments that'll make it into their mental treasure trove – certainly not the time they got to level stupendous on their expensive computer game or when you forked out a fortune for an instantly forgettable meal out.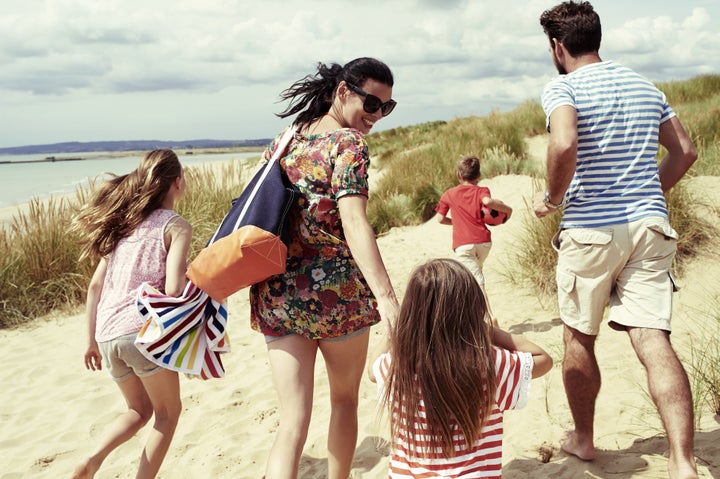 To make a day out special for you and your kids, don't be too ambitious. Go to one place and spend time enjoying it, taking your time rather than trying to pack in too much.
The Huffington Post UK has teamed up with Cadbury Dairy Milk Buttons to bring you these joy-filled activity ideas for you and your little ones. The best bit? They're all totally free.
Mess about in water
Children love paddling in streams, squishing their toes in mud, pond dipping and trying to catch teeny minnow with their bare hands and nets. We're lucky that the UK has so many beautiful, unspoilt rivers, streams and lakes. Just make sure you keep a constant eye on your little ones. Tarr Steps on Exmoor is a beautiful place for a day at the river, while Goldiggins quarry on Cornwall's Bodmin Moor is an idyllic spring-fed quarry lake.
Make a den
Whether it's a tree just inviting to be climbed and claimed or a den created with bigger branches against a tree, canopied with smaller twigs and bracken or a simple sheet covering two chairs or the sofa pushed forward from the wall to make a kids-only space, your children will love making their own houses. Once they've made their base camp, they can use it as the focus for imaginative games for hours on end.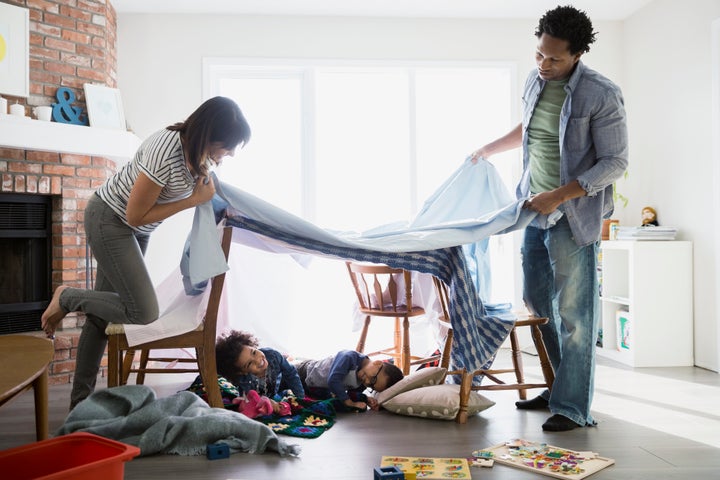 Play in the park
Your local park is a great place to just run about and let off steam. Perhaps you can join forces with other families to stage running races or play thrilling games of British Bulldog and Tag. Or why not swap boring dinnertime for an exciting evening picnic for the whole family? That's what summer holidays are all about.
In London the Queen Elizabeth Olympic Park is well worth a day out. As well as the wildflower meadows we all loved in 2012, now you can splash about in the fountains, scale the climbing wall n the Pleasure Gardens play area and the Tumbling Bay playground contains sand pits, tall treehouses, and wobbly bridges, as well as slides and swings.
Sun, sea and sand
If you're looking for good old-fashioned fun that's easy on the wallet, take a trip to your local beach, armed with buckets, spades, sun lotion and a packed lunch. North Yorkshire's Scarborough beach is known as the 'St Tropez of the North' with a fantastic mile-long stretch of golden sands, or what about North Devon's nearly three miles long Woolacombe Beach? Rock pooling, collecting shells and perfect pebbles, building sandcastles and turning mum into a sand mermaid, a day at the beach is the essence of fun for free.
If you want to introduce your child to the joys of hooking a crab with a bit of bacon and a line, Walberswick in Suffolk is a great location for crabbing and beaching. Just make sure you put the crabs back after you've filled your buckets and compared who has the most.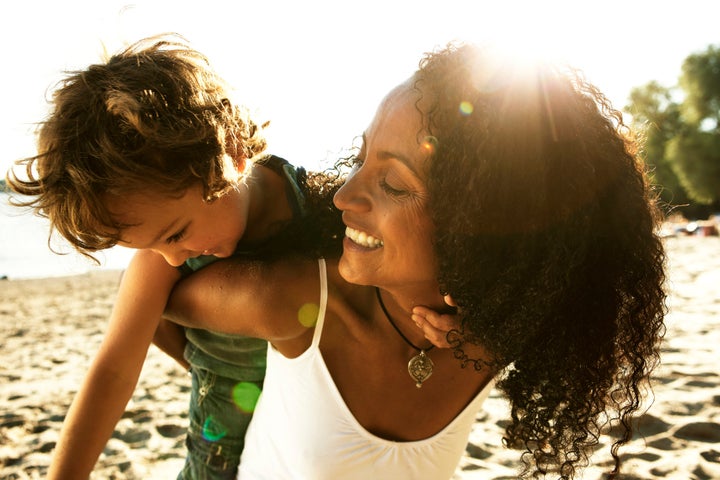 Make history come alive
Children love imagining what it was like to live in 'olden times', whether it's exploring a castle or seeing an historical recreation. The Ragged School Museum is free for adults and children and shows what it was like for the slum children of London's East End during the late 1800s. Your kids can even don costumes and be 'taught' in a Victorian classroom.
At Winchester City Museum in Hampshire kids can try on Roman togas, pretend they're Victorian ladies or Edwardian gents with hats and costumes, as part of the interactive exhibitions.
Visit a local festival
Unlike the eye-poppingly expensive ticketed festivals popping up across the UK, a visit to a local festival is a perfect day out for the family. The Big Cheese Festival takes place in Caerphilly in South Wales from 29 to 31 July. It's free and children will be entranced by the Big Cheese race, street entertainers, living history encampments, fire eating, falcony and fireworks.
On the same weekend St Anne's Kite Festival takes place in Lancashire and makes for a spectacular sight as the skies above the seafront fill with kites of every shape and size, including a 30 metre long inflatable Octopus, flying cows, dogs, hippos, and Oscar, the world's largest teddy bear kite.
Also high in the sky is the free Wales National Airshow at Swansea Bay on 2-3 July, 2016. Breathtaking aerobatic displays including from the Red Arrows, while on the ground state-of-the-art aircraft and vintage planes from the past will thrill your children.
Take a walk in the woods
The Forestry Commission have created lists of top 10s to find different locations for your favourite activities, including their top 10 easy access trails (suitable for pushing buggies too, phew!), top 10 natural play areas and top 10 family cycling trails. As every parent knows a walk without a mission (to find something, do something, be the winner) runs a serious risk of turning into a whine-trudge, so the sound trail leading through you the forest is genius.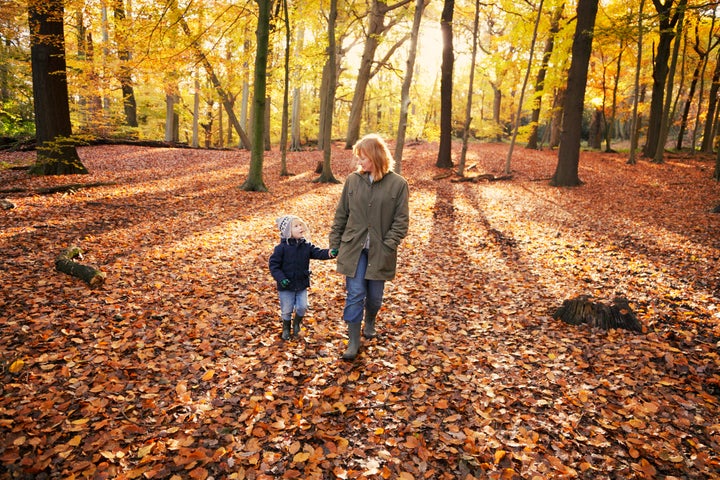 Get creative
Bristol Harbour Festival takes place from 15-17 July 2016 and is sure to enthrall your children with open-air circus displays, music and dance. Cirque Bijou's Children's Area on Castle Park will have a host of family friendly and free activities. Children can learn circus skills and get involved in creating arts installations.
Go on a family bike ride
A cycle through our countryside is a lovely adventure for children. Moors Valley Country Park in the New Forest has a two-mile cycle trail that's ideal for young families and can be extended to seven miles with extra loops. Wherever you go, just make sure to pack your puncture kit and some snacks for extra energy boosts.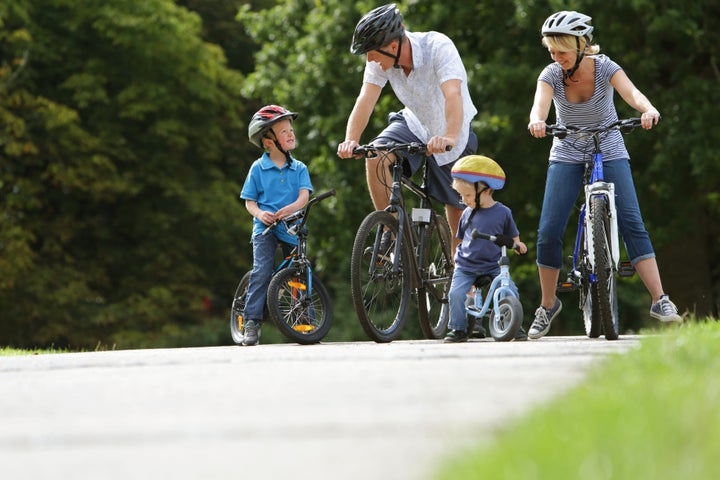 Head into town
You'll find free activities and events galore in every town and city this summer. Check out local papers and your local library and leisure centre notice boards for inspiration. A huge number of museums and art galleries are free to enter. For example, in Edinburgh you could choose between the Scottish National Museum, the Scottish National Gallery and the Royal Botanic Garden, all for free – you can even hop on the gallery bus without getting your purse out.