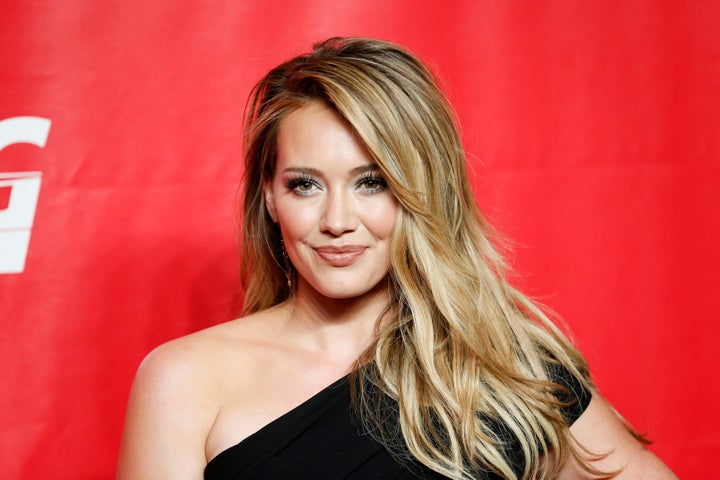 Over the years, Hilary Duff has made her mark on the entertainment world, but she's also made waves in another realm: parenting.
In the past, Duff has opened up about her son Luca and what she's learned through parenthood.
In honor of her birthday we've rounded up some of her most memorable parenting moments. Enjoy!
When she fired back after being mom-shamed for kissing her son:
After receiving criticism for kissing 4-year-old Luca on the lips, the actress and singer fired back with a strong message on Instagram. "For anyone commenting that a kiss on the lips with my four year old is 'inappropriate' go ahead and click unfollow with your warped minds and judgment," she wrote.
When she spoke honestly about being a divorced mom:
Duff spoke to Redbook about being a single parent. "Some of my friends tell me, 'God, it must be so nice, you get a break from your kid because you share him.' I'm divorced, and it sucks," the actress said. "Well, it did suck for a while; now it's just normal."
When she got real about mom guilt:
In an earlier interview with Redbook, she spoke about mom guilt. "It's hard to say that you really can have it all. I think you can to a certain degree, but fully loaded, pedal-all-the-way-down is tough," she said. "You're missing out on something, either on the career or on the family. When I'm really busy with work, I feel extremely guilty."
When she showed off her "flaws" to empower moms and girls:
While on beach vacation with her 5-year-old son, Luca in August, the actress posted an Instagram photo of herself in a swimsuit from behind ― along with an empowering caption about postpartum body image.
"I am posting this on behalf of young girls, women, and mothers of all ages," she wrote. "I'm enjoying a vacation with my son after a long season of shooting and being away from him for weeks at a time over those months. Since websites and magazines love to share 'celeb flaws' ― well I have them!"
She added, "My body has given me the greatest gift of my life: Luca, 5 years ago. I'm turning 30 in September and my body is healthy and gets me where I need to go. Ladies, lets be proud of what we've got and stop wasting precious time in the day wishing we were different, better, and unflawed. You guys (you know who you are!) already know how to ruin a good time, and now you are body shamers as well."
When she emphasized the importance of self-care for parents:
"I think asking for help on a tired day isn't a sign of weakness," she told People in 2013. "A lot of changes have come into your life quickly and it's important to take time for yourself! Whether that be a workout, a bath, shopping with friends, or even reading outside for half an hour, all moms should take that time."
When she described the roller coaster of becoming a parent:
"It's such a wonderful experience and obviously life-changing and altering," she said of having a baby in an interview with HuffPost. "You just don't even know until you have a child what that bond does, and how it changes you, and what you learn."
She added, "But it is also a big struggle. It's the hardest thing as well. You're exhausted. You don't have all the answers, no matter how many books you've read. You're dealing with a hormonal roller coaster. It's a lot of different things that you don't always understand. So having a support system around me was key in the first year."
When she shared a moving poem about parenthood:
The actress posted a poem by Rachel Zucker on Instagram. In the caption, she explained that the poem resonated with her, especially since she sometimes spends weeks away from her son for work.
"Tears started falling down my face at the last four lines and still do when I read it," she wrote. "Motherhood is the greatest gift I have ever received."
When she criticized the way the media often portrays postpartum bodies:
Duff spoke about the way headlines described her body after giving birth in a Redbook interview. "After I had Luca, I went out to, like, the breast-pump store ― I was still huge ― and I just had a comfortable outfit on. And the next day [in the tabloids] it was like, 'Hilary debuts post-baby bod!' And I was like, 'That's not a debut! That's an errand!' It was such a happy time that honestly I didn't care; it wasn't until later that I realized how mean and invasive it was."
When she got real about the hard parts of parenting:
"You think because you carried a baby inside you and you're so close to them, you think you should know all the answers," she told HuffPost. "You put a lot of pressure on yourself. So be proud of yourself and take time for yourself, [which] is not always easy to do when you're in the thick of it."
When she posted a photo of herself in a bikini to remind moms "#westillgotit":
Duff posted a bikini selfie on her Instagram to encourage moms to be proud of their bodies. "Hey #moms #westillgotit #loveyourbod," she captioned the photo.
When she described the way parenting changed her perspective on life:
"Being a mom now has taken so much pressure off the 'what ifs,'" she told ET Canada. "Like, 'What if?' OK. I'm still going to be Luca's mom and I still have an important role in life. And I think taking that break made me so human again."
When she summed up the shock of sleep deprivation for new parents:
"The first week I was like, 'I'm doing this, I'm good. I can not sleep, I can do this.' I don't know where you get that energy from. Then it hits you — the fatigue," Duff told People.
"So many people were like, 'Take naps when your baby naps,'" she added. "So I tried, and it really helped a lot. I thought when he was napping that was the time I could do all the things I needed to do. It's a fine balance."
When she set a great example of co-parenting:
"We have such a great kid, and we're both so obsessed with him," Duff said on "The Ellen Show" in 2016. "We are good friends and we laugh a lot and we have a great communication. We share pictures when one is not with Luca. Yeah, he's great. We are great and we keep on trucking."
Related