Here at home, we forget that somewhere out there are villages where everything's closed on Sundays and finger-sized dragonflies hum, Robitussin-green, over stone walls three times older than the whole USA.
Clinging to the Ligurian Alps that rear over the Italian Riviera -- which Italians call simply la Riviera because riviera, as an Italian noun, mandates no modifiers; thus all other rivieras are pretenders -- Seborga is exactly such a village.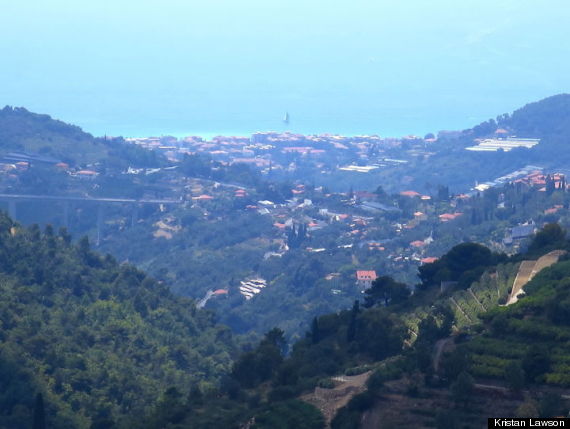 A former Roman settlement and Templar stronghold, flanked by flower fields and olive groves, crouching tile-roofed and nearly silent but for church bells and the clack of soles on stone, Seborga feels -- to the visitor nibbling grilled rabbit near its lion-headed fountain, say, or watching a torpid juggler turn his back to the faraway sparkling sea -- blessedly foreign and forgotten under sweet summer breezes or wispy winter snow.
But the difference between Seborga and other sleepy villages is that Seborga calls itself a separate state, a principality inside Italy's borders not unlike Vatican City and San Marino. That the Italian government ignores these claims doesn't stop Seborga from having its own army, flag, royal family and currency.
Studying the town charter during the late 1950s, local gardener Giorgio Carbone noted that a 10th-century nobleman granted in his will full sovereignty to Seborga's Benedictine monastery and about fourteen square kilometers of its surrounding territory. In 1079, Pope Gregory VII and Emperor Henry IV declared Seborga an Imperial Principality of the Holy Roman Empire with the monastery's abbot as its prince. The facts that Seborga's sale to Vittorio Amedeo II, King of Sardinia, in 1729 went unregistered and that Italy's 1861 Act of Unification doesn't mention Seborga sealed its separate status, Carbone argued.
Declaring himself His Serene Highness Giorgio I, Carbone was elected Prince of Seborga by villagers in 1963 and remained head of state until he died, childless, in 2009. His successor, huge-foreheaded Swiss-born hosiery heir Marcello Menegatto, was crowned in 2010 -- after beating by 22 votes his competitor in a 156-vote villagewide election. Protected by his blue-bereted Corpo della Guardia, Prince Marcello presides over a court of white-robed knights. His German wife is Seborga's foreign minister. Queen Elizabeth of England received the pair formally in 2011. And hey, Burkina Faso has recognized Seborga as an independent state since 1998.
Public buses link Seborga TXT to Bordighera on the Riviera five twisting, panoramic miles away. On the Piazza Martiri Patrioti between the 13th-century Oratory of San Bernardo and a ristobar is a sentry booth in Seborgan sky-blue and white. Check into a local bed-and-breakfast -- cozy, affordable Antico Castello partially inhabits a medieval castle in the oldest part of town -- and stroll this stairstepped, archwayed, twisty-turny, holy-grottoed honeycomb amongst Campari-sipping, scooter-driving villagers who call themselves Seborghini and, separatist or not, pay Italian taxes (in Euros) and vote in Italian elections.
Seborga's separateness is part history, part fairytale fantasy which has made the ultimate leap into Japanese manga: A character in Hetalia: Axis Powers is a flirtatious, green-eyed youth named Seborga who embodies the micronation of Seborga and carries an inner tube.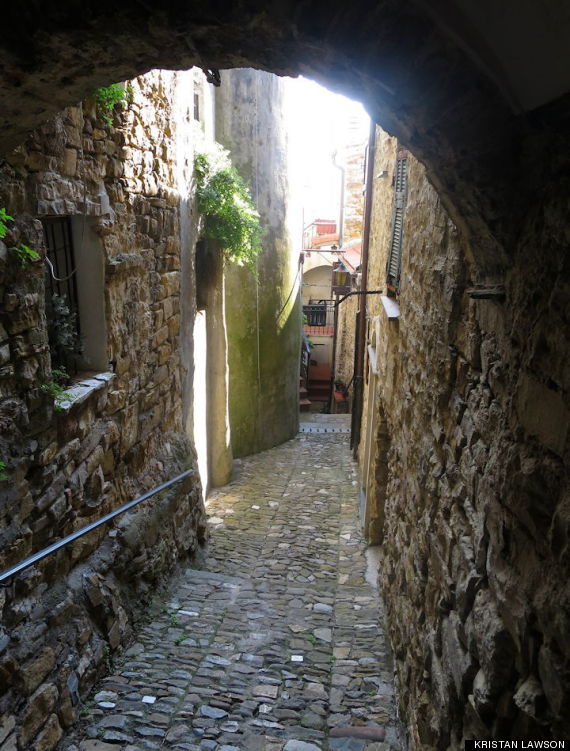 Palms and pines perfume Seborga's tidy, flowerpot-flanked lanes. Set into a city wall, a medieval prison cell looms menacing and dank as if awaiting its next murderer or heretic. A museum sporting some of the most astounding gramophones you'll ever see occupies one of those biscuit-beige stone buildings that huddle together tightly here as if seeking solace against the centuries.
For reluctant urbanites who, back home, sit in traffic with jaws clenched, villages are literally the land of dreams. These ancient, echoey warrens are what we picture when, back home, we sing ourselves to sleep.
Visiting villages requires recalibration, a resetting of the limbs and circulation to what some would call slow motion but which feels to us like meditation. In Seborga, we sojourn in stillness, seeing epics in a single dewdrop dwindling on a frond, hearing history in a child's ball kicked across the Piazza San Martino's tiled Templar cross.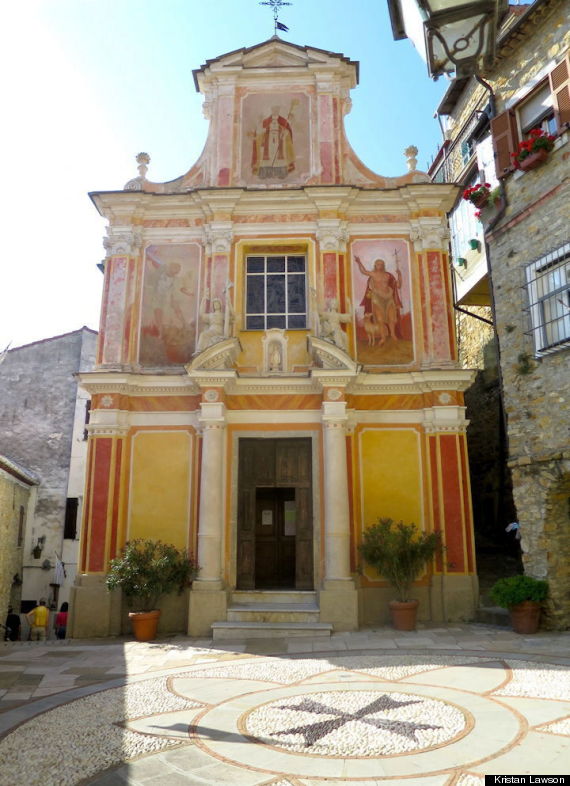 Framed portraits of princes Giorgio and Marcello hang solemnly in houses, restaurants and shops alongside sweatshirts, carved owls, tiny brine-cured Taggiasche olives and Seborgan coins -- the luigini, issued first in 1661, then from 1994 to 1996, but mainly a novelty now.
And, as occurs in villages, we start to forget in reverse: Sucking anise-flavored popsicles from this micronation's only minimart, we forget that somewhere out there beyond these terraced emerald hills is home, where days fly by in crowded blasphemies of cash and speed in which we see no one juggling at all.
All images by Kristan Lawson, used with permission.