Twenty drinking fountains are set to be rolled out throughout London as part of a City Hall pilot scheme to reduce the use of single-use plastic bottles, according to a report by The Guardian. This will allow people to refill their water bottles instead of buying single-use plastic bottles.
In addition, over February and March a bottle-refill initiative, which will encourage businesses to make tap water available to the public, will be rolled out over five areas of the city.
Beyond the capital, HuffPost UK reached out to Bristol, Manchester, Leeds and Liverpool councils have confirmed there are no current plans to follow suit. Birmingham council is yet to respond.
Local councils in both Brighton & Hove and Cardiff are both currently considering plans to install water fountains in their city, after requests were made from residents.
In Brighton & Hove an e-petition to install water fountains was signed by 2613 people, while in Cardiff one resident wrote a letter to introduce water fountains in the park.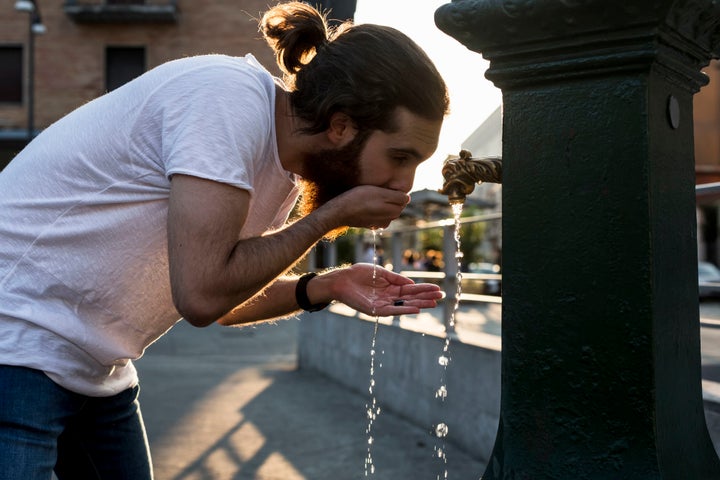 Network Rail also have a team looking into the installation of water fountains across their UK stations and are currently in the process of deciding what would work in each of their managed stations.
The organisation manages stations all of the UK, including Birmingham New Street, Manchester Piccadilly and Glasgow Central, as well as 10 across London.
Elsewhere, one grassroots initiative highlights cafes, restaurants, museums and other businesses that allow people to refill their water bottles. Refill, which began in Bristol, now boasts 1600 stations in a number of cities across the UK.
According to Gus Hoyt, Programme Manager at Refill, water fountains compliment Refill's campaign and vice versa.
"Both are vital components for us normalising reuse and refilling instead of throwaway plastic bottles," he told HuffPost UK.
The latest company to join the Refill campaign is Neal's Yard Remedies, who have announced that they will be the first high street chain to roll out free water refill stations nationally.
Participating stores range across the UK, including Cambridge, Bath, Leamington Spa and Birmingham.
Jonathan Bartley, co-leader of the Green Party, welcomes London's new water fountain network and bottle-refill scheme as two positive steps towards combating the single-use plastic problem.
"Britain uses 38.5 million [plastic] bottles each day. Water fountain networks are a brilliant example of the practical steps that can be taken to help reduce plastic waste," he told HuffPost UK.
He also insisted that a government-backed bottle deposit scheme should be the next step in combating the single-use plastic problem.
"For schemes like this to work, they must be matched by bold action from the Government. There should be a refill station in every public space and public building, rolled out alongside a national bottle deposit scheme.
"We have the chance to lead the world in plastic pollution, but only if the Government takes full responsibility for tackling this crisis."