With a limited amount of soaps on our screens, we often see stars swap Albert Square for t'cobbles or Down Under for the Dales – but what is less common is playing a brand new character in the same show.
However, as this lot prove, it is still possible to pop up years (or sometimes just a matter of months) after your former alias has said their last goodbyes to soapland...
Diane Parish – EastEnders
Lola Christie (1998); Denise Fox (2006-present)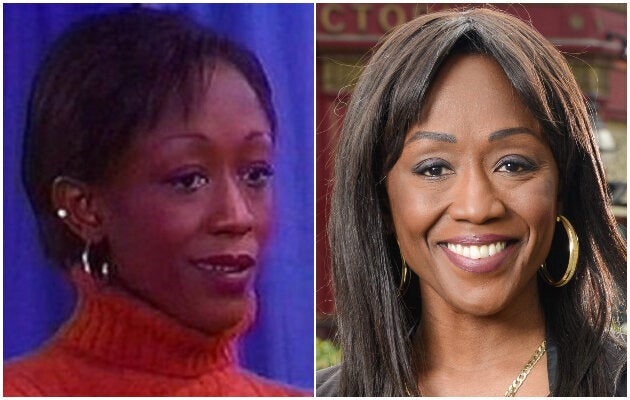 Diane is one of EastEnders' longest-serving characters among the current cast, but her role as Denise Fox was actually her second on the soap, having previously played Lola Christie for six months back in 1998.
Lola was introduced as a singer who auditioned for Mick McFarlane's (Sylvester Williams) jazz band. The pair embarked upon a romance, but Lola lef the Square when she was offered a solo recording contract.
In a 2002 interview, Diane said she "hated" appearing in a soap because she found it "cliquey" and "lost her anonymity" due to the public's interest in the show. But just four years later, she signed up to play Denise, insisting that the frenzy was "calmer" second time around.
Brian Capron – Coronation Street
Donald Worthington (1981-1986); Richard Hillman (2001-2003)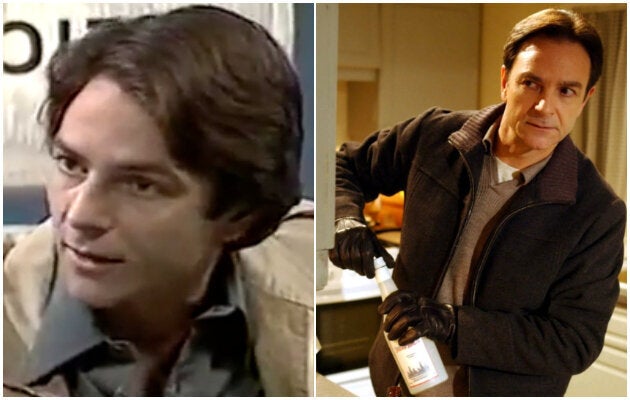 Brain Capron will forever be remembered by Coronation Street fans as cobbles killer Richard Hillman, who claimed the life of long-standing character Maxine Peacock (Tracy Shaw) and attempted to murder wife Gail (Helen Worth) and her whole family.
But the role of Tricky Dicky was actually Brian's second turn on the Street, as he'd played social worker Don Worthington on 14 occasions between 1981 and 1986.
Don was first introduced when he interviewed Len and Rita Fairclough (Peter Adamson and Barbara Knox) as prospective foster parents.
He was also the one who broke the news to Jenny Bradley (Sally Ann Matthews) that her mother had been killed in 1986.
Alan Fletcher – Neighbours
Greg Cooper (1987); Karl Kennedy (1994-present)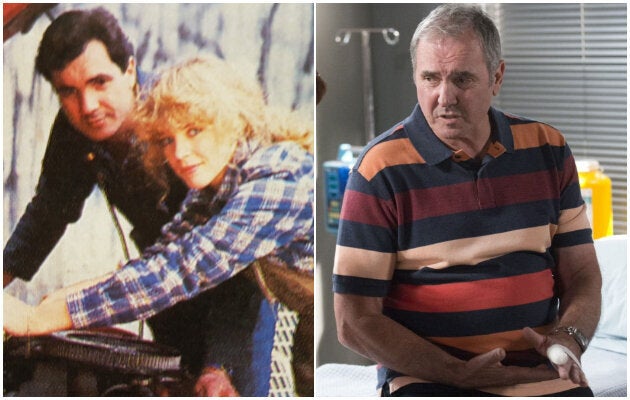 Alan Fletcher is synonymous with everyone's favourite Aussie soap Neighbours, having appeared as Ramsay Street's resident doctor for the past 25 years.
But prior to moving in to number 28 with wife Susan (Jackie Woodburn) and their family, Alan had enjoyed a short stint in 1987 as boxer Greg Cooper, who worked in Jim Robinson's (Alan Dale) garage alongside none other than Kylie Minogue, who played Charlene Mitchell.
Linda Henry – EastEnders
Lorraine Stevens (1991-1992); Shirley Carter (2006-present)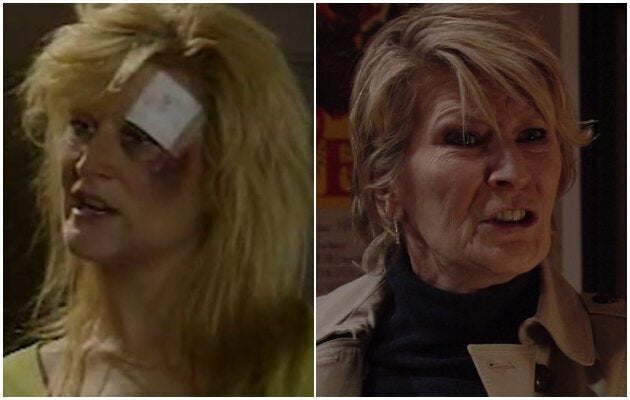 Snarling Shirley Carter has become one of the greatest characters in EastEnders since her arrival in Walford in 2006.
But it was actually 15 years prior when actor Linda Henry first appeared on the soap, playing sex worker Lorraine Stevens, who was taken in by Pat and Frank Butcher.
Lorraine's daughter, Mandy Salter (Nicola Stapleton), was later introduced, with the pair having a complicated history that had seen Mandy spend years in care.
Linda left EastEnders as Lorraine in 1992, but in 2011 she was reunited with former on-screen daughter when Nicola reprised her role as Mandy.
When the character of Lorraine was reintroduced in 2012 as part of Mandy's storyline, she was played by Linda's former Bad Girls co-star Victoria Alcock (aka one of the Two Julies!).
Linus Roache – Coronation Street
Peter Barlow (1973-1975); Lawrence Cunningham (2010)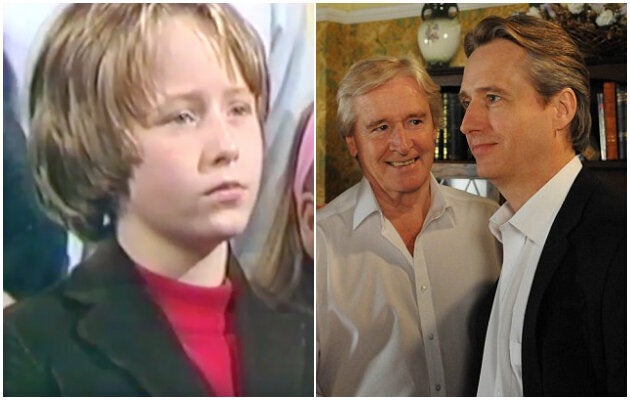 Linus Roache is the real-life son of Coronation Street legend Bill Roache, who plays Ken Barlow.
Back in the 1970s, their father-son relationship spilled onto the soap as Linus became the fourth child actor to play Ken's son Peter Barlow.
Fast forward to 2010, Linus appeared alongside his dad again, but this time in the role of Lawrence Cunningham, who it transpired was Ken's long-lost son from his relationship with Susan Cunningham (Patricia Shakesby) in 1961.
Linus was also brought face-to-face with the character he previously played when he shared scenes with the current Peter Barlow (Chris Gascoigne).
Malcolm Hebden – Coronation Street
Carlos (1974); Norris Cole (1994-present)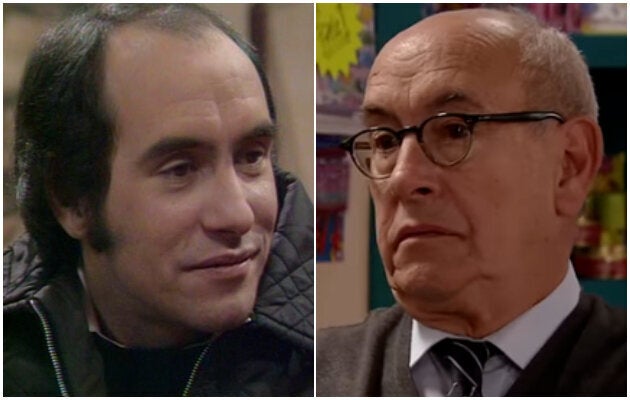 Having been on the show intermittently for the last 25 years, it's hard to imagine Malcolm Hebden playing anyone other than the loveable curmudgeon Norris Cole.
However, 20 years before his first appearance as the newsagent, he played a character 1000 miles away from Norris when he starred as Carlos, the Spanish neighbour of Bet Lynch (Julie Goodyear), who served as a love interest for Mavis Riley (Thelma Barlow).
Alison King – Coronation Street
Mrs Fanshaw (2004); Carla Connor (2006-present)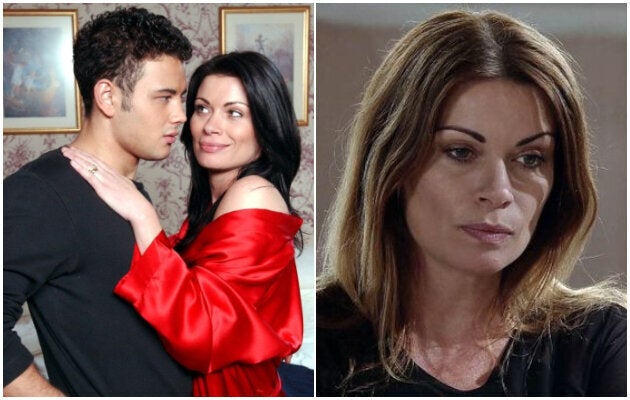 Nearly three years before Alison King took on the role of Underworld boss Carla Connor, she appeared in Corrie as a saucy housewife who was a customer of builders Charlie Stubbs (Bill Ward) and Jason Grimshaw (Ryan Thomas).
A scantily-clad Mrs Fanshaw successfully seduced Jason when he attended her property to fix a faulty thermostat in her bedroom.
Lorraine Stanley – EastEnders
Thelma Bragg (2016); Karen Taylor (2017-present)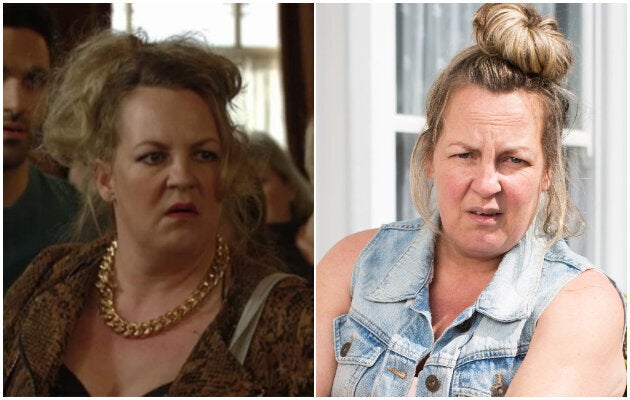 Lorraine Stanley first appeared in EastEnders as landlady Thelma Bragg for eight episodes over three months in 2016. As well as being the mother of Jay Mitchell's love interest Linzi, she was the owner of rival pub to The Vic, The Rat And Ferret.
Thelma clashed with Linda Carter at an event for East London Lady Publicans, and further wound up the Vic landlady when she offered her children Nancy and Lee trial shifts at her pub.
She was also the one who called the police on Jay when it was revealed he had been dating Linzi, not realising she was only 14, leading to him having to go on the sex offenders register.
Lorraine returned to EastEnders less than a year later, this time playing the regular role of Karen Taylor.
However, she also has yet another connection to the show, as Lorraine also played a young Mo Harris in the 2004 EastEnders spin-off Pat and Mo, which looked at the origins of the character's history with Pat Butcher.
Sarah Lancashire – Coronation Street
Wendy Farmer (1987); Raquel Watts (1991-1996)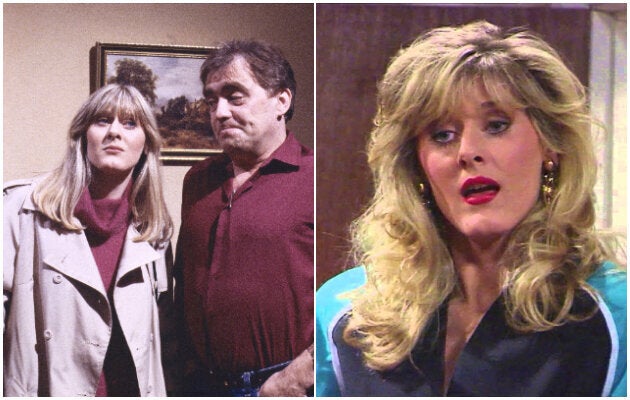 Since leaving her role as ditzy barmaid Raquel Watts, Sarah Lancashire has gone on to become one of the country's most respected and well-loved actors.
And while for many she will still always be Raquel, the character was actually not the first Sarah played on Corrie, as four years prior to pulling pints behind the Rovers bar, she appeared in one episode as Wendy Farmer.
Wendy was a young nurse interested in renting Jack and Vera Duckworth's (Bill Tarmy and Liz Dawn) spare room.
Bruno Langley – Coronation Street
Darren Michaels (2000); Todd Grimshaw (2001-2017)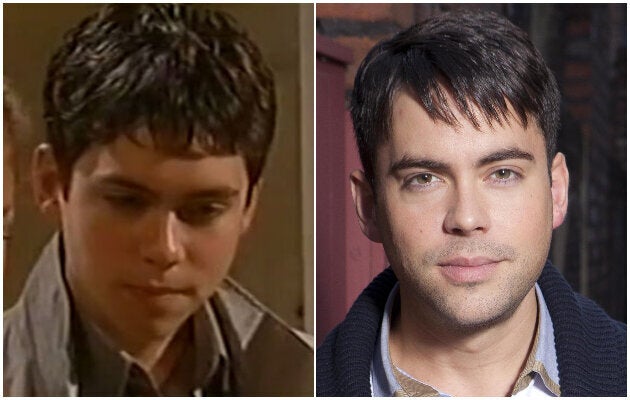 Todd Grimshaw was a groundbreaking character for Coronation Street, being the soap's first openly gay character who also responsible for the show's first same-sex kiss in 2003.
Prior to coming out, Todd dated Sarah-Louise Platt (Tina O'Brien) and Candice Stowe (Nikki Sanderson), but it was not the first time Corrie bosses had paired Bruno and Nikki up on the soap.
Back in August 2000, he played Candice's teenage boyfriend Darren Michaels.
When the character reappeared in March 2001, he was played by Nicholas Zabel, dumping Candice when he found out that she was also dating Todd. This moment saw Bruno appear alongside the character he previously played.
Bruno was axed from the soap in 2017 after he was accused of two counts of sexual assault, to which he later pleaded guilty in court.
Leslie Schofield – EastEnders
Brian Wicks (1988-1989); Jeff Healy (1997-2000)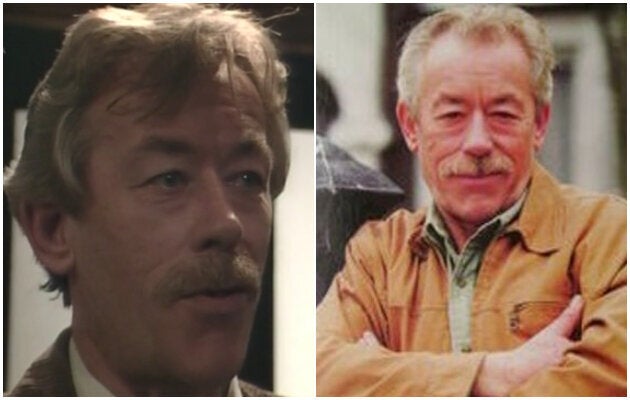 EastEnders fans most likely recall Leslie as Jeff Healy, the father of Mel Owen, who was played by Tamzin Outhwaite.
During his time on the Square, he had a relationship with Pauline Fowler (Wendy Richard), which ended when he proposed and she declined.
However, he previously appeared in the soap as Brian Wicks, the second husband of Pat Butcher (Pam St Clements).
The character was only seen twice on screen between 1988 and 1989, but was regularly mentioned prior to his first appearance as it was written into the show's backstory that he'd had an affair with Pat 20 years earlier while she was still married to Peter Beale (Peter Dean).
A particularly explosive storyline saw Pat reveal to son Simon that Brian was actually his real father, having grown up only knowing him as his adoptive father.
Ian Mercer – Coronation Street
Pete Jackson (1987); Gary Mallett (1995-2000)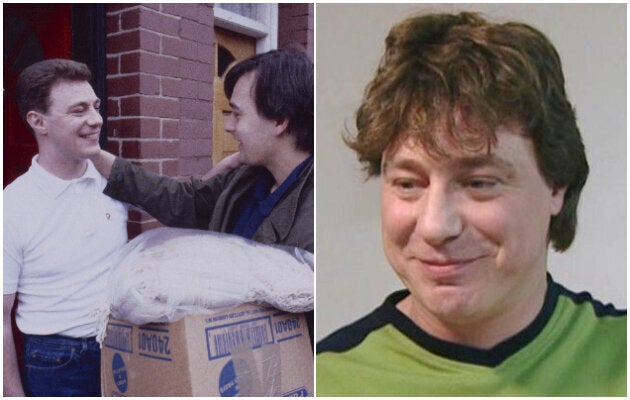 Ian played family man Gary Mallett, who moved to Weatherfield with his wife Judy (Gaynor Faye) in 1995, but was left a single father to their two nine-month old children when she was killed in a road accident caused by Terry Duckworth (Nigel Pivaro).
The pair famously had a showdown where Gary punched Terry on Christmas Day, blaming Jack and Vera's no-good son for Judy's death.
But the actors had previously appeared on the soap together when Ian played an army mate of Terry's, Pete Jackson, between April and June of 1987.
Maggie Jones – Coronation Street
Police officer (1961); Maggie Monks (1967); Blanche Hunt (1974-2009)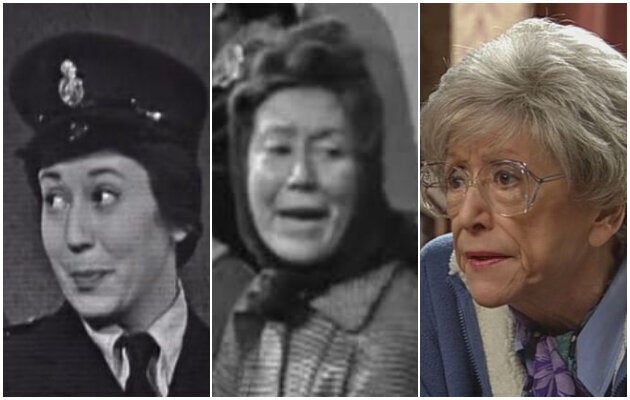 With her quick wit and acerbic tongue, Maggie Jones made the role of Diedre's mother Blanche Hunt her own when she took over from previous actor Patricia Cutts who sadly took her own life after just two episodes in 1974.
But Maggie had already appeared not once, but twice before on the show, first playing a police officer who arrived to take details from Harry and Lucille Hewitt (Ivan Beavis and Jennifer Moss) about a runaway child in 1961, before returning as shoplifter Maggie Monks, who Annie Walker (Doris Speed) met in police detention after breaking a shop window in 1967.
Shaun Williamson – EastEnders
Paramedic (1994); Barry Evans (1994-2004)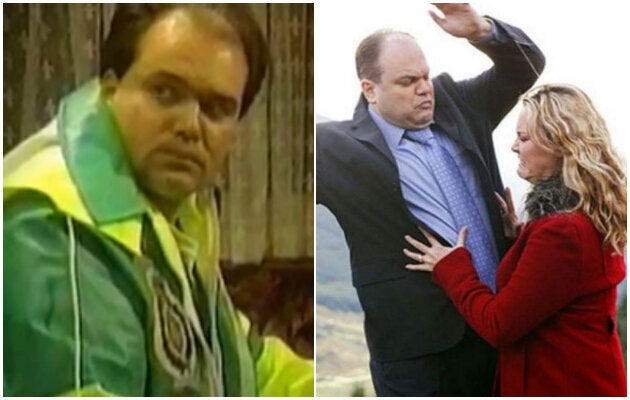 A few months prior to his debut as Walford buffoon Barry Evans, who was the son of Pat Butcher's fourth husband Roy Evans, Shaun appeared as a paramedic in 1994.
Madeleine West – Neighbours
Dee Bliss (2000-2003, 2019); Andrea Somers (2017-2019)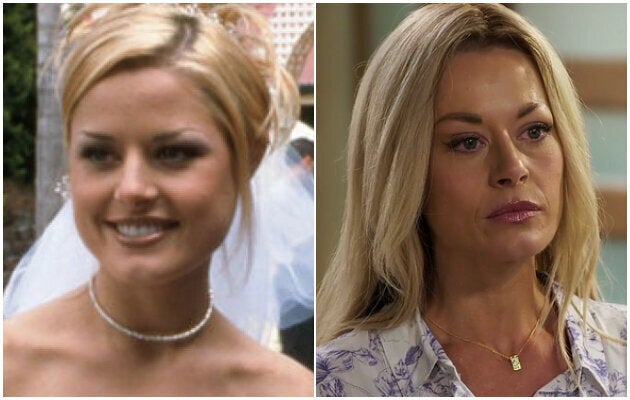 Madeleine is best known for playing tragic bride Dee Bliss on Neighbours, who famously met a watery grave (or so we thought) on her wedding day when husband Toadie Rebecchi (Ryan Maloney) accidentally drove their car off a cliff.
If you haven't watched Neighbours in a while then you might not know that nearly 14 years later, Madeleine was back on Ramsay Street playing who we were led to believe was Dee having returned from the dead. However, she was actually a Dee look-a-like called Andrea Somers who was trying to con Toadie out of his life savings.
But in another complicated twist, Madeleine then ended up playing two characters at the same time in 2019, when Dee really did return from the dead (she'd been living covertly for 16 years after witnessing a gang murder) for a clifftop showdown with Andrea. It was later revealed the two were actually twin sisters separated at birth by a misguided nun.
Yes, the storyline really was every bit as batshit crazy as it sounds.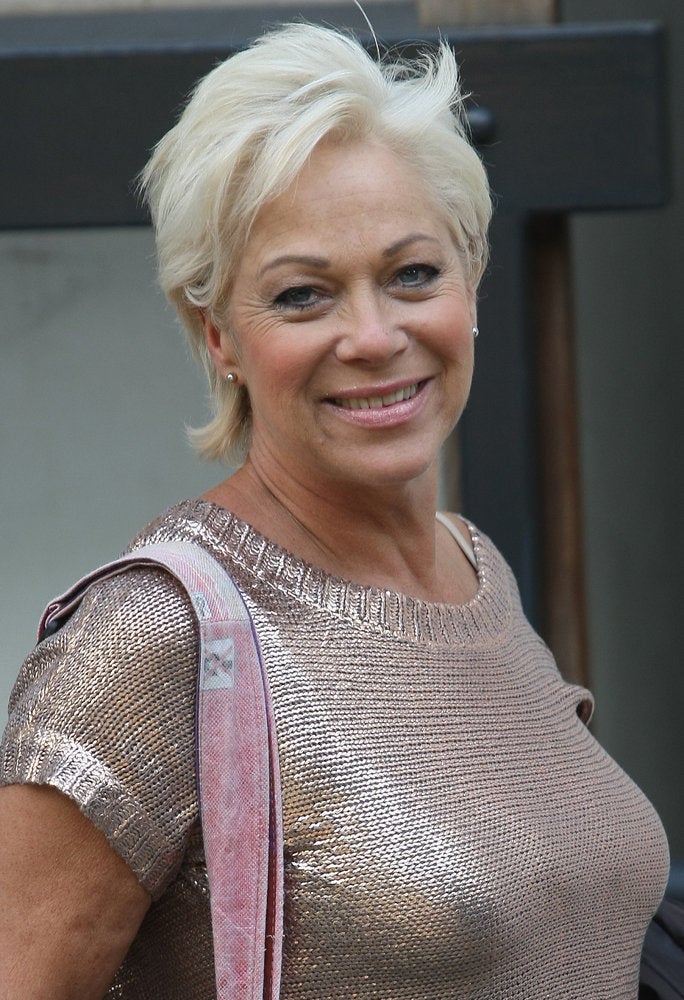 Stars Who've Switched Soaps