Twenty years ago, London was terrorised by a nail bomber who attacked black, Asian and LGBTQ+ communities, killing three people and injuring more than 100 over three weekends in April 1999.
Each year, the events are remembered with three ceremonies. For the last 10 years, they have been organised by Mark Healey, who is the co-founder and chair of the National Hate Crime Awareness Week, which takes place in October.
Here he explains why he continues to mark the attacks and what impact they had.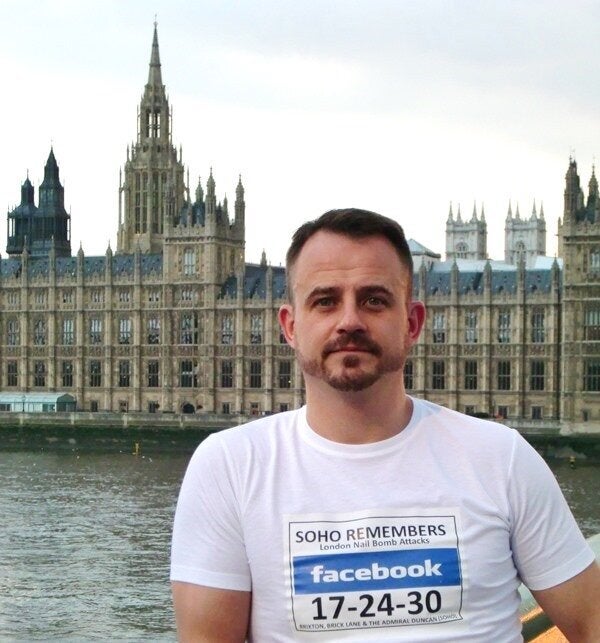 The April Acts of Remembrance are three short events held each year to mark the anniversaries of the London Nail Bomb attacks on Brixton, Brick Lane and Soho. We hold two smaller events in Brixton and Brick Lane on 17 and 24 April and a larger event in Soho on 30 April. We encourage people to gather to remember those we lost, to stand in solidarity with those affected by these attacks, to raise awareness and educate the next generation in the hope that we can prevent attacks like this happening again.
Although I wasn't in Soho when the attack took place, I used to drink in the Admiral Duncan before it blew up and knew some of the people involved. My boyfriend at the time was working in the pub opposite and I used to go to the Admiral Duncan for a drink before the end of the shift. I also used to date one of the local policeman who was responsible for policing Soho so I saw it from three points of view – the bar staff point of view, the police officer's point of view and just someone drinking in pubs.
On the evening, I was lucky as I was working a late shift at Selfridges but quickly found out that a bomb had gone off in Old Compton Street so the first thing I was panicking about was whether my boyfriend was OK because we didn't know which pub had been blown up. I managed to get hold of him and he was OK, and I found out it was the Admiral Duncan. So my second concern really was for the people I normally drink with. I knew a lot of people by face but not always their names or phone numbers so it was really hard to work out who had been caught up in the attack. I got in contact with the policeman that I knew and went down there on the night but there wasn't much I could do.
My real involvement is I have always been passionate about community development work, so I set up the Westminster LGBT Forum after the nail bombs and I was chair of that for about three to four years. What the bombings did was make it obvious that there were problems with a lack of a relationship between the police and the LGBT community, which was something that obviously needed to be improved. In the years that followed we helped develop the LGBT liaison officer role and we also had hate crime incident panels with the police to offer advice on how to tackle some of the issues they were dealing with. All this came out of the bombing. After three to four years, I dropped out to focus on personal things in my life.
Then it was coming up to the 10th anniversary of the bombings and I read a magazine article, which said anniversaries cause pain and suffering, the communities don't care anymore and therefore we should play these anniversaries down. It was suggested the 10th anniversary should be the last one. I just thought, well the anniversaries will cause pain and suffering, that's a given. But we as a community when it happened, we said we would stand up. We have a duty to stand up for as long as people need us to stand up. That's what we swore we would do. I see it as a personal responsibility, not just for myself, but for the community we belong to.
Around the time I was talking to the manager of the Admiral Duncan at the time, and he had been running the anniversaries for some time and was ready to step down. So I offered to take it on. It felt really important that we didn't just do it in the Soho community but that we reached out to the other communities that were attacked as well. So in Brixton, the black community, and Brick Lane, the Asian and Bangladeshi communities. A lot of people remember one of the bombs but don't always remember that there were three bombs and three communities that were targeted.
In Brixton and Brick Lane, we go down and light three candles in memory of the three people who died in Soho, but also to symbolise the three communities of Lambeth, Tower Hamlets and Westminster. We liaise with the councils, and police and local communities who we have come to know over the years.
The event is bigger in Soho and family and friends of the victims, who we are in touch with throughout the year, come along. We gather outside the Admiral Duncan and then go to nearby St Anne's Gardens.
We also hand out hate crime information but the most important thing is being there to act as a witness or a pair of ears so people can tell their own stories. There are a lot of people who were impacted by what happened but because they weren't in the pub, or weren't a survivor of the actual bombs directly, felt they didn't have an opportunity to say their story, or they felt their story was less important.
We once met two gay men who were outside the Admiral Duncan when it blew up who had witnessed it all but because they were scared, they had run off instead of running into the pub and helping people. They told me that they had carried this guilt that they didn't jump into help because they were so scared at the time. We were able to reassure them that actually what they did was quite natural and quite normal. There are so many people who have stories like that.
In many ways now our communities have healed and people have moved on with their lives. But for some, the anniversaries will always bring pain and suffering and there is an ongoing need to provide people with support.
It is becoming the new normal for us to be prepared for these kinds of attacks. Londoners are resilient people and we tend to come together when we are under attack. Look at the response after the 7/7 attacks and how people responded after the attacks in Manchester, at London Bridge, Westminster Bridge and the Finsbury Park Mosque. Hate crime impacts all of us wherever it takes place around the world, look at the recent attacks in Christchurch, Sri Lanka, and California.
Most people believe there should be no place for hate and want to live in peace and harmony with each other. That's what I love about London – we stand together.
As told to Nicola Slawson
The community-led Act of Remembrance to mark the anniversary of the Soho attack is planned for 5pm on Tuesday starting outside the Admiral Duncan and then moving round to St Anne's Gardens on Wardour Street.