For some people it's the sound of an almighty bang ripping through London's Soho, on a busy and warm Spring evening, that has stuck with them all these years. For others, it's the bitter smell that filled the noses of those in the streets nearby, while for some it's the images of the walking wounded who staggered away covered in blood.
Tuesday marks 20 years since the bombing of the Admiral Duncan pub on Old Compton Street in London's bustling West End. For those who witnessed the attack, these memories are still as vivid as they were in the immediate aftermath, and they don't go away.
It was the last in a series of three nail bomb attacks in the April of 1999 by 22-year-old David Copeland, and the only one that was deadly. The first took place on 17 April in Brixton, which had a large Caribbean community. Some 48 people were injured, many of them seriously. The next attack, which injured 13, was in Brick Lane, where many Bangladeshi lived, the following Saturday on 24 April.
The final attack was on an LGBT-friendly pub on one of the most famous streets among the gay community. Three people died, all from the same party. They had all been there to celebrate the pregnancy of one of the victims, Andrea Dykes, 27, who was four months pregnant with her first child. Friends Nik Moore, 31, and John Light, 32, who had been the best man at her wedding and was due to be the baby's godfather, also died.
The trio had been there with Dykes' husband, Julian, and Light's partner Gary Partridge, both of whom were seriously injured in the blast. In total 79 were injured, some suffering life changing-injuries, including the loss of limbs.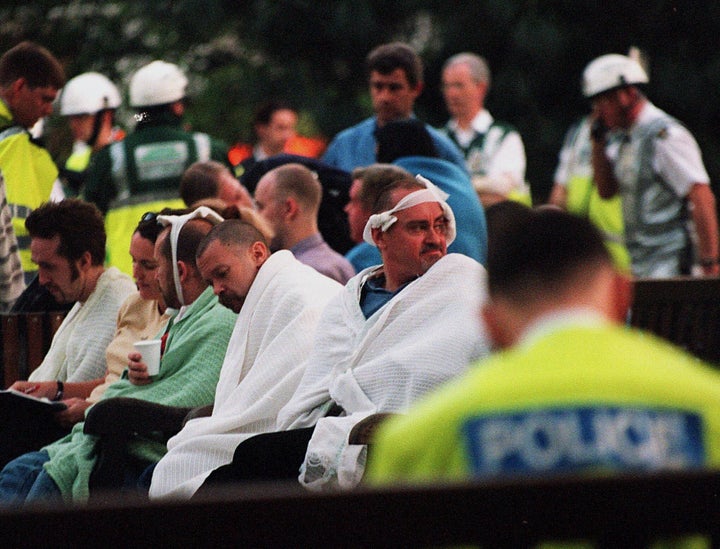 Copeland was arrested after a colleague recognised him from CCTV footage. In June the following year, he was convicted of three counts of murder and planting bombs and given six concurrent life sentences.
Lisa Power, trustee of Queer Britain, a charity which is raising money to establish a national LGBTQ+ museum, says this is common. She says that at the time, LGTBQ+ people were feeling more visible and less oppressed, and perhaps had started to feel a little complacent.
"It was a very salutary and horrible reminder of how much some people hated us and what they were prepared to do. It made a lot of people aware that we still had a long way to go to fight for our rights," she says.
The result was the LGBTQ+ community and its allies were galvanised, she says.
"I can't talk about the other bombs, but very much the Admiral Duncan bomb had that result. Sometimes it takes awful things happening to make some people understand the importance of fighting against that kind of hatred," she says.
"That guy wanted to strike terror into people's hearts and I think he thought he would just scare people back into the closet but it didn't work out that way," she adds.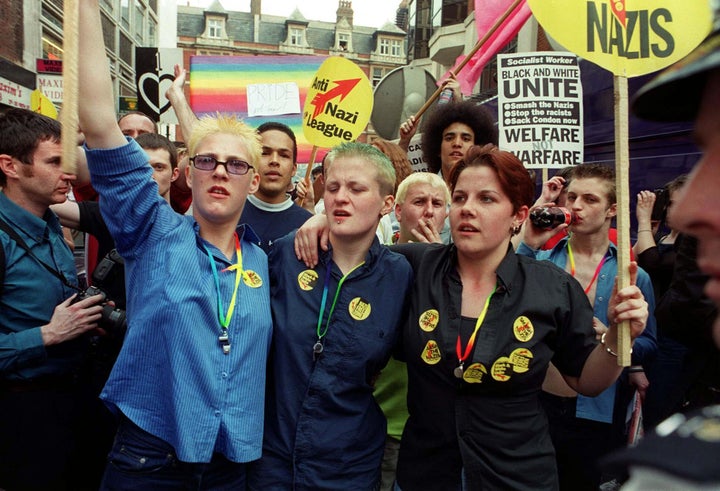 The attack
Josie Millar was 26 at the time of the bombing. Although originally from London, the trauma of the attack was one of the reasons she moved to Bristol a few years later.
She was a trainee teacher at the time and she and a few others were enjoying a drink outside the French House, which is a pub on Dean Street diagonally across from the Admiral Duncan.
Although her memory of the event is patchy, which she puts it down to it being such an "extreme experience", some memories stick out, especially the "really loud blast".
"We had been outside having a drink and there was just an almighty bang, louder than I had ever heard before. The next thing I realised was I was inside just by the door and under a table … either I had been pulled or pushed in, I don't know," she says.
She says her first thought while under the table was that there was probably going to be another bomb. The fear meant she wanted to get home as soon as possible, which is something she feels guilty about.
"I just ran away. I have been reading about it and I feel bad for not having gone and tried to help people who were injured but I simply ran away," she said.
"When I got home, I was looking for any sense of what it was. I must have switched on the news and heard about it. I realised there had been victims. I saw footage and saw there were broken windows but I hadn't even been aware of them when I was there."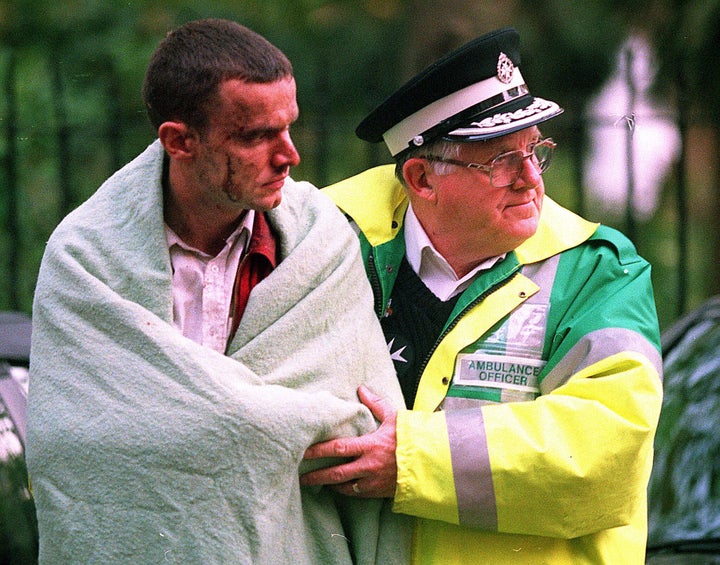 Will St Leger, from Ireland, was 27 at the time of the attack. He was living in Brixton, while working as a graphic designer in Covent Garden, not far from Soho.
He and his friends walked from work towards Soho after finishing work that evening. The weather was warm, he remembers, and it was the bank holiday weekend so the streets were busy with people enjoying a post-work drink.
"We were heading down Dean Street towards Old Compton Street and we heard this noise. It was one of those things where we weren't really sure what we had heard but it was the reaction of everybody we could see. Everyone was just looking towards the Admiral Duncan. My friend was like 'that's a bomb' and at first I thought no it couldn't be but then realised it was."
The group headed to the corner and could see a lot of smoke and the doors of the pub had been blown off. One particular image has stayed with him all these years later, he said. "There was a person who had blood streaming down their face, in complete shock, saying he wanted to go home.
"He had stumbled out of the pub and was being helped by someone. His face was covered in blood. It was so bright. It was shocking to see. I'll never forget them saying they wanted to go home. He was pushing the person helping away and saying 'I need to get home.'"
When the emergency services arrived, St Leger and his friends headed to a nearby pub to try and take in what they had seen. "It was the days before smartphones so in order to try and figure out what had just happened it was all word of mouth … it was only by the time we got home and could watch the news that we could get a sense of what was going on."
Mark King was 30 at the time of the bombing. He lived very close to Old Compton Street and worked in a design studio in Brick Lane at the time.
"We'd had a week of coping with the cordons and everything in Brick Lane because of the bomb that had gone off the weekend before so we were already in that frame of mind of feeling a bit edgy. Our nerves were rattled as that had come quite close to our studio," he says.
"We weren't sure if it was racial minorities who were being targeted or whether it was going to extend into the wider community."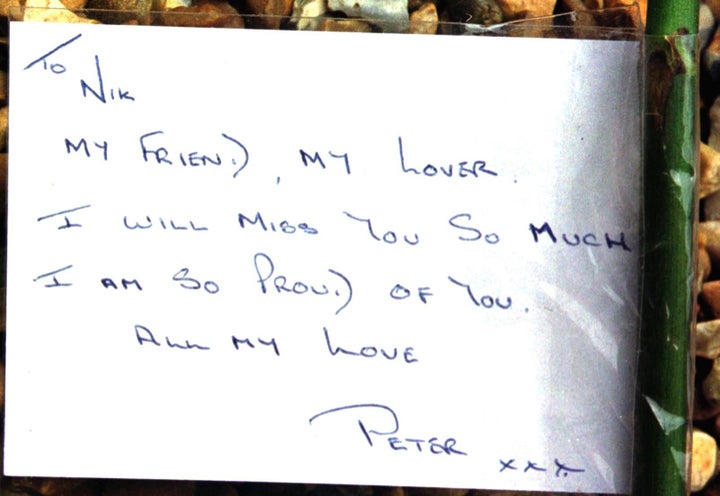 On the evening, he was walking towards Soho from Tottenham Court Road tube station with a colleague. They were just deciding whether to stop for a drink on the way home. They didn't hear the bomb despite being so close.
"We are used to bangs and flashes in the West End because there were always building sites and strange goings on," he says. "As we got to the base of Old Compton Street, the first thing that hit us was the smell. There was a lot of dust and a really bitter burnt smell in the air.
"We looked up the street and it looked like a blank sheet covered it. It was more dust rather than smoke, I think. There wasn't any sound coming from there because it has obviously just happened. There was no sound or sirens."
Because of what had happened in Brick Lane, he knew it had been a bomb. "We just ran home to call it in on our landline as we lived so close, and of course it was very rare to have a mobile phone then.
"You can see the street from the flat so we were just looking at the smoke and dust rising and pacing up and down looking at each other. We couldn't check on friends so we were in this awful limbo.
"We sort of had a good idea of who might have been there but we couldn't call them as everyone just had landlines. There was this awful lack of information, a vacuum. We were in quite a state pacing up and down so we went back out. By then the sirens had started and people had started to block off the street."
Like St Leger, he and others gathered at another popular Soho pub. The pub soon became full of people who had been nearby, wanting to share what they had seen or heard, and find out who might have been there.
"There was no music on in the bar, there was an awful pall that was over the bar. It just hung over the place," he says.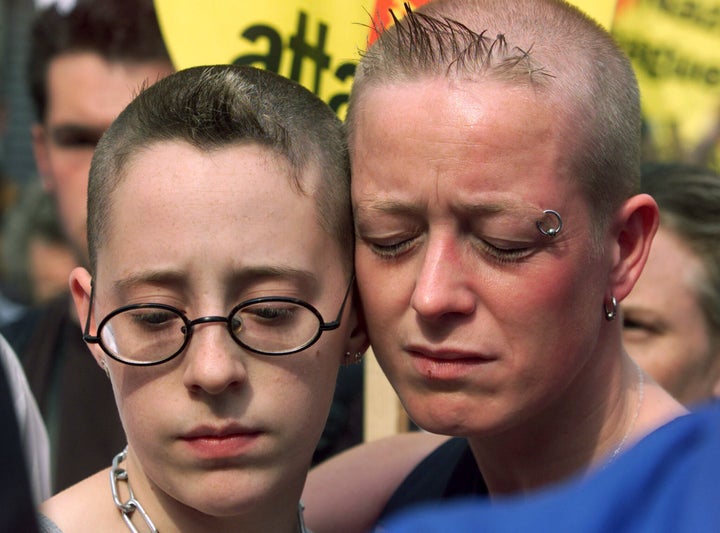 Daryn J Carter was only 17 at the time of the attacks. Although he lived in Surrey, he would regularly travel up to London to crash with friends as things weren't good at home.
That evening, he was in Soho Square with friends who were flyering for a club night when they heard a loud bang.
"It wasn't like an almighty explosion so I think initially we thought there had been a big crash or a car had hit a building," he says. "We weren't scared initially, more curious, and actually were going to walk towards Old Compton Street to see what was going on.
"We heard screaming and then people were running. Someone ran past us and shouted there's been a bomb, run. We ran all the way to Russell Square. I am not sure why but that's where we decided to go. It's an area we knew and just thought let's get there, it'll be safe there."
The aftermath
When Millar learned that the perpetrator was far-right, she was very shocked. "Nowadays we are much more aware of the far-right … I hadn't realised there was a movement going on.
"The interpretation in the media at the time was always this is some lone guy, some nutter. Reading about it now, I realise he was part of a bigger movement. Whether or not he was working on his own, I don't know but there was a bigger movement of people who wanted to cause warfare between minorities. It's shocking looking back on it."
Referring to the murder of Jo Cox and the attack on mosques in New Zealand, Millar says: "The narrative is changing, as it must do, to recognise these people as terrorists and them being terror attacks. It wasn't the case at the time [of the Admiral Duncan bombing]."
When the Brixton nail bomb went off, many jumped to the conclusion that it was the IRA. But St Leger had a sense straight away that it didn't feel like it could be them because of the targets and the tactics. The following week when Brick Lane was attacked, it confirmed to him that the attacker had a different agenda.
Like King, he remembers the attacks being on everyone's minds at the time, wondering where the next one was going to hit.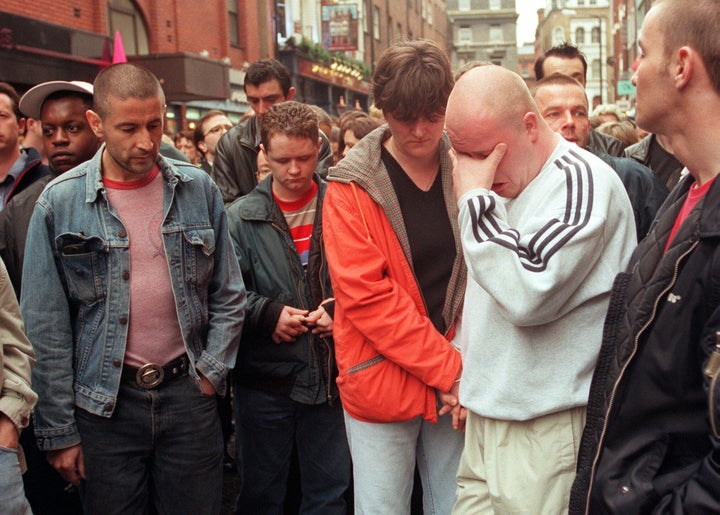 "Each weekend when we went out, everybody was on edge. People in London were already quite vigilant [because of the IRA threat] … when Brick Lane happened, I thought this is racial. In Brixton, the target was mainly black communities and in Brick Lane there is a Bangladeshi community and a lot of diversity there. It seemed like it was white nationalists who were behind it."
He continued: "What was shocking to me, as a gay man, is that I was on the same list as the black community in Brixton and the Bangladeshi community in Brick Lane. Our allies were as well. I had never experienced hate like that, the kind of hate where someone actually wants you dead."
St Leger said he had only been out for a few years because it was still illegal in Ireland. "I'd grown up with guns and soldiers and bombs going off around me and then growing up in a country where I was considered to be a criminal for loving someone the same sex as me. So getting away to England was when I could actually be myself and feel safe. I had never considered that domestic terrorism was possible before.
"Old Compton Street is the first street I ever walked down hand in hand with someone I loved. Ever. It was the most liberating experience of my life especially as I came from a country where that could get me put in jail. I always felt safe in Soho, and especially Old Compton Street. It had a lovely community feeling to it.
"For people coming to London in the 90s, their entry point to living their life as an out gay man, or bisexual or lesbian, was Soho, and especially the old style traditional pubs like the Old Compton and the Admiral Duncan."
Back at a friend's house after fleeing the scene, Carter vividly remembers finding out it had been a nail bomb and the target was a gay pub.
He says: "I was horrified. I had experienced homophobia before, verbal comments, but thankfully at the time nothing physical. But to know something as horrible as this could happen was a shock.
"I guess I was still naive to the fact that such hatred and prejudice could exist and that this was the reality of the extremes. I felt numb and very paranoid."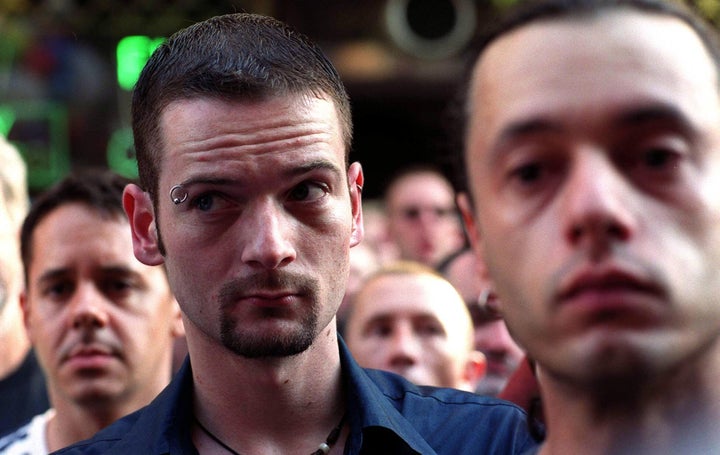 He was actually outed by the incident, which left him feeling "ashamed and very alone". When he called into work to say he couldn't come in the following day, he explained to his boss he had been near the bombing.
"Going in for my next shift, everyone knew. People making comments like 'he was in Soho' and worse 'he's that gay one that was at the bombing'. It was really horrible and hard to deal with," he says.
The experience left him feeling angry with his manager as he hadn't really come out to anyone yet. "I was still processing what being gay meant to me, I knew I was gay and was as comfortable as I could be with that to myself but I wasn't really ready for the world to know yet."
The impact
The memories of the day have stuck with King, who admits to feeling shaky and emotional when recalling the details.
"My overriding memories of looking up that street was the visual blankness, the lack of sound and this really bitter acrid smell in the air. It has stuck with me," he says.
He says he thinks about it every time he walks by the pub as he still lives in the same flat. "I always do. It's not something that leaves you. It's nothing to do with anniversaries," he says.
Carter agrees. Although he does mark the day by lighting a candle and having a drink, it's something he often thinks about, especially as he drinks in the pub when he visits London.
"The Admiral Duncan is one of the pubs we go to if we are out in Soho so we're often there. They have a memorial in the bar to remember those injured and who died at the venue so it's something I am reminded of every time we are there," he says.
Millar also says she often thinks about it. But despite the incident having a big impact on her life, she didn't speak about what had happened with anyone afterwards.
"Every noise in the street, I would duck," she says. "I felt a real sense of fear afterwards and that went on for quite a while. I moved out of London after a few years because of that and a few other incidents. They drove me out. I felt I needed to be somewhere where I didn't feel so threatened."
She says she became so much more political after the event despite never being interested before. "I feel so strongly about anti-fascism and I support it wherever I go," she says.
"The world has changed so much to me, and if it was like this, then I didn't know it was. I think there is more of an obvious [fascist] movement now. It was certainly under the radar for people like me and now it's not. It feels like a frightening part of modern life.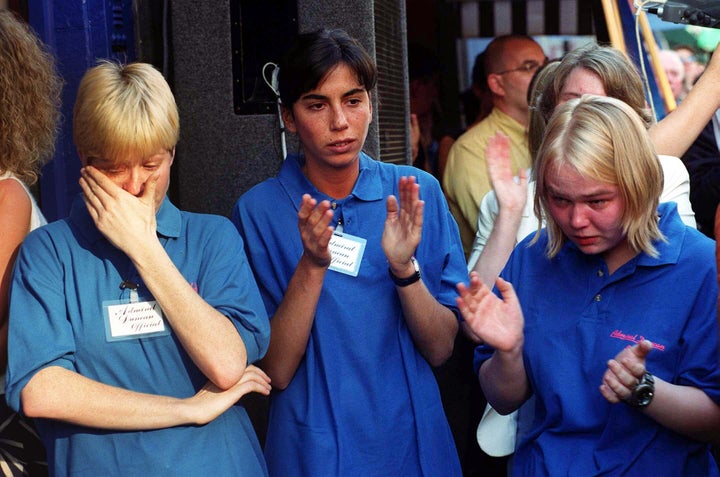 "There are people here now who would wish for the destruction of minority groups and the whole business of Brexit seems to have brought this out."
Like many others, St Leger says he made a point of going back when the Admiral Duncan pub opened. Quite soon afterwards, he also became an activist. First joining Greenpeace and then becoming an LGBT activist.
He says he is concerned by how much of a platform the far right seems to get nowadays. "Vigilance is the most important thing, not so much in terms of physical vigilance but societal vigilance.
"We can't give oxygen to people on the right, and there are ideas out there that are so repulsive that we can't get into a situation where we let them view their ideas on TV or radio shows …
"There are consequences to it. If you allow people unchallenged to use national airways, then you are going to feed into that hate and feed into that ignorance."
Carter, who is the chief executive of Pride festival in Bristol, agrees. He says if you had asked him a few years ago if things had improved, he would have said yes.
"I really feel that events like Brexit votes and politicians like Farage - and then Trump - have been a red flag to the far right and prejudiced views. They've made it OK to hate and to discriminate."
He points out LGBTQ+ hate crime increased by 73% nationally in the last four years, and in Bristol alone by 23% in the last year, which he says is saddening.
"All the hard work being done to change laws and create and more equal society is not translating to experiences on the street. We've seen violent clashes from far right extremists in the US and around the globe so it is very worrying and our politicians and the media need to take responsibility for this."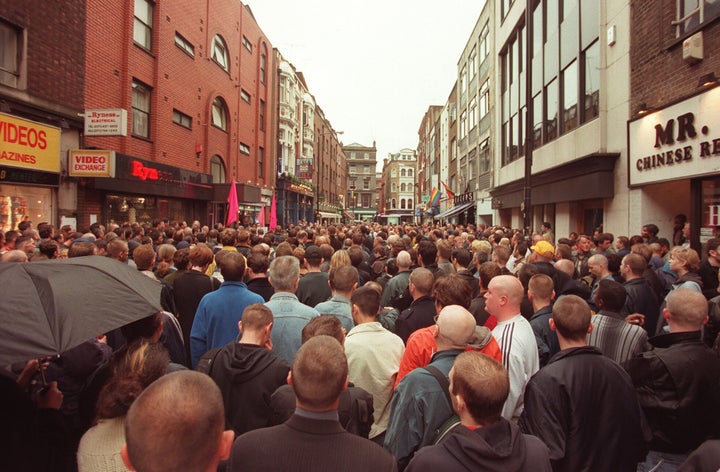 But like Millar and St Leger, he says it was the experience of being so close to the Admiral Duncan bombing that led him to do what he does today.
"I actually think that the bombing is one of the reasons that has driven me to drive for equality and be so passionate about making Pride happen and in raising awareness of, and in fighting, hate crime.
"It's always a reminder of how far things can go, it might start with verbal abuse or online trolls but how far can it go? We all need to keep pushing for a change in society to be intolerant of intolerance and help create a better society for all."
He adds: "No one should ever be scared to just be who they are."
A community-led Act of Remembrance to mark the anniversary of the attack is planned for 5pm on Tuesday starting outside the Admiral Duncan and then moving round to St Anne's Gardens on Wardour Street.