Sniffer dogs at Manchester Airport are excelling at detecting cheese and sausages, though they appear to be less proficient at uncovering Class A drugs.
In fact, during one six month period, the hounds used at the UK's third largest airport failed to identify a single person carrying "very high" priority substances of heroin or cocaine over the border.
The highly critical report, by the Independent Chief Inspector of Borders and Immigration, did however concede the dogs had succeeded in sniffing out 46,000 cigarettes, 60kg of tobacco, 181kg of illegal meat and £28,000 cash. But it pressed the fact that "Class A drugs detections were not at the level that might be expected."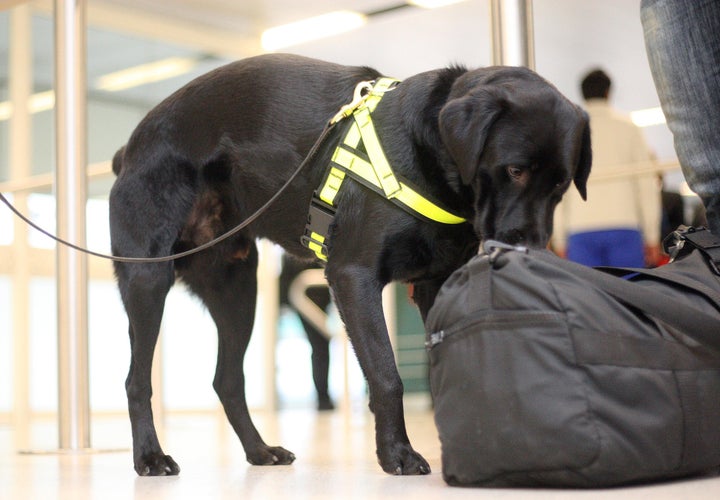 On three occasions the animals were successful at detecting illegal drugs, including small amounts of Class B substances. They also located tablets of human growth hormone, Viagra and Bromazepam.
"According to the data provided by the Border Force, the dogs had made no Class A drugs detections in the period November 2014 to June 2015. When deployed, the POAO (Product of Animal Origin) dog made multiple accurate detections, but most were of small amounts of cheese or sausages, wrongly brought back by returning British holidaymakers and posing minimal risk to UK public health, whereas it would be of more strategic value to target flights where the dogs might detect 'bushmeat.'"
The Home Office, which oversees border checks, said improvements must be made but acknowledged sniffer dogs are trained to detect a range of commodities, including products of animal origin (like sausages) as well as drugs.
It also made the recommendation to "consider whether the deployment of staff and dogs in the customs channels has become predictable and therefore less effective against experienced smugglers."
There are six dogs at the airport, with the total cost of running the canine team amounting to £1.2million annually.
The report was however complimentary of the Border Force's duties towards children and other vulnerable passengers, adding: "It was also actively involved with partners on wider safeguarding issues, including human trafficking."
Related