The devastation and destruction of Aleppo has been laid bare in heartbreaking before and after photographs.
The city, formerly Syria's largest and a booming commercial centre, lies ruined. Its ancient souks and the famed Umayyad Mosque complex have been trashed, its 11th century minaret toppled.
With no hint of the destruction that would befall the country in 2011, images of Aleppo before the conflict show the city as a vibrant, thriving centre of commerce.
More recent pictures portray the haunting reality of the cost civil war has reaped upon the city's people - and its history.
Umayyad Mosque, Aleppo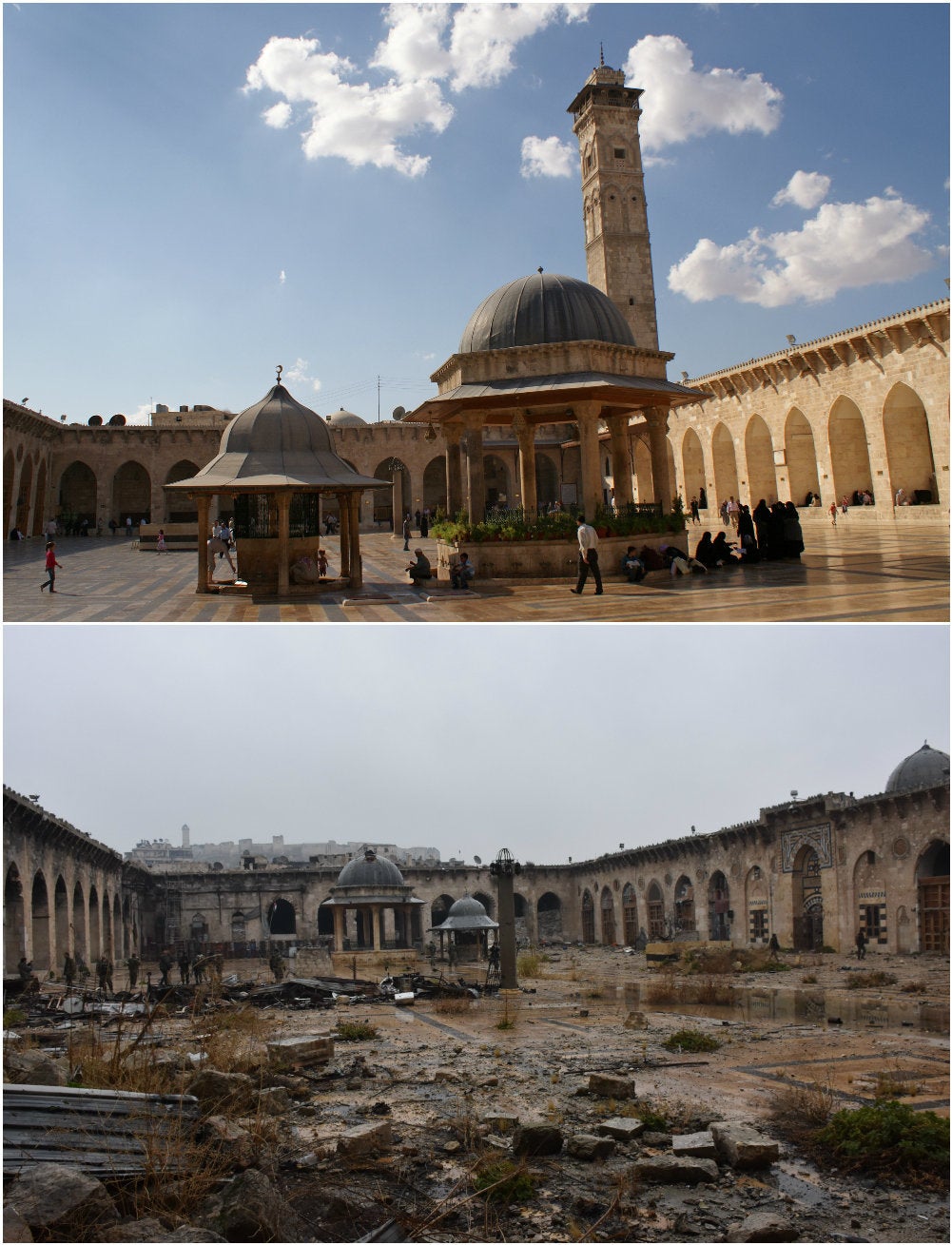 The Umayyad Mosque in Aleppo is an iconic, medieval structure at the heart of the historic old city.
Famed for its 900-year-old minaret, the Great Mosque had survived earthquakes, fires, the whims of dictators and bouts of rebuilding.
"Once inside you'll find the building's architecture curiously artless," tourist publication Rough Guide recalls.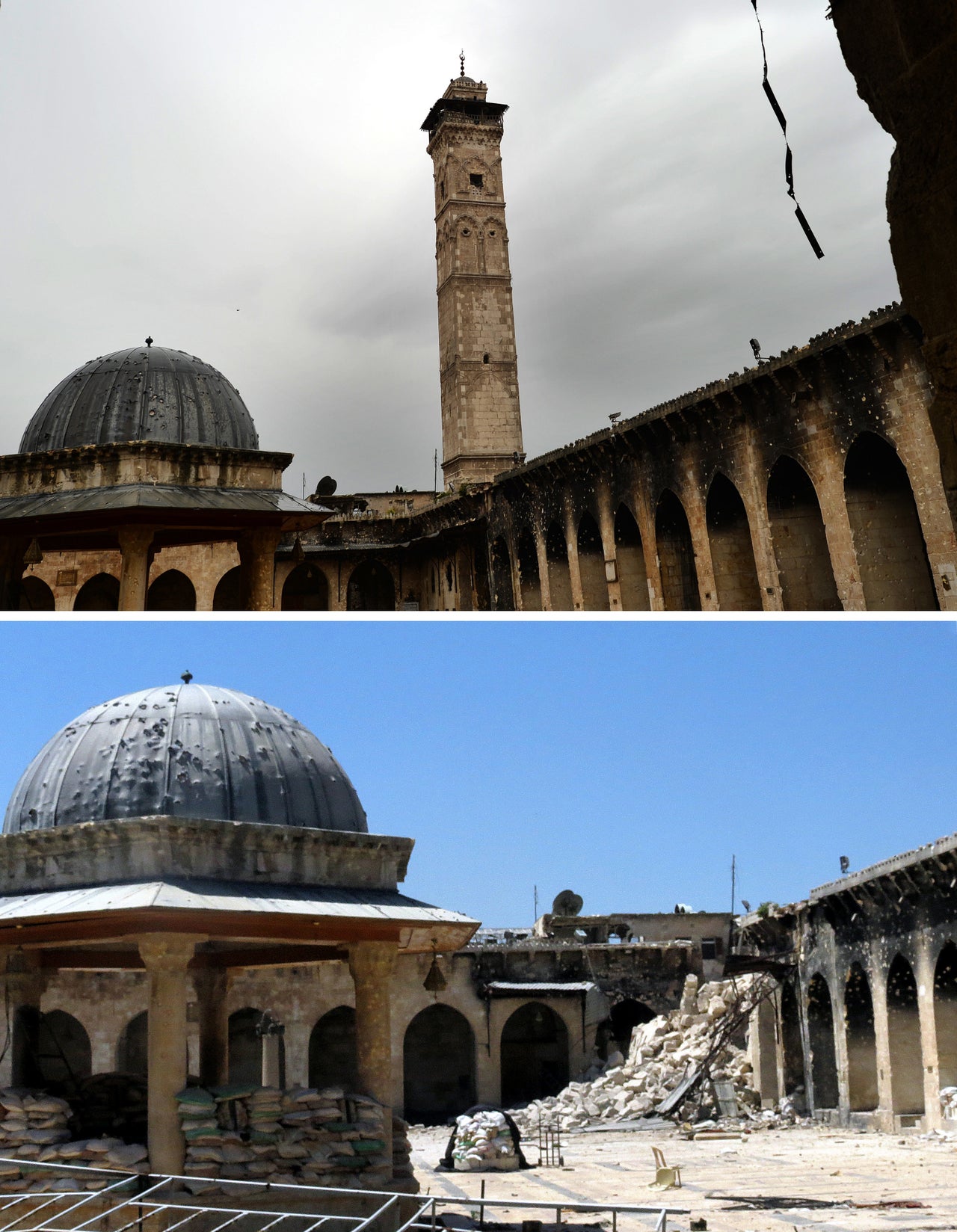 The minaret was the mosque's defining feature. "Each side is adorned with attractive wooden carvings, kufic script and inlaid stonework," the guide wrote.
It is the younger sibling of the Umayyad Grand Mosque in Damascus, which is believed to be the number three mosque in the world.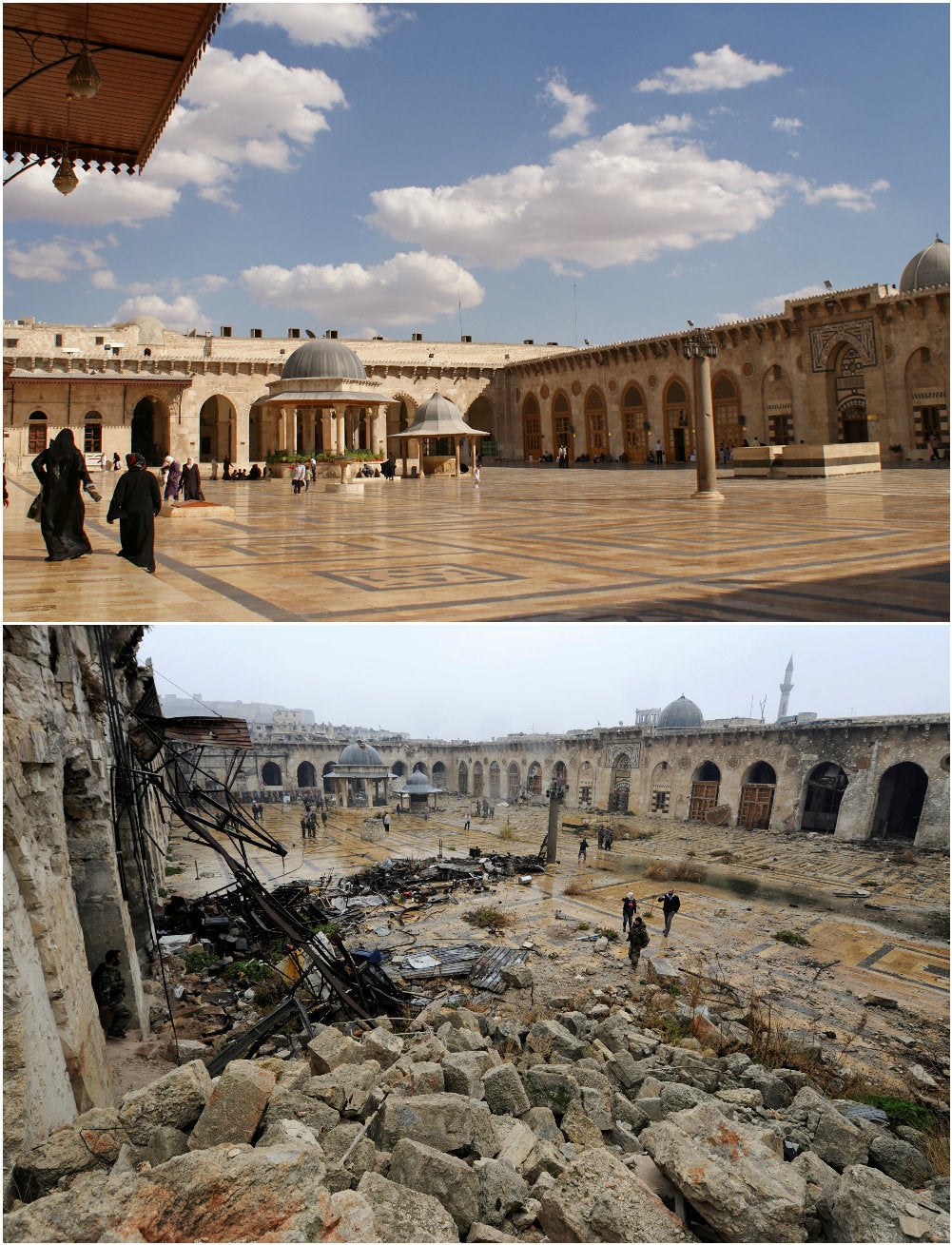 Barrel bombing has rendered the mosque's internal courtyard unsafe.
Souks, Aleppo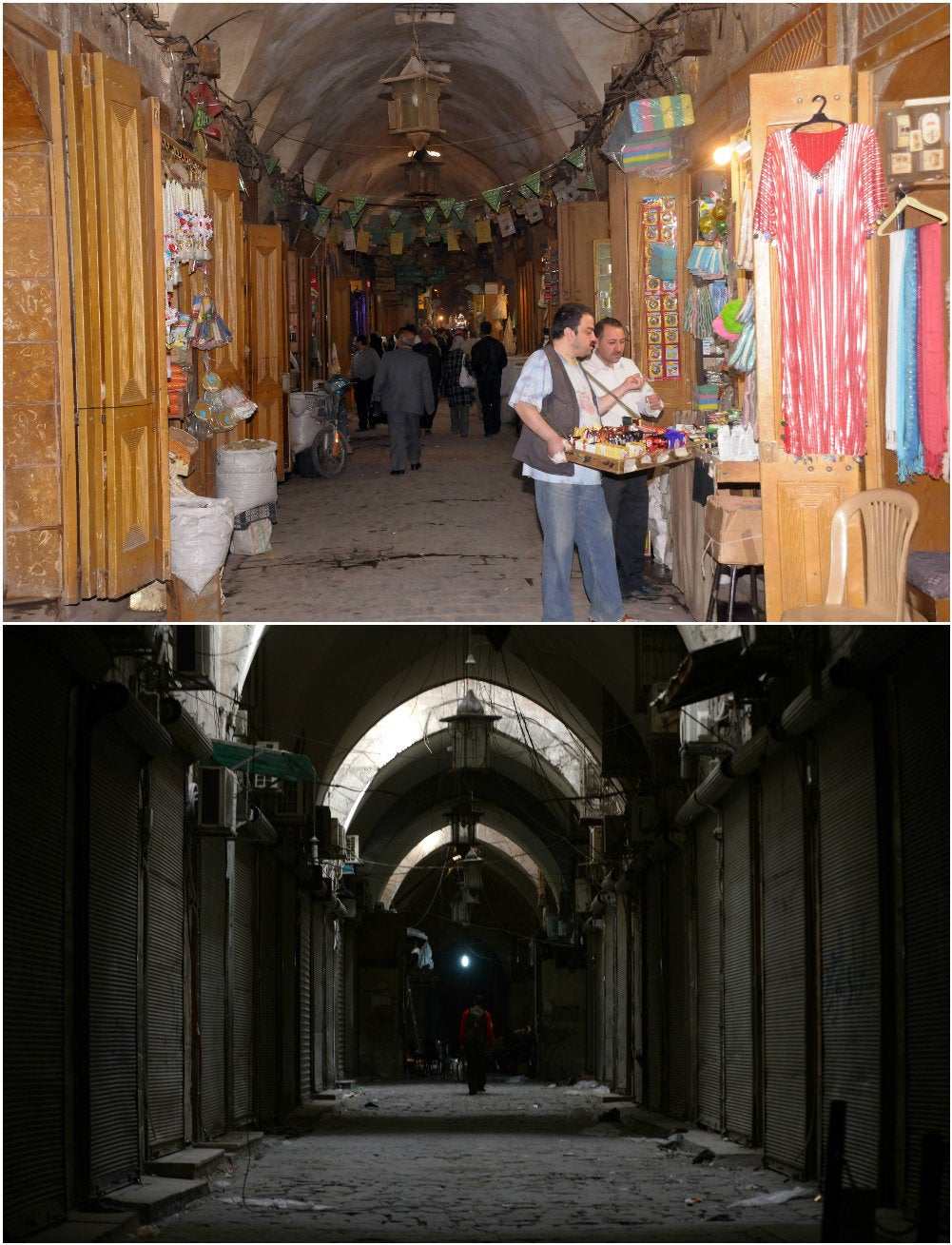 Some of the most historic areas of Aleppo's souks have been selling merchandise since 1450.
"There is little pressure to buy from the traders, most of whom talk genially on mobile phones while drinking endless tiny cups of strong, sweet tea," a Rough Guide writer recalls.
Now the souks lie dark, damp and empty as traders have long since moved on.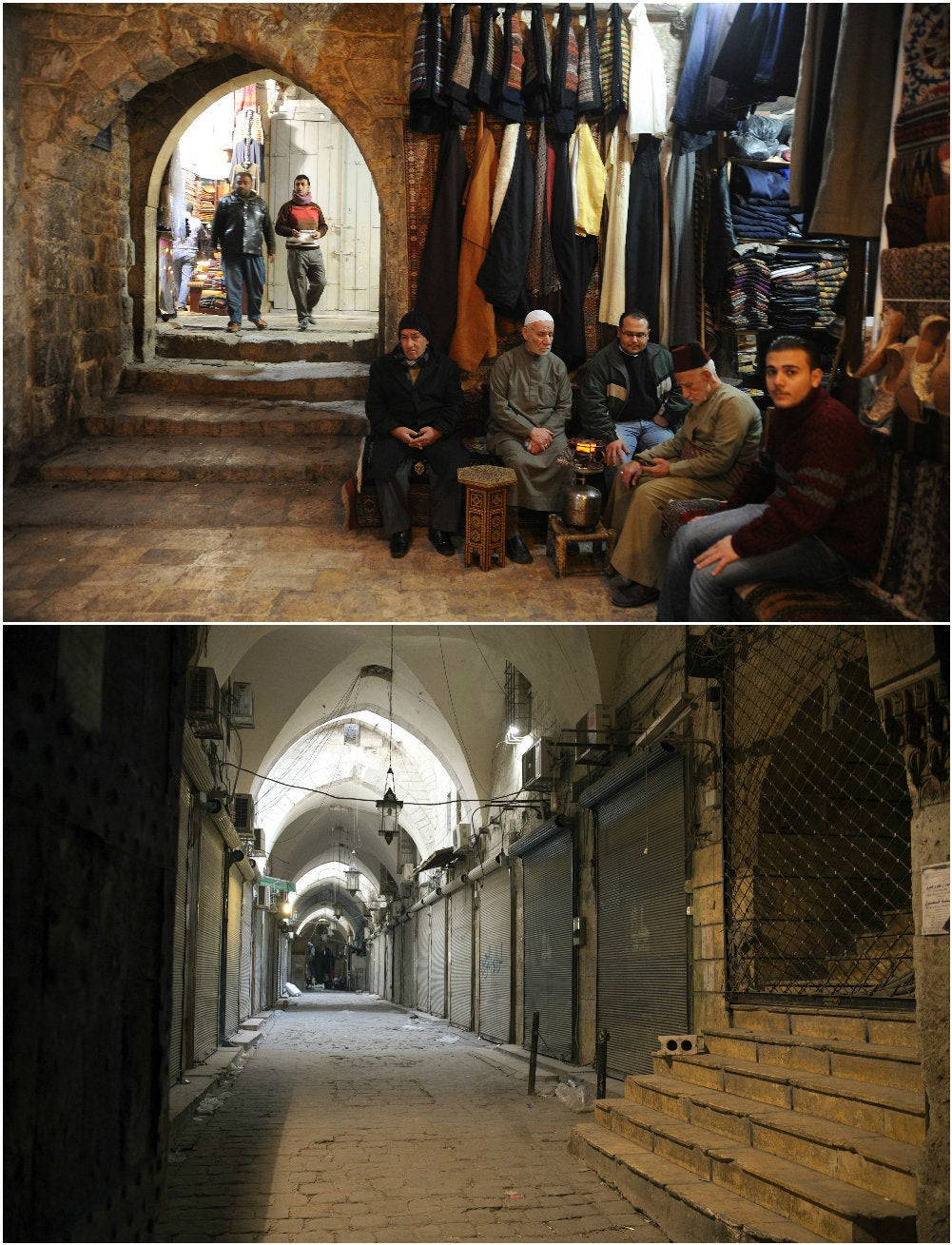 Citadel, Aleppo
Aleppo's historic old city was preserved by virtue of its 30-year status as a World Heritage Site.
It was "one of the best cities in the Middle East to just let your curiosity guide you," according to a Lonely Planet travel guide for Syria.
Its hill-top Citadel is a medieval fortress which dominates the skyline, described as the city's "most distinctive feature".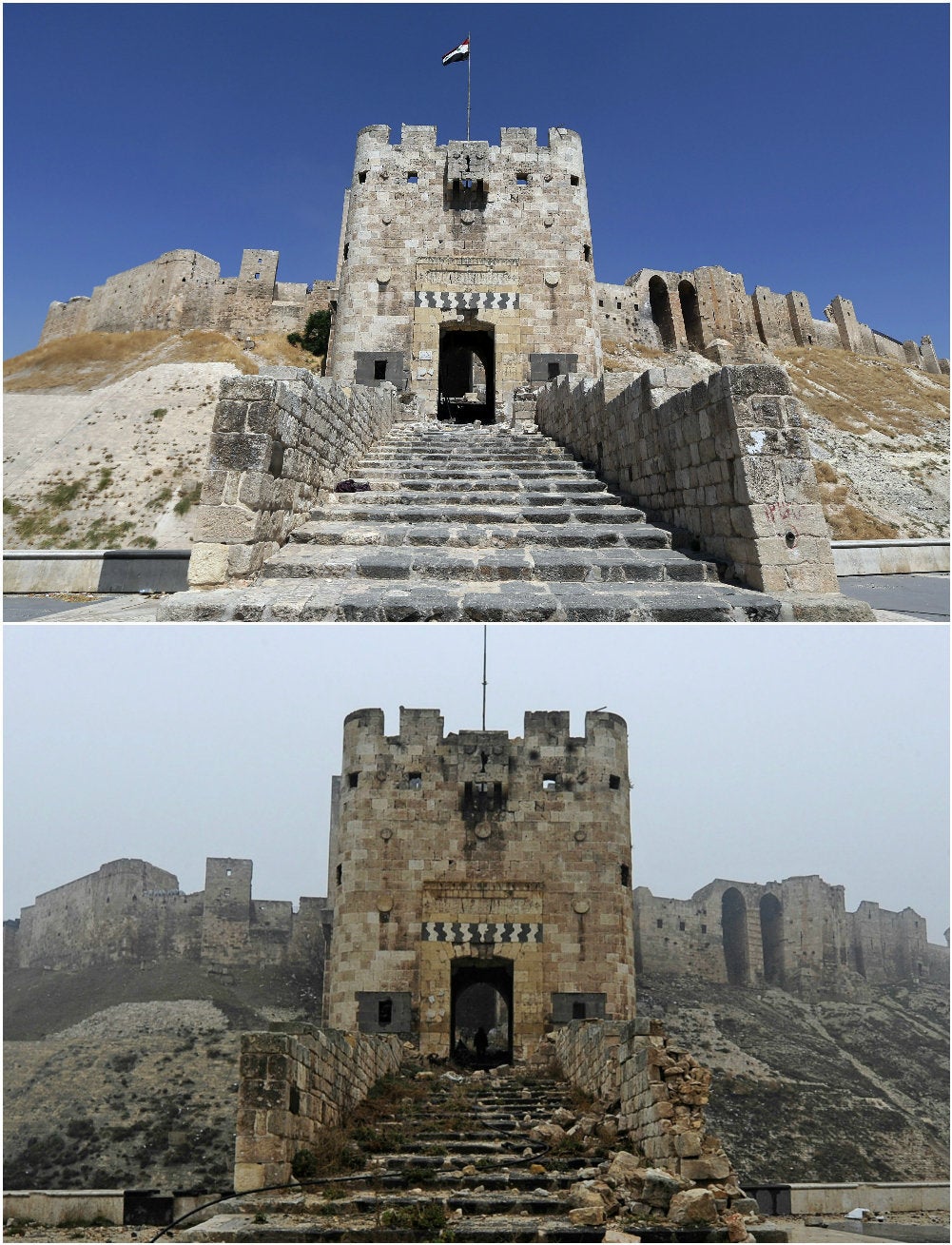 Yet just a year after Syria's civil war began, the Citadel was recorded in terrible repair offering, as the Guardian notes, an "ongoing narrative of the impact of the war".
And bombs were reported to have struck the site directly last year, causing its exterior walls to collapse completely.
Despite one travel guide recalling "a regular stream of tour buses disgorging their loads outside the main entrance", it is now difficult to imagine the Citadel as a busy tourist attraction.
Residential streets, Aleppo
Drone footage shot in November, above, shows the scale of destruction away from Aleppo's former tourist zones and Old City.
Rubble and debris lies across previous busy streets, and buildings appear almost completely destroyed.
Over 100,000 civilians remain in Aleppo according to recent estimates.