For the latest in our WISE WORDS interview series - where stars from a whole range of fields share the important life lessons they've learned along the way - we're posing some of the big questions to ALEXANDER ARMSTRONG.
Alexander is an English comedian, television presenter and singer, most recently celebrated as the host of TV quiz show 'Pointless'.
Alexander has recently stepped up as a brand ambassador for Pimms, the archetypal English drink celebrating its 165th anniversary with that most English of sports, croquet, a game of which Alexander reliably informs us he is a longtime master.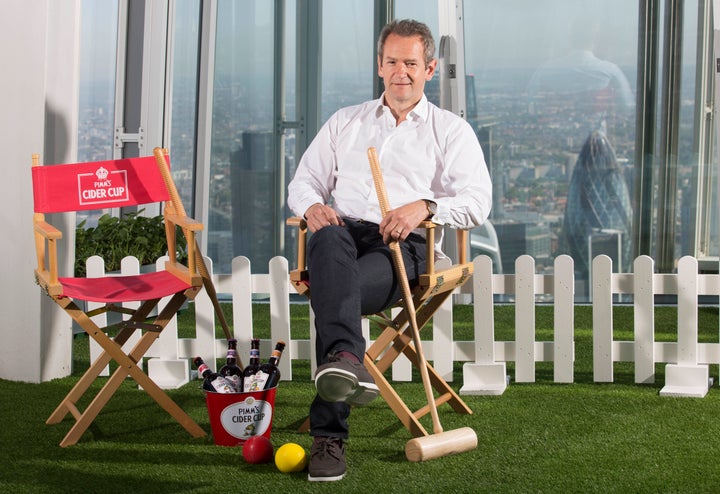 To celebrate, he speaks to HuffPostUK about how (else) he sits back and relaxes, even without his dream bottle of wine that has yet to come his way…
What do you do to switch off from the world?
Music. Some pieces of music, I don't just listen to, I lose myself in completely, and I have extremely broad tastes. I've spent half of my life singing in choirs, so I would say, especially, choral music. I'm quite seasonal. I also treat music like a scrap book, a depository for memories, good and bad. I'm thinking of songs like Prefab Sprout's 'Steve McQueen'. It's a rich and nourishing experience to go back into those. Music holds a great many feelings.
How do you deal with negativity?
Very badly. Something that first appears as negative can actually be constructive and helpful. If you can go back 48 hours later and get over your initial huff, you can see the point. There is Twitter negativity that is done in good heart, if you put something up on Twitter, you get a knee-jerk reply from people who make the obvious gag, and that is intended in good humour, and you have to remember that. Everyone doing that was hoping you'd smile. The problem is, you can't see the smile people have when they were writing.
The nub of it is... forget about it, but it takes a long time.
When and where are you happiest?
It's in the summer holidays in the morning, when everyone's at home, it's a nice day and the possibilities are endless. There are so many things you can do with children. I adore mornings, always have. I couldn't understand how people could be morose, which could possibly have made me a bit annoying, I suspect.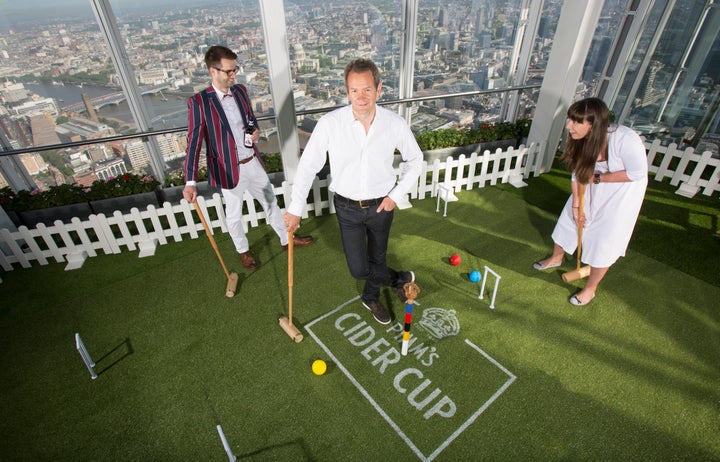 What's the best piece of advice you've ever been given?
It's deeply practical, not profound nor life-affirming, but it's basically this... Know yourself, and once you do, be true to yourself in all things.
What has been the hardest lesson you've learned?
Being an enthusiastic dancer is not the same thing as being a good dancer.
What would you tell your 13-year-old self?
We need to talk about that yellow jumper that always surfaces in photographs. Years, I had it, years.
What 3 things are at the top of your to-do list?
We've moved out to a farm in the middle of nowhere, we've had a rainy summer which is very exciting to me as a planter of trees. Almost daily, I walk around and mark their progress. So I would have to say:
Get a kitchen garden going; maybe a couple of greenhouses.
Drink a 1978 Domaine de la Romanee-Conti, the ne plus ultra of red burgundies. A bottle of the stuff went for about £15,000 at auction recently, but one day I may drink it. It may be disappointing, but one day…
Finally, live long enough to know all my grandchildren. I have an 18-month-old baby, so I'm putting in my request early.
What do you think happens when we die?
It's one big croquet match in the sky, with all my favourite people. I grew up playing croquet.
When do you feel a sense that we live in the presence of something bigger than ourselves?
I feel that perpetually. There are big reminders sometimes, when children arrive. On a rare clear starlit night. I feel a very warm sense of being part of a benign system.
I went to the Arctic to make a programme, and we saw the Northern Lights often. That's another instance when you never tire of it, and it's very comforting.
Love is another great proof of evidence of this.
What do you try to bring to your relationships?
The important thing is honesty. I don't believe it's the same thing as being candid, saying the unsayable. It's being as true to yourself and others as you can.
If they're built on exactly who you are, these relationships will be easy. If it's the opposite, the compromises will be all the more effortful.
What keeps you grounded?
My lovely wife. She has this extraordinary ability not to lie, she is incapable of bullshit, unimpressed by any waffle. She doesn't do sentimentality, she doesn't even comprehend it, it's not in her vocabulary. There is a downside to this, as she is unerringly honest, it's lucky she's lovely because she couldn't pretend to be. I get a very honest opinion, and it strikes a chord. It means when she does like things, she's absolutely right. I trust her judgement implicitly.
What was the last good deed or act of kindness you received?
I'm perpetually receiving acts of kindness. Almost on a daily basis. People are generally extremely nice and kind. Twitter can be as full of kindness as nastiness. It sometimes get overshadowed by ghastliness, but it is full of nice things with people showing they care and remember.
I'm recording 'Pointless' today, four shows, so that'll be four lots of eight people I'll get to talk to. I meet a phenomenal number of people, and they're all decent people. My success with this show and other projects forces me to talk to people, which is a good thing, as otherwise I could easily tuck myself away, and I'm so much happier for being out there.
Alexander Armstrong took part in a series of croquet matches in stunning locations with Pimm's Cider Cup, as a part of a campaign to reinvigorate the under-threat British summer tradition. The brand are opening Europe's highest croquet lawn at The View From the Shard from 25 July, for more information visit https://www.theviewfromtheshard.com/