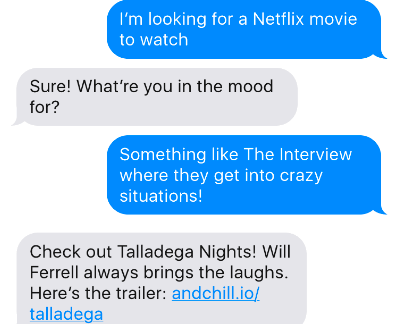 Netflix's algorithm is pretty hot. Maintained by more than a thousand staff, the product offers tens of millions of users a unique experience. But what happens when you don't want to wade through dozens of suggestions?
Or maybe you're looking to watch something completely different...
Well, that's when the Facebook chatbot And Chill comes in handy. The bot asks you to suggest a film you like with a few reasons why, or to simply explain what you're looking for in your next movie.
Within a few moments, the bot should issue you with a short selection of trailers. It sometimes takes a while to compute, but it's still a pretty efficient way of narrowing down Netflix's massive library.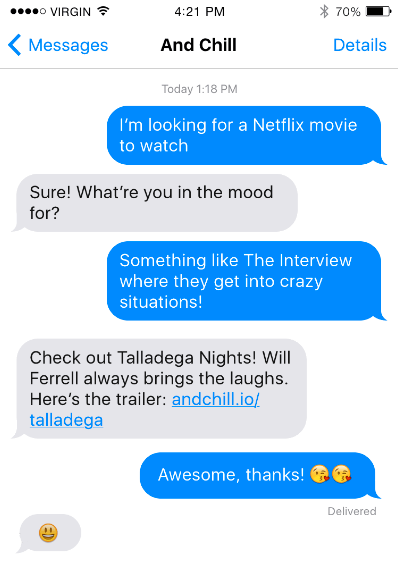 Nevertheless, the app has gone down well with most reviewers. The Next Web went so far as to describe it as the first useful chatbot.
Apple's Siri is also a bot, but the kind of bots pioneered by Marc Zuckerberg resemble a text message chat with an artificially intelligent assistant.
The Facebook founder is hopeful that bots will replace apps and introduced the technology into the Facebook Messenger platform earlier this year.
If Facebook's bots take off, they might provide an alternative to Apple's app store.
Zuck's not the only one looking to capitalise on bots. Alphabet, Microsoft, Kik and Telegraph are all currently developing similar tech.