Sign up now to get The Waugh Zone, our evening politics briefing, by email.
The prime minister was subjected to a grilling on the Andrew Marr Show on Sunday.
His response to the London Bridge terror attacks, claims about the NHS, and Brexit promises were all brought the the fore – but how much of what Boris Johnson said was true?
Here are four questionable claims made by the PM during the interview:
Friday's terror attack was due to a 'leftie' Labour government
This meant he could be be held in prison indefinitely, with no minimum term, until a parole board agreed he was no longer a threat to the public.
IPPs, introduced by Labour, were scrapped by the Coalition in 2012, though not retrospectively. However, Khan appealed and in 2013, the court of appeal revised Khan's sentence to a term of 16 years, and told him he would have to spend a minimum of eight years behind bars.
Separately, the early release scheme brought in by Labour in 2008 allows a prisoner to be automatically release once they have served a portion of their sentence.
But the Parole Board put out a statement on Saturday which suggested there had been an error in interpreting Khan's sentence or the law, and saying its staff had no involvement in the case.
Extremism expert Ian Acheson, meanwhile, blamed "crazy austerity cuts" for the dangers posed by released terrorists and hit out at the "destruction of the prison and probation service".
The PM, however, tried to claim Khan was on the streets because of a past Labour "leftie government", despite the Conservatives being in power and presiding over the Ministry of Justice for almost a decade.
He said: "His release was necessary under the law because of the automatic early release scheme under which he was sentenced, that was the reality, and that was brought in by Labour with the support of Jeremy Corbyn and the rest of the Labour Party."
Pressed on cuts to prison and probation services and the rising levels of assaults on staff during this time, he added: "That is why this new Conservative administration is putting £2.5bn into our prison service."
Parliament 'blocked' Johnson's Queen's Speech
Asked why the Tories had not brought in tougher sentences for terrorists, Johnson claimed that his programme for government - the Queen's Speech - was "blocked" by parliament.
This is not true. The Queen's Speech set out a number of Bills, including one to toughen sentences, and MPs backed it and Johnson won the vote by a majority of 16.
"We had a Queen's Speech which was blocked by parliament," he said.
Labour wants to 'disband MI5'
Pressed on the terror attacks and the Tory government's cuts to the Ministry of Justice, Johnson again tried to turn the heat on Labour.
He claimed: "Jeremy Corbyn wants to scrap MI5. MI5 is responsible at keeping us safe, MI5 monitors thousands of people such as Usman Khan."
Scrapping MI5 is not Labour policy, in fact Jeremy Corbyn has pledged more investment in the security service.
Marr reminded Johnson of the words of the father of Jack Merritt, one of two victims who died in the attack, said in a now-deleted tweet that his son "would not wish his death to be used as the pretext for more draconian sentences or for detaining people unnecessarily".
The interviewer did not, however, challenge Johnson's claim about MI5.
The Tories will 'build 40 new hospitals'
Marr took Johnson to task over the government's stewardship of the NHS.
He highlighted that A&Es had the worst waiting times since targets began and hospitals had the highest number of patients on waiting lists ever.
"The NHS is doing a fan job under terrific pressure and I do not for one minute deny the pressure that the NHS is under," said Johnson.
He went on to claim the Conservatives were set to build 40 new hospitals.
But Marr pointed out that the promise amounted to "seed money for a business case" for 36 new hospitals and not any full plan.
"One thing we can both agree on, I'm sure, is seed money for a business plan is not a hospital," said Marr. He added: "Seed money for 36 business plans is not 36 new hospitals."
Johnson eventually replied: "Of course not, Andrew, but you don't commit seed money unless you have a convincing case and a rationale to go on and do it."
He went on to insist that in "ten years' time" there would be 40 new hospitals.
'No checks on goods' under his Brexit deal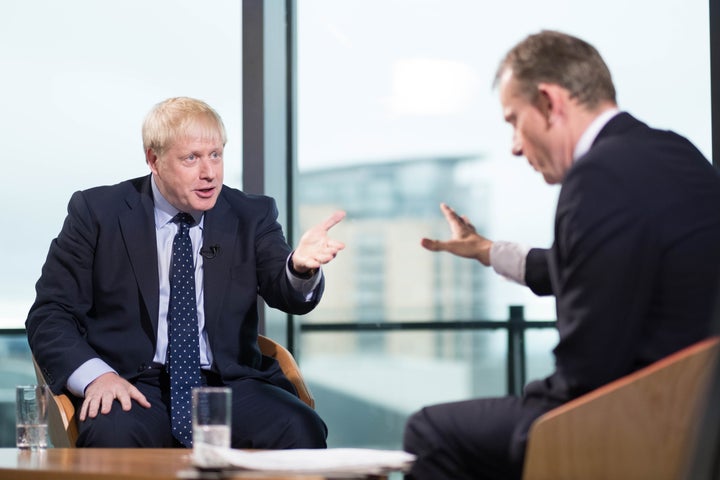 Johnson repeated the claim that there will be "no checks on goods" between between Northern Ireland and Great Britain under his Brexit deal.
This has been a controversial point and is one of the key reasons why the DUP were unable to support the new agreement he struck with Brussels.
Under the PM's plan, Northern Ireland would remain in the UK's customs territory, but would also need to obey some EU's rules in order to avoid checks at the border with Ireland.
In October, Brexit Secretary Steve Barclay had to admit this would mean there would be checks, telling the Commons "minimal, targeted interventions" would be needed to make sure imports and exports align with the new rules.
But Johnson insisted there would not be checks.
"There will be no tariffs and there will be no checks, and what we will ensure is that the whole of the UK – Northern Ireland and the rest of us – can come out," he said.