"In the middle of it, it was very difficult to see a way forward," Andrew Moffat reflects, almost one year on since the protests outside his school in Birmingham finally came to an end.
"I could never admit and say: 'This is a nightmare – I don't know what to do.' I had to be like: 'No, it's fine, keep going, keep going.' But it was really, really difficult. I didn't know how I was going to come out of it."
As well as being deputy headteacher of Parkfield Community School at the time, Andrew also designed and helmed the school's No Outsiders programme – the cause of the protests outside the Muslim-majority school.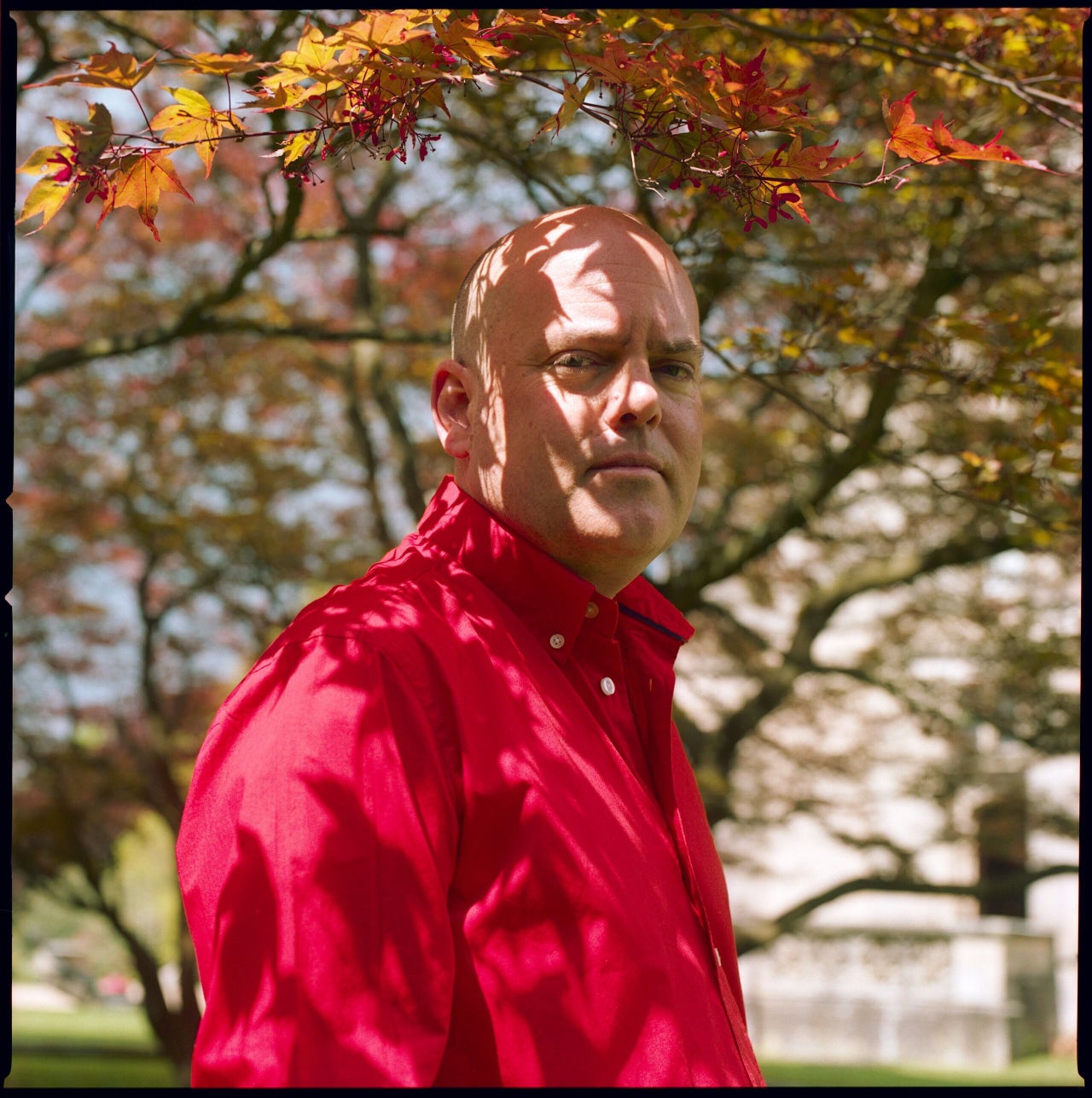 The use of children's books to teach primary school kids about diversity and equality had been in play for four years until one mother pulled her 10-year-old daughter out of the school, telling a local paper that children were too young to be learning about same-sex marriage in the classroom.
"When the protests first started, I remember vividly standing in the classroom and hearing chants of 'Get Mr Moffat out! Get Mr Moffat out!' Hearing children and parents chanting that. I remember thinking this is the end and that I wouldn't survive this," Andrew says.
"I felt huge support from all the staff who were angry that the work was being so misrepresented," he continues. "It's not about gay sex – or any kind of sex, actually. It's about everybody being welcome. Even the children were saying to the teachers: 'They're saying you're teaching us to be gay, but you're not.'
"There was lots of hate mail that the school managed to keep away from me," he says. "There were two massive arch-lever files of them."
The protests also took their toll on Andrew's family, including his husband.
"The biggest challenge for me was looking after people around me," he admits.
"I was getting all of this support in my professional life, but my husband wasn't getting any of that and was worrying all the time. My mum was seeing stuff on the news and worrying.
"My husband was worried about me getting to and from school. The police fitted a dashcam. They said I was vulnerable. For a time I wasn't allowed to leave school on my own and had to be escorted to the car park and back."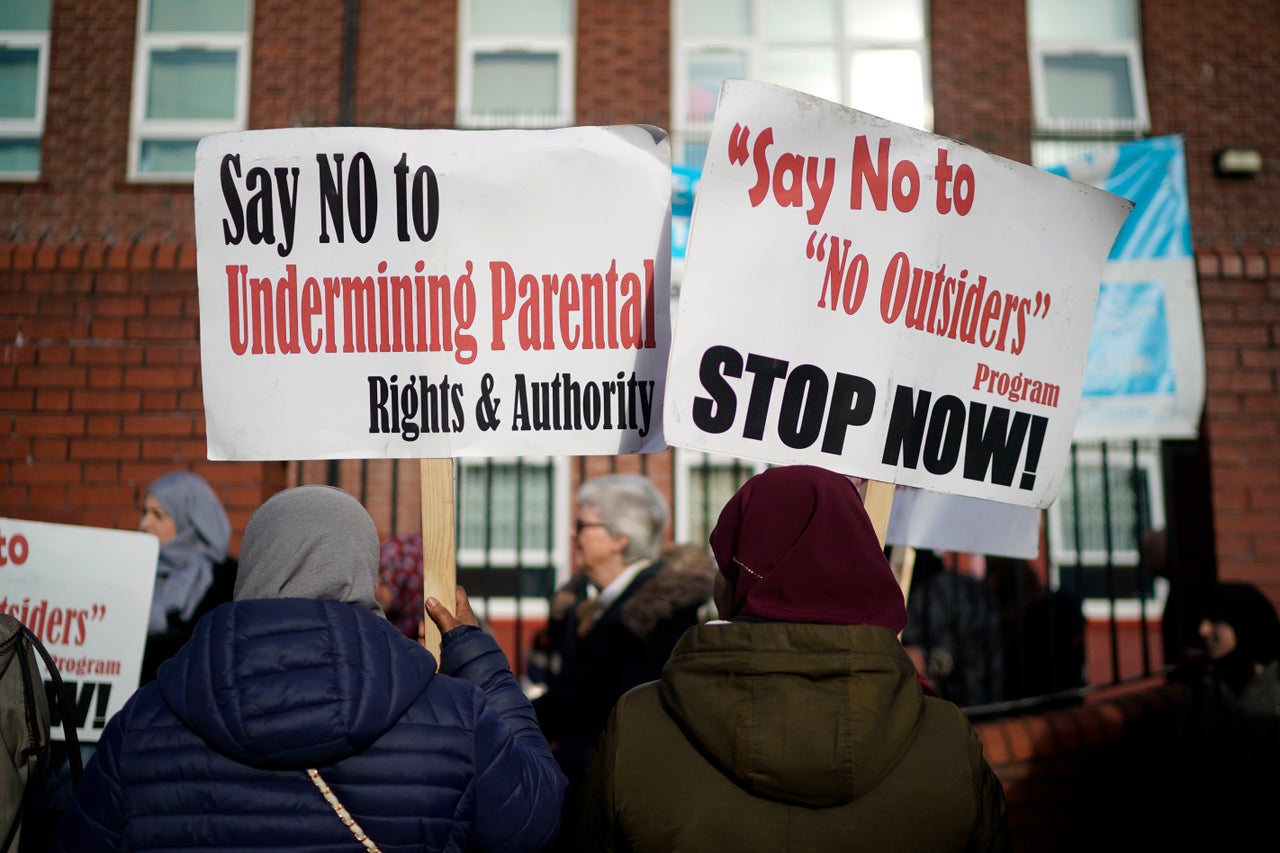 Andrew credits Parkfield's former headteacher, Hazel Pulley, with helping him through the darkest days.
"Hazel was an absolute rock," he says. "She could have said early on: 'We're not doing this – it's too much trouble,' but she never wavered. She was always: 'This is the right thing to do.'
Sticking to their guns, Andrew and the school eventually found a way forward after briefly pausing the No Outsiders programme, by listening to parents' concerns and making small adaptations – but, crucially, without compromising any of the messaging.
"I was able to say to the protesters: 'Look, I am listening to you and we'll find ways to adapt – but I'm not going to stop talking about same-sex marriage or different people.'"
"Sometimes you have to take a step back to move forward and show that you're listening. The most important thing here was to get the work back into school."
But those initial changes were still not accepted by the protesters and led to some uncomfortable meetings.
"In July, I had some awful meetings with protesters, which were just so difficult. People were saying that we hadn't changed and that they were going to continue [protesting].
"So we went into the summer holidays. We kept being told and hearing rumours that the protests would be starting again in September but they never did."
Andrew adds: "I think that the people that were agitating weren't actually the parents. I think the parents started listening to the school rather than people outside of the school.
"Even though I didn't take out the LGBT stuff I was able to show parents and was like: 'You don't like that book? Fine, I'll change it.' Sometimes you have to take a step back to move forward and show that you're listening. The most important thing here was to get the work back into school."
Andrew also looked at some of the terminology used in the lessons – and one word in particular was changed.
He explains: "I thought about the word 'celebrate' because there was a perception amongst many of the parents that we were forcing children to celebrate LGBT. We weren't doing that. There were no rainbow flags in the school.
"So what does that mean to celebrate LGBT? That word 'celebrate' is an interesting word to talk about in a primary school. Do we need to use that word? What does it mean? So I thought: 'OK, we'll drop the word.' I'll celebrate being gay. I'm happy being gay, but I'm not going to ask you to celebrate me being gay in the same way you can celebrate being Muslim. I don't have to. I can accept it and I can embrace it but I don't have to celebrate it. That helped."
""It was so hard... everyone was watching and I had to get this right. It was such a crucial moment. If we'd have folded, what would be the future of this kind of work in primary schools?"
He continues: "It was so hard – everyone was watching and I had to get this right. It was such a crucial moment. If we'd have folded, what would be the future of this kind of work in primary schools?"
In fact, the protests garnered so much national media attention that they ended up having the opposite effect of what the very vocal minority had intended.
"In a way the protests gave me more support than I could ever have imagined. Schools around the UK saw that happening and thought it was outrageous and wrong, and suddenly I was deluged with invites to go to schools to train them on No Outsiders," Andrew reveals. "The calls to do the training increased tenfold."
He adds: "What was interesting was realising that my school was unique. It wasn't happening anywhere else.
"Most schools can do this work with full backing. It's worth remembering that. When you're in the eye of the storm, you have to look out of the storm and, yes, it can be difficult but it won't be like that forever."
A pivotal moment for Andrew was last year's Birmingham Pride, which he was invited to lead. He took the opportunity to walk with members of the Muslim LGBT community "to make a statement", including Khakan Qureshi, founder of Birmingham South Asians LGBT, and Saima Razzaq, from Supporting Education of Equality and Diversity in Schools (SEEDS).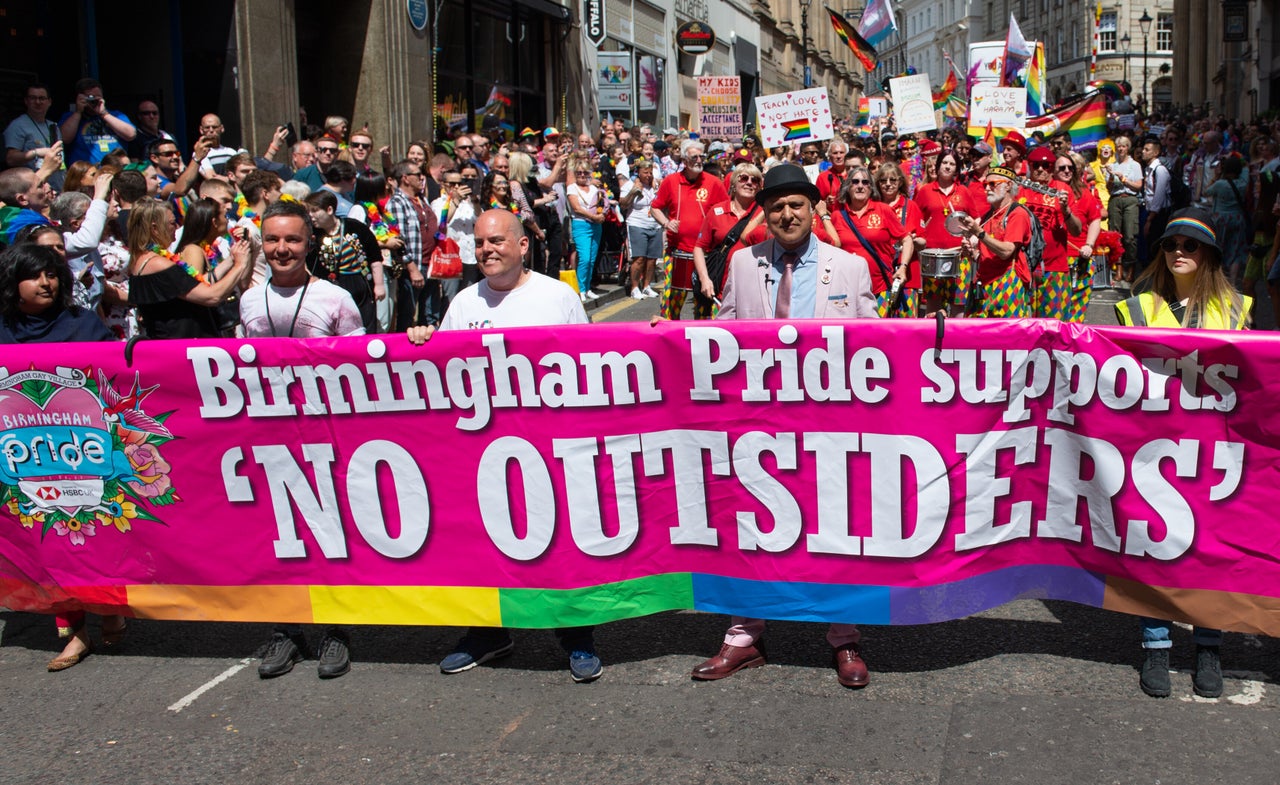 "We knew that would get headlines," Andrew says. "It was a fantastic statement for Birmingham too.
"That was a massive turning point because I did a little speech before the parade. It was absolutely huge. It must have taken 15 minutes to get to the front and there were all these placards with No Outsiders written on. It really was quite emotional.
"It just felt like the whole of Birmingham was out in support of this work in schools."
He adds: "The best bit of that was, the week after. I was in a playground and a Muslim mum came up to me and said: 'Wasn't Birmingham Pride fantastic? I was there, at the front and we were shouting and waving at you, but you didn't hear us because it was so loud.'
"She said it was her first Pride and couldn't wait until next year's. So that was a Muslim parent who is in complete support of what we're doing and took her boys to Pride. So it's those kind of stories that people didn't get to hear."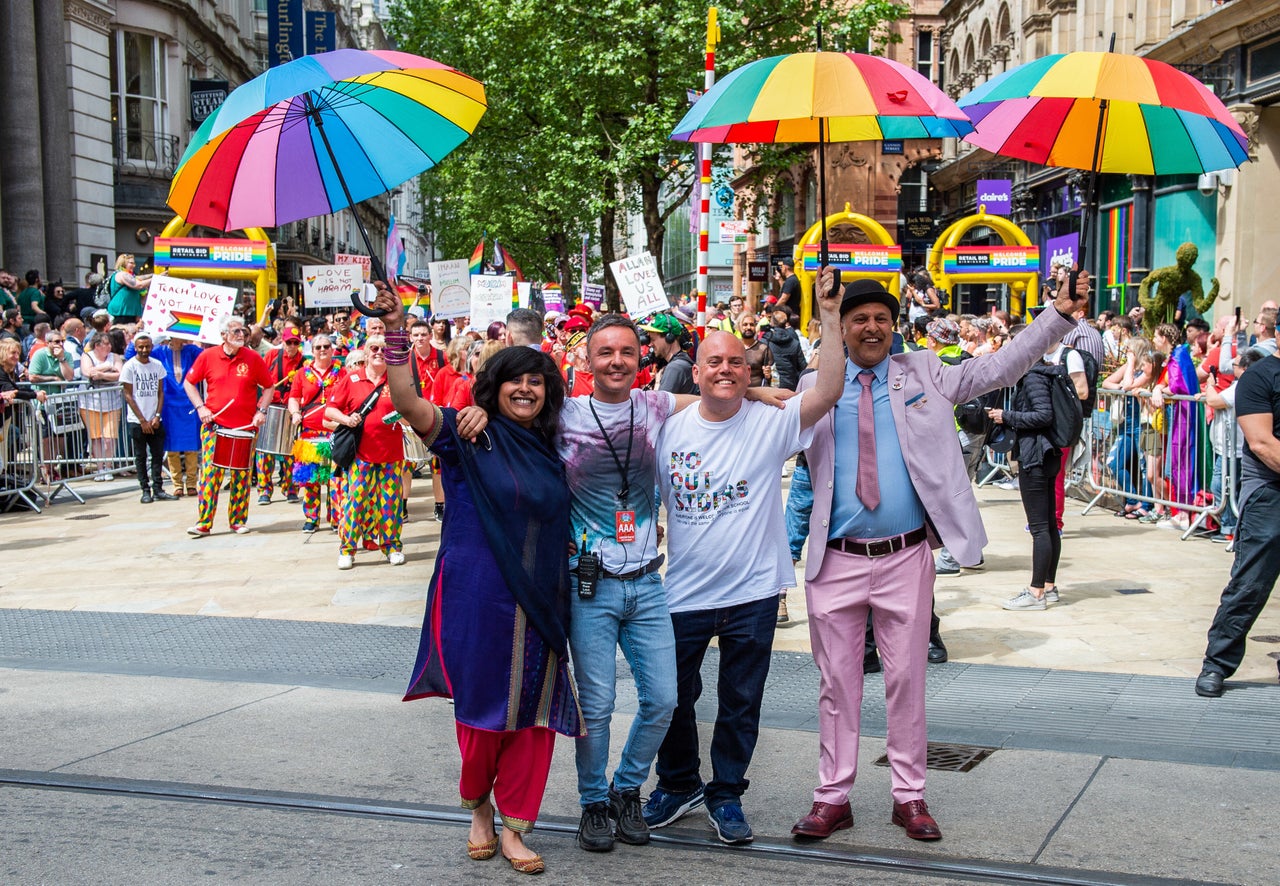 One year on, does Andrew think the protests could ever return, assuming schools will return to anything resembling normal?
"Yes I think they could," he admits. "The key is always dialogue. Having said that, we were always having dialogue with parents and the protests still happened. I was surprised at how influential some people outside of the parent community could be.
"The protests were really useful for bringing this to a national debate. The fact we had them demonstrated that we need this work in schools in 2020. All children [should] know that there's nothing wrong with them if they are different and that they belong."
The protests led to the No Outsiders programme becoming so successful that Andrew now trains schools on it nationwide on a full-time basis, which he believes is more important than ever in a coronavirus world.
"It's a fantastic promotion for me but also an endorsement of the work as well," he says.
"My new project is writing a resource for teaching in a post-corona school. How do we bring children together? Talking about their worries, being stronger together. It all fits into No Outsiders. How can we use this ethos to move forward in 2020?
"It's more important than ever that our children feel safe."