Angela Eagle has pulled out of the Labour leadership race - and paved the way for Owen Smith to take on Jeremy Corbyn.
The former Shadow Business Secretary decided to withdraw after her rival gained more nominations from fellow MPs and MEPs.
"Owen Smith has a lead and I think it's in the best interests of the Labour Party that we have one candidate. So I'm announcing tonight that I'm withdrawing," Eagle said.
"I'd like to congratulate Owen. We have a Labour party that is not working. We need to have a strong and united Labour Party. I will be supporting Owen with all my enthusiasm and might."
Smith, still a relatively unknown MP for Pontypridd, has served as Shadow Work and Pensions Secretary under Corbyn and Shadow Wales Secretary under Ed Miliband.
But it is his appeal as a fresh face, with no history of voting for the Iraq war, that won round fellow MPs.
The public have until 5pm on Wednesday to register through Labour's website, and a battle is on between pro- and anti-Corbyn campaigns to sign up more members.
The public have until 5pm on Wednesday to register through Labour's website, and a battle is on between pro- and anti-Corbyn campaigns to sign up more members.
Smith said that Eagle will "be alongside me as my right hand woman" in the leadership race and hinted she would get an appropriate post - possibly Shadow Chancellor - if he won.
Smith said: "I am just as radical as Jeremy Corbyn. What Labour members want is yes a principled leadership but they want someone who can put those principles into practice by winning power.
"It's time to move on from Jeremy. It's time to move on to a new generation."
But he went out of his way to praise the Labour leader, saying the party owed him "a debt of gratitude" for helping it to rediscover its radical roots.
Corbyn was elected by a landslide in 2015, winning 60% of the party members' votes in a contest with Yvette Cooper, Andy Burnham and Liz Kendall.
A new YouGov/Times poll suggested today he would win with an even bigger margin.
The party's official website noted the development with a head-to-head depiction of the two remaining contenders in the election, which ends in September.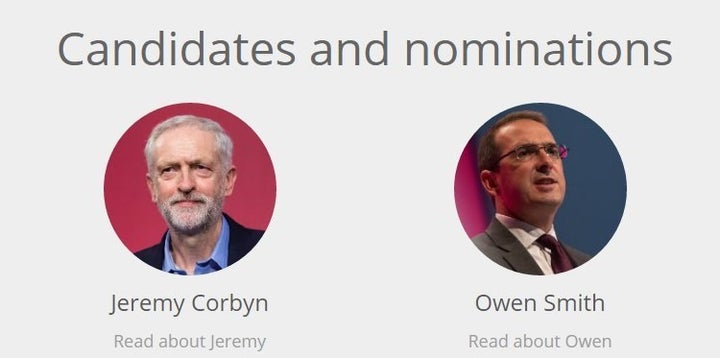 Labour's website revealed that the former Shadow Work and Pensions Secretary had a total of 90 nominations of MPs and MEPs.
His backers ranged from the soft left, such as co-chairs of his campaign Heidi Alexander and Kate Green, to those on the more 'centrist' wing of the party such as Michael Dugher and Rachel Reeves.
Eagle is said to have had 72 nominations from MPs and from MEPs. Crucially, Smith had 88 MPs to Eagle's 63 MPs.
HuffPostUK understands that Eagle decided at 4.30pm not to go ahead with her candidacy, after unofficial estimates of their relative support was fed back.
A late surge of Smith nominations had put her behind after a day of running neck and neck.
But she decided that she could not take the race into Wednesday, amid fears that it would send a confused message to 'moderate' voters who want to sign up to remove Corbyn.
She rang Smith to congratulate him soon after, and asked party general secretary Iain McNicol not to publish the nominations she had gained. Instead, the party published only Smith's figures after Eagle went public with her decision.
Some of her supporters were bitterly disappointed that her courage in jumping first had not been rewarded.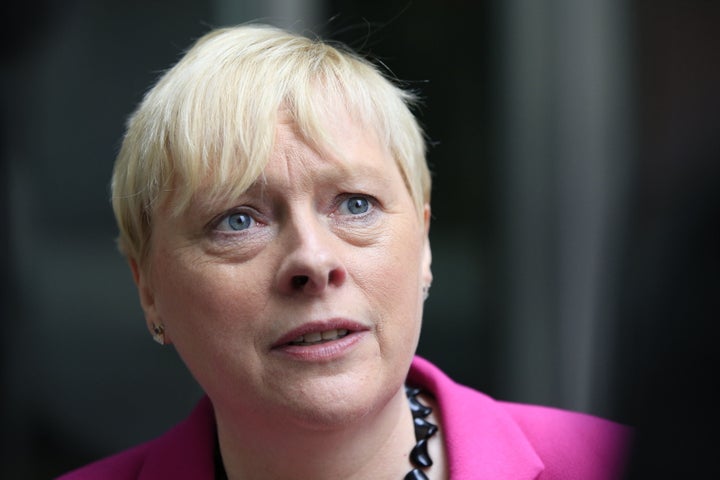 Eagle said the gap between her and Smith was "quite narrow". When asked if she had been offered a job by her rival, she said only: "We are going to be in lockstep together".
But the Parliamentary Labour Party (PLP) had made clear to Eagle and Smith that they wanted a single candidate to take him on among the party membership.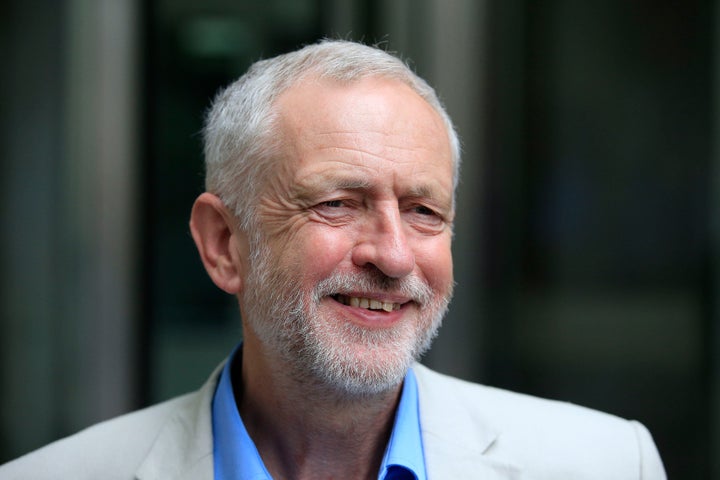 Eagle and fellow contender Owen Smith were on Monday urged to agree that one of them should step aside, in order to maximise the number of 'anti-Corbyn' registered supporters being signed up over a two-day window that ends on Wednesday.
The pair met to discuss a 'common understanding' on the race.
Eagle and Smith won repeated applause as they made their respective pitches during an 80-minute Parliamentary Labour Party (PLP) hustings in the Commons.