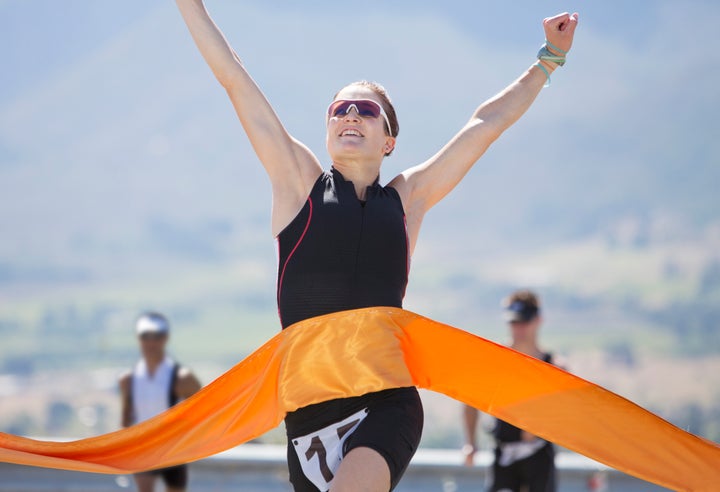 Women in sport are still underpaid and undervalued, essentially treated as second class citizens compared to their male counterparts. Take this example; in March men's and women's cricket teams from across the world flew to India for the men's and women's Twenty20 World Cup. The International Cricket Council funded all the men's teams to fly business class, but only paid for the women's teams to fly in cramped economy. Somewhat ironically, 24 hours later the England and Wales Cricket Board were tweeting "Happy #InternationalWomensDay from the England men's and women's teams #PledgeforParity."
The 2016 Olympic Games in Rio represent a significant stage in the fight for true parity in sport: 47.7% of the athletes are women, a new record. But instead of cheering on talented athletes like heptathlete Jessica Ennis Hill and boxer Nicola Adams, attention has remained frustratingly mired in sexism. In the first days we had the focus on the length of broadcaster Helen Skelton's skirt (no mention of fellow presenter Mark Foster's thigh-high shorts) and whether a woman's sporting success can be attributed to her marriage after The Chicago Tribune's woeful tweet to its 650k followers: "Wife of a Bears' lineman wins a bronze medal today in Rio Olympics." Because clearly the most important thing to report when an athlete wins a medal is her husband's profession, not her name or even the event she won a medal in.
A recent study from Cambridge University Press, entitled Aesthetics or Athletics?, uncovered the gender divide in the way sport is reported by the media and talked about by fans, using "multi-billion word databases of written and spoken English language from a huge range of media sources In sports reporting" including news article, social media and forums. They found men are three times more likely to be mentioned than women in sports media and "language around women in sport focuses disproportionately on the appearance, clothes and personal lives of women, highlighting a greater emphasis on aesthetics over athletics...
"Notable terms that cropped up as common word associations or combinations for women, but not men, in sport include 'aged', 'older', 'pregnant' and 'married' or 'un-married'. The top word combinations for men in sport, by contrast, are more likely to be adjectives like 'fastest', 'strong', 'big', 'real' and 'great' – all words regularly heard to describe male Olympians such as Usain Bolt."
Women in sport are still struggling to extricate themselves from the Victorian values of 'femininity'; all that softness and meekness and swooning. Pierre de Coubertin, who founded the modern Olympic Games in 1896, described women's sport as "the most unaesthetic sight human eyes could contemplate".
Until 1960 women were not were not allowed to compete in races longer than 200m, because they were deemed to lack the physical stamina. Sepp Blatter, the controversial FIFA president, famously wanted women to "play in more feminine clothes...for example, have tighter shorts." The Marylebone Cricket Club, based at Lord's, only lifted its ban on female members in 1998. While Muirfield Golf Club voted in May this year to continue its ban on women members. By doing so, it lost the opportunity to host prestigious Open Championships.
Men hold the majority of tops jobs in sport's governing bodies and so make most of the decisions. In 2012 UK Sport and Sport England requested all publicly-funded sports' National Governing Bodies to aim for 25% of their board members to be women by 2017. The Women's Sports and Fitness Foundation told a Culture, Media and Sports Committee report into Women and Sport in 2014 "that the lack of representation of women on the UK's sports boards meant that sports were missing out on the benefits that diverse leadership teams could bring, and made it less likely that sporting bodies fully understood how best to approach women's sport in all aspects of their business including participation, sponsorship and media profile."
According to the WSFF, only 7% of sports media coverage is devoted to women's sport and just 0.4% of commercial investment goes to women only sport (over 60% goes to men's and team sports get the rest). However, over 60% of sports fans say they would like to see more women's sport on the TV.
The huge disparity in funding and sponsorship possibilities between male and female sport means that women have fewer opportunities to play sport with good coaches and facilities and are paid considerably less than men. In football there was £22m in prize money for the last men's football World Cup, but only £630,000 for the women's tournament.
This has a double knock-on effect: players are not professional, so have less chance to hone their skills; and the lack of financial rewards mean that many leading players are forced to retire prematurely. And so the self-perpetuating cycle of women's sport being given less attention than men's, and seen as less 'deserving', continues.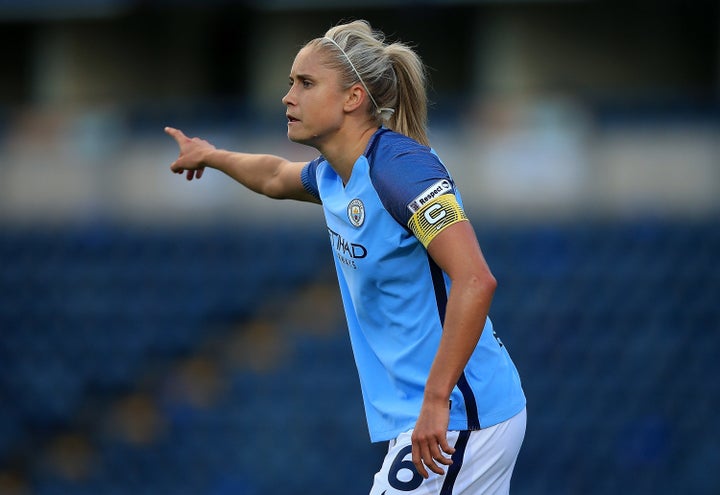 Steph Houghton, captain of Manchester City and England women's team, earns £65,000 a year. She's the highest paid England women's footballer. Wayne Rooney earns £300,000 A WEEK.
In 2015 when the England women's team were returning from the World Cup having galvanised the nation, the Football Association tweeted the message "Our #Lionesses go back to being mothers, partners and daughters today, but they have taken on another title – heroes" - and swiftly deleted it once people pointed out the patronising tone.
In July Serena Williams' response to a journalist who asked about her being "one of the greatest female athletes of all time", that she preferred "one of the greatest athletes of all time", won praise and admiration. But Novak Djokovic, the men's number one, earned twice as much as Serena, the women's number one, last year.
Until there is a shift in the way women in sport are reported on to attract new audiences and supported by their governing bodies, gender inequality will continue. And that's a shame.