Gucci has become the latest fashion brand to show their support for pro-choice movements in the wake of recent abortion laws in the US.
Gucci's Cruise 2020 show on Tuesday night featured a jacket emblazoned with the slogan "My Body, My Choice", and a dress with an embroidered uterus showcased on the runway.
On Instagram, Gucci said the collection reflects its "longstanding commitment to women and girls", adding that it funds projects around the world to support sexual and reproductive rights, as well as maternal health.
The collection follows a wave of feminist fashion, with everything from pro-choice slogan t-shirts to tote bags and earrings available to buy online. But does purchasing and wearing these clothes and accessories always make a difference to women's reproductive rights?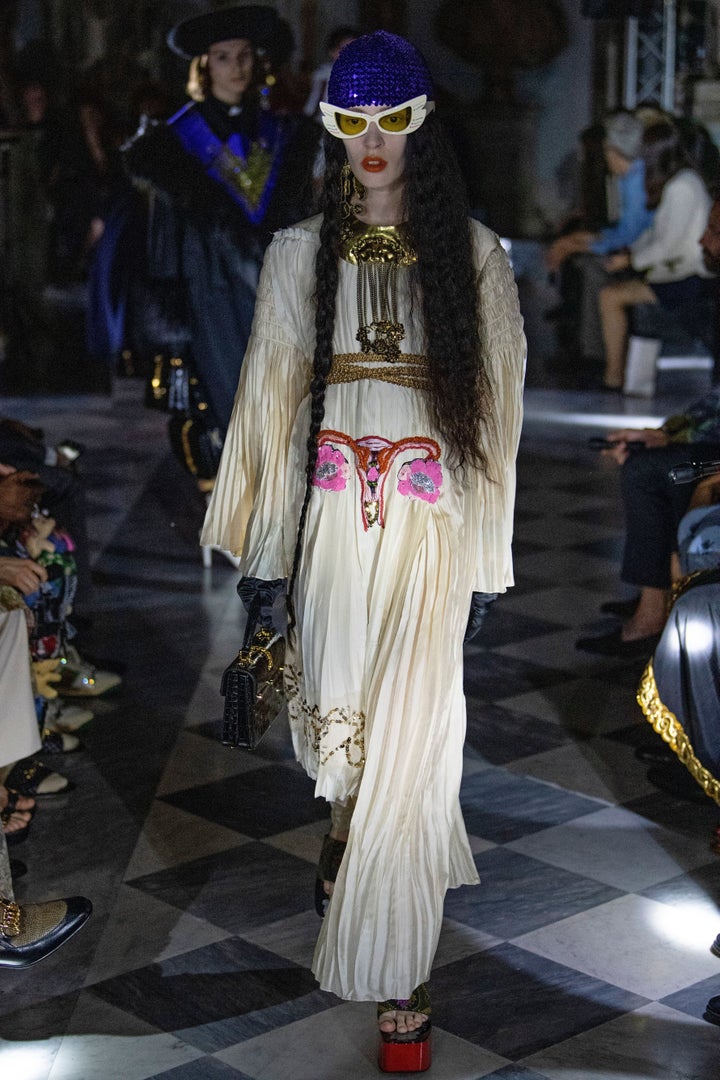 Response to the Gucci show online has been divided, with some arguing that the clothing shows a "lack of respect" and that feminism is "not fashionable" , while others have praised the brand for getting political and using its platform.
Emma Campbell, is co-chair of Alliance for Choice, a campaign group in Northern Ireland where in almost all cases, abortion remains illegal. She argues that pro-choice fashion can contribute to change, but it needs to be utilised in the right context.
"There is a world of difference between supporting a campaign by buying and wearing their merchandise to further their activities, and a designer jumping on a bandwagon for fast fashion or controversial value," she tells HuffPost UK.
"There is something incredibly significant about wearing your politics on your body when it's your body being policed by the state. When it's standing with an activist organisation, it's a reclamation of your body and a rejection of bodies as politically expedient bargaining chips."
If a fashion designer chooses to donate profits to an organisation like Alliance for Choice or The Yellow Hammer Fund in Alabama, Campbell believes it's acceptable for them to use the symbols of the movement.
"But if they aren't, then it's piggybacking on our struggle and not challenging our bodies as a battleground," she says.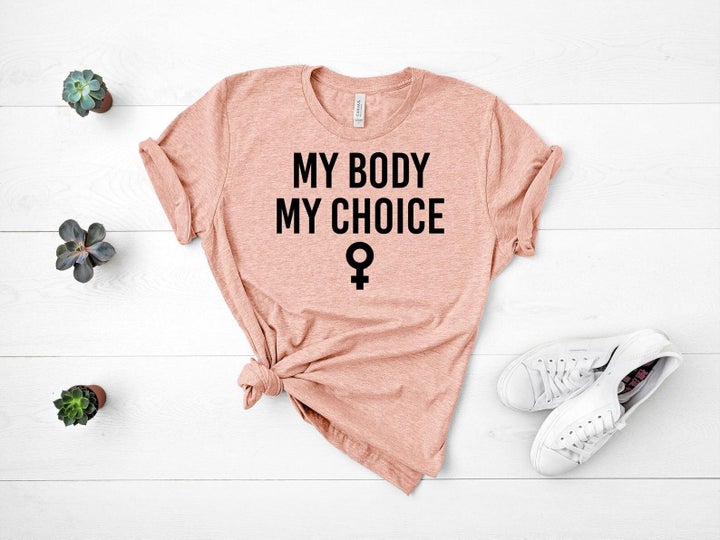 "Fashion may seem peripheral, or even superfluous, but it plays a hugely important role in influencing and establishing cultural narratives and norms," she tells HuffPost UK.
For too long abortion has been treated as a dirty little secret, she says, something society accepts but doesn't want to know about. "What we have seen recently is women rejecting that stigma and wanting to speak out about their experience or show their support for other women."
BPAS has its own online store that sells pro-choice products including pins, tea towels and tote bags. Buying the items helps to support women's access to reproductive healthcare, says Murphy, who argues that this made a real difference in the lead up to the Irish abortion referendum.
"The proliferation of 'Repeal' merchandise in the run up to the Irish referendum last year doubtless played a key role in making people feel part of a community campaigning for change," she says.
Grainne Teggart, Amnesty UK's Northern Ireland campaign manager, previously told HuffPost UK alternative ways to show your support for pro-choice campaigns include writing to your MP and showing support on social media for Northern Irish and other women online affected by restrictive laws.
"I know some women who make lonely journeys to England for abortions see solidarity on social media – and that does provide some comfort," she said.