The number of at-home STI tests distributed by the NHS is being capped in some areas of London, HuffPost UK has learned, with one reader saying he tried and failed to access a test on 10 separate occasions.
The Sexual Health London (SHL) scheme advertises a "discreet service" that allows Londoners to order at-home STI testing kits for a range of STIs including chlamydia, gonorrhoea, syphilis, hepatitis B and hepatitis C – as well as HIV.
But three London boroughs – Lambeth, Southwark and Lewisham – have limited the number of tests available online each day to residents through the scheme.
While regular HIV testing is good practice for everyone who is sexually active, the Terrence Higgins Trust emphasises that it's particularly important for gay, bisexual and other men who have sex with men, who should get tested routinely for HIV and other STIs at least annually, or every three months if having sex without condoms with new or casual partners.
James, 35, who lives in Lambeth, told HuffPost UK he tried to order his routine recommended annual test around 10 times in November and December. The daily cap resets at 7am each morning but James found that each time the service had run out of testing kits shortly after opening – by as early as 07.12am on one occasion.
"I was only able to get one by getting up to do it at 7am on a Sunday morning," he said. "I'm worried about how this would affect young people, or those considering taking the test for the first time. I remember how anxious it used to make me, before you establish a routine."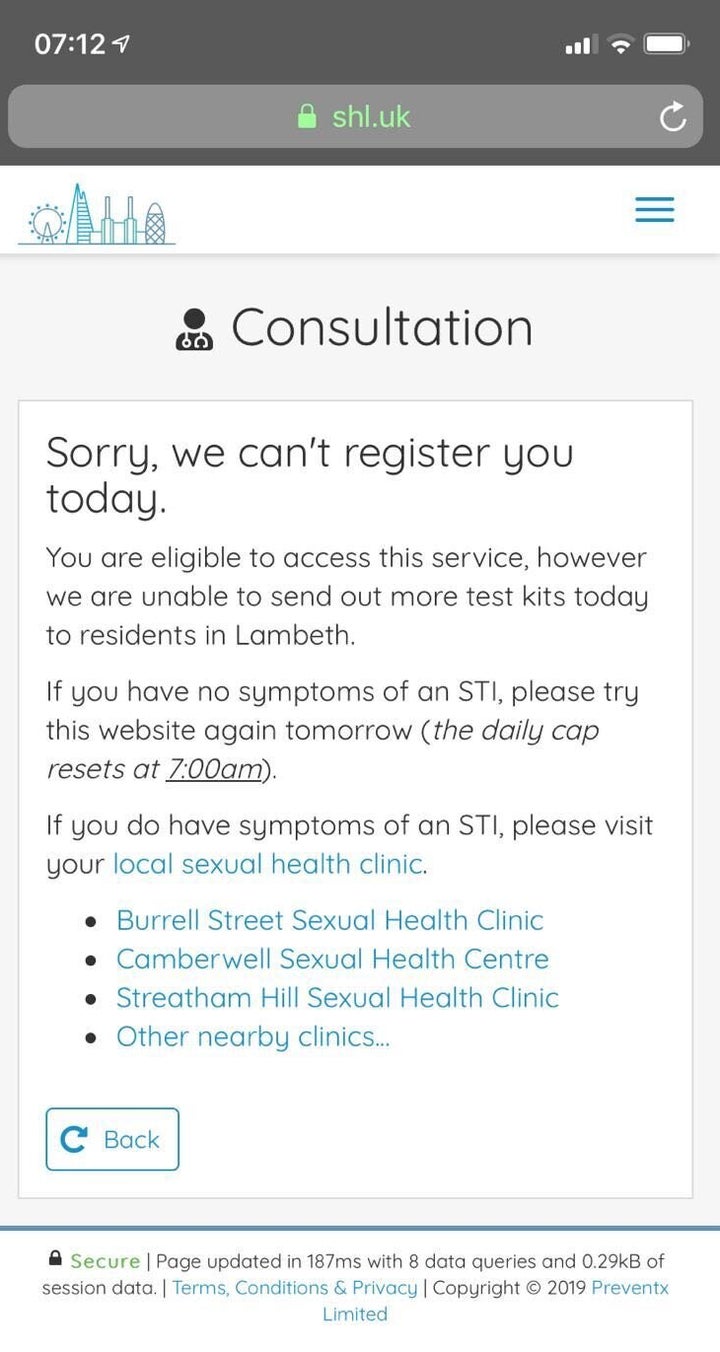 "The council purports to be backing HIV testing week in November, but then they direct people to a service that doesn't have the resources to support them," said James. "These people are either not going to get tested, or end up in an in-person clinic where it costs the NHS more to serve them. It's risky, counter productive and wasteful."
James stressed that SHL had provided a "fantastic and valued service" since it launched in 2018, but that he worried "it's not being resourced to do its job properly, and that has to be called out".
A spokesperson for the London Sexual Health Programme, which runs SHL in 28 London boroughs, confirmed to HuffPost that 5,000 test kits are issued every week.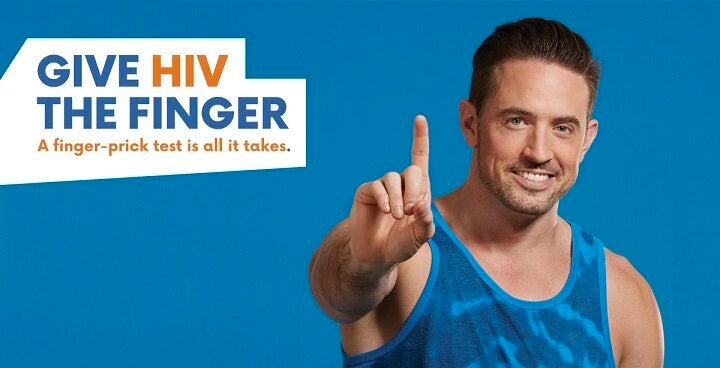 "The service means people can choose between managing their sexual health from home, with results available in under two days, or using services at a nearby clinic," the spokesperson said. "It's also helping to improve access to sexual health testing – with one in five Sexual Health London users reporting it as the first sexual health service they have used."
Although the current cap is primarily affecting Londoners, the Terrence Higgins Trust said it was a reminder that sexual health services need to be "properly funded" across the country.
The Health and Care Act 2012 transferred public health responsibilities to local authorities, meaning councils decide how much money to allocate to sexual health services in their area, which are then delivered by local NHS trusts. But since 2015, the government has cut public health funding across the country.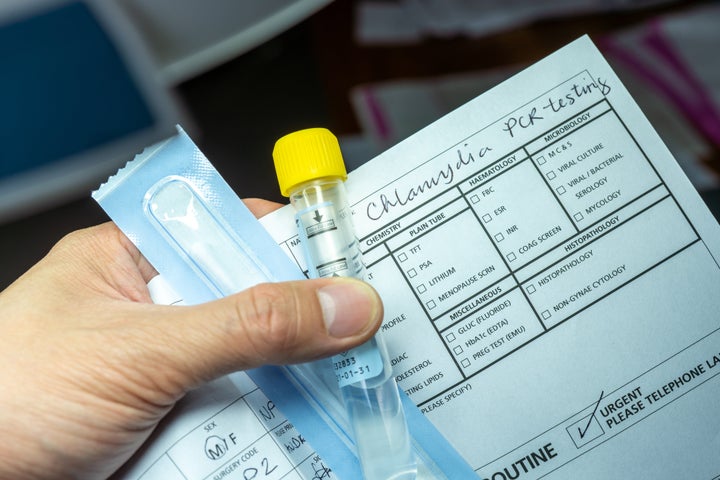 The funding reduction has led to sexual health service budgets being cut by 25% across the country between 2014/15 and 2019/20. At the same time, demand for sexual health services is on the up.
Stats from Public Health England show a 22% increase in people accessing tests for chlamydia, gonorrhoea, syphilis and HIV between 2014 and 2018. Cases of gonorrhoea and syphilis continue to rise.
Southwark councillor Evelyn Akoto told HuffPost UK the number of digital requests for at-home tests in the borough has outnumbered the resources the council had planned for.
"It could be seen as a marker of its success that demand for online testing in south east London has been so high. It shows our residents are taking this issue seriously, and that the promotion of the service is working well," she said.
Akoto acknowledged the issue needs tackling, adding that Southwark, Lambeth and Lewisham are "working hard to pilot new ways for local people to access testing quickly and easily online, within the context of a year-on-year reduction in public health funding for councils".
"Testing for STIs at home is a great additional option... but not if it becomes as competitive as getting a Glastonbury ticket."
A Lambeth Council spokesperson said the council was committed to preventing HIV, spending a third of its public health grant on sexual health and HIV prevention. "Despite cuts to the Public Health budget, we have not reduced funding for sexual health promotion and HIV prevention services," they said.
Lewisham Council said it was "very pleased" with the take-up of online testing, and that it had exceeded expectations. "We have had to manage the increased demand for this service and will keep this under review," a spokesperson said.
Commenting on the caps, Debbie Laycock, head of policy at Terrence Higgins Trust, said: "Rates of some STIs are soaring and, if we're to ever reverse this trend, we need to make testing as easy and accessible as possible. That's why testing for STIs at home is a great additional option for testing for many people, but not if it becomes as competitive as getting a Glastonbury ticket."
James told HuffPost UK that he was concerned that due to a stigma around sexual health issues, people might not share their struggles to access services, meaning gaps in access can go unquestioned. "Sexual health services suffer a taboo. People don't talk about it, politicians don't make campaign promises about it," he said.
"But London's services seem to be deteriorating, and that risks undoing the good work that people have done over decades to get people into a testing routine. That would be a tragedy."