For children fleeing violence there's often no time to grab their favourite toy or comfiest clothes, there's not even a spare second to pack a toothbrush. They often arrive in emergency accommodation with just the clothes on their back.
But there is a glimmer of hope in such desperate situations: Karen Williams, based in Linton, Derbyshire, set up the Buddy Bag Foundation which provides free backpacks to children containing essential items such as toiletries, pyjamas, socks and underwear, as well as books, photo frames and teddy bears.
Almost 15,000 Buddy Bags had been delivered to children in refuges across the country - all free of charge. One mum who arrived at a refuge with her daughter in tow and no possessions said the bag "saved" her.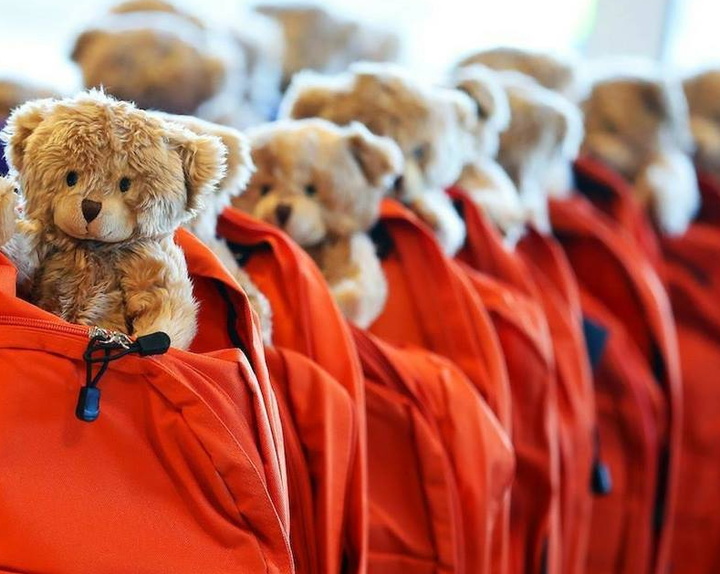 When the bags are issued by the charity, children have the opportunity to fill in a postcard saying what they like most about it.
One of the postcards sent in from a child reads: "Thank you very much for my teddy because it helps stop me from crying when I think about my Dad."
Williams says it brings tears to her eyes when she reads the responses: "It is a reminder that we are genuinely making a real difference to these children by providing them with a 'Bag of Love' when they really need our help."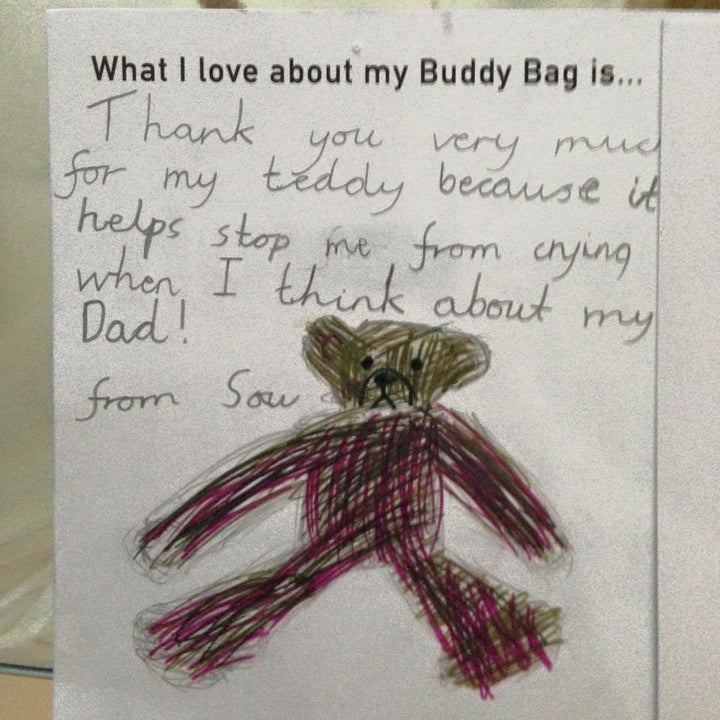 On a separate postcard one mum wrote: "It's absolutely fantastic! Really appreciated the toothbrush and shampoo – things you don't think of grabbing when you need to get out quickly. Chloe (my 23-month-old daughter) loves the bag and the book, and she is wearing the pyjamas now. A really lovely thing to receive in a time when you need some cheering up."
The backpacks are tailored to suit children between the ages of 0-16 years old. They are something these kids can call their own, no matter where they go.
Marisha Place from Lichfield Police said when a child is removed from a situation, the police often don't think about the items that need to be brought along as safeguarding is the priority. "Having the distraction of opening up the Buddy Bag, and finding new pyjamas, underwear, some toiletries, a cuddly toy and something to play with – what a gift," she said in a testimonial to the charity. "Also having a book to read and a photo frame if they are far from friends and family makes a huge difference."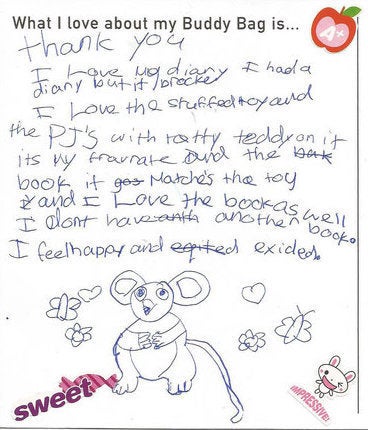 Some businesses donate essential items or the backpacks themselves while other people make monetary donations, 100% of which goes into the bags. They are then packed by volunteers of all ages at organised meet-ups called 'Buddy Bag Brigades' which take place across the UK.
Afterwards, items are distributed to local refuges. The aim is to provide 20,200 Buddy Bags to children by 2020.
One Refuge employee, who preferred to remain anonymous, said half of the residents in the refuge she works at are children. "When we share the Buddy Bags, the children love exploring them and are very excited – they can't wait to share the contents with their mothers and love nothing more than to name their teddies," she said.
"This is a wonderful scheme which brings much happiness to many children during a very difficult time in their lives. I'll treasure forever the expressions of joy on the children's faces when they receive the bags – it makes them feel really special."
HumanKind is HuffPost's celebration of kindness, featuring people who do incredible things for others or the planet – transforming lives through small but significant acts. Get involved by joining us on Facebook or telling us about the people who you think deserve recognition for their kind works. You can nominate them here or share your personal story by emailing natasha.hinde@huffpost.com.