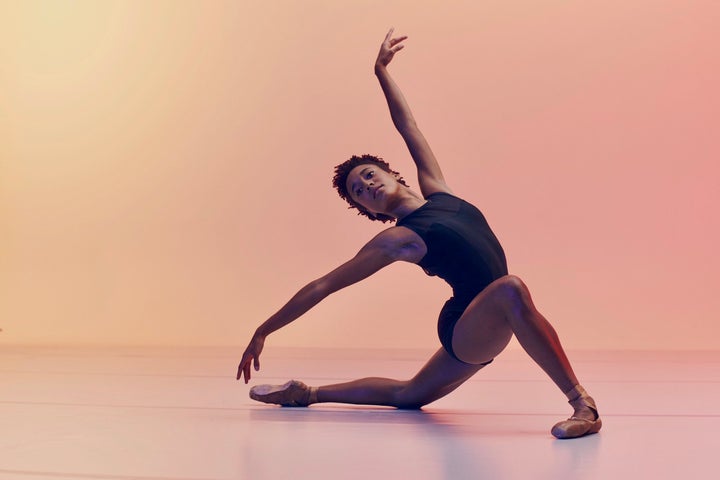 Ballet's aristocratic origins and an early association with opera mean that it remains wedded to a Euro-classical ethos. Certain ideas about it still persist ― that only an expensive cultural education can unlock its meaning and that it belongs in gilded venues accessed only by the elite. Then there's the unmistakable race-signaling; despite documenting the decline of ballet in the late 1800s and showing us how terribly dancers suffered at the hands of predatory male patrons, French artist Edgar Degas' paintings have bypassed their nightmarish context, at least in the popular imagination. Today these instantly recognizable scenes are visual shorthand for everything ballet embodies ― beauty, pristineness, perfection ― all of it encoded as whiteness.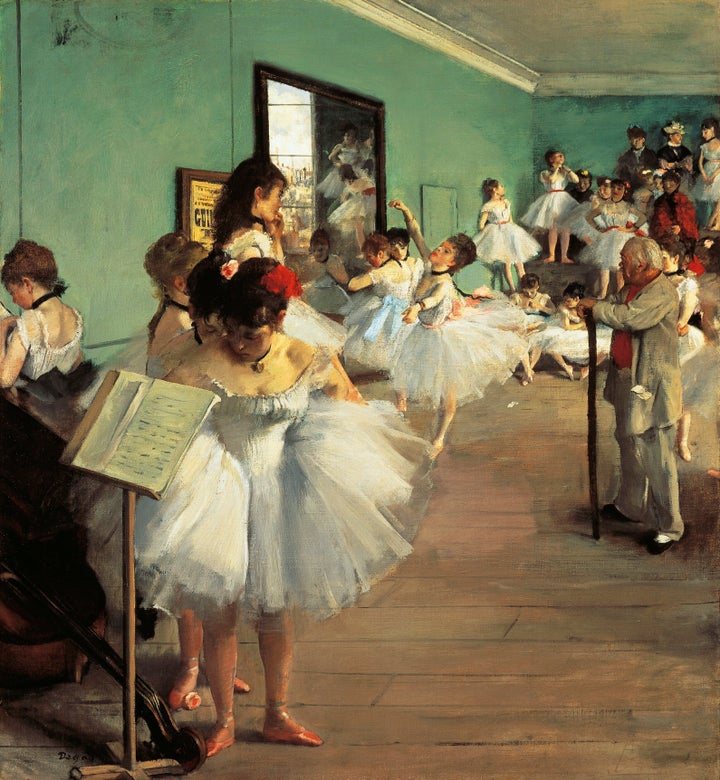 Even today, ballet prizes the physical and emotive attributes that set European nobility apart from commoners ― poise, daintiness, adherence to etiquette and hierarchy, erectness of carriage. So it seems that ballet and whiteness are inseparable, to be divorced from each other at a cost no less than the extinction of the form itself. Some stakeholders reinforce this idea by favoring homogeneity, claiming a Black dancer in the corps could throw off the symmetry needed for pleasing optics. Others ostensibly reject Black dancers for having what they say are unsuitable contours. The cumulative impact of these beliefs is felt hardest by aspiring dancers of color.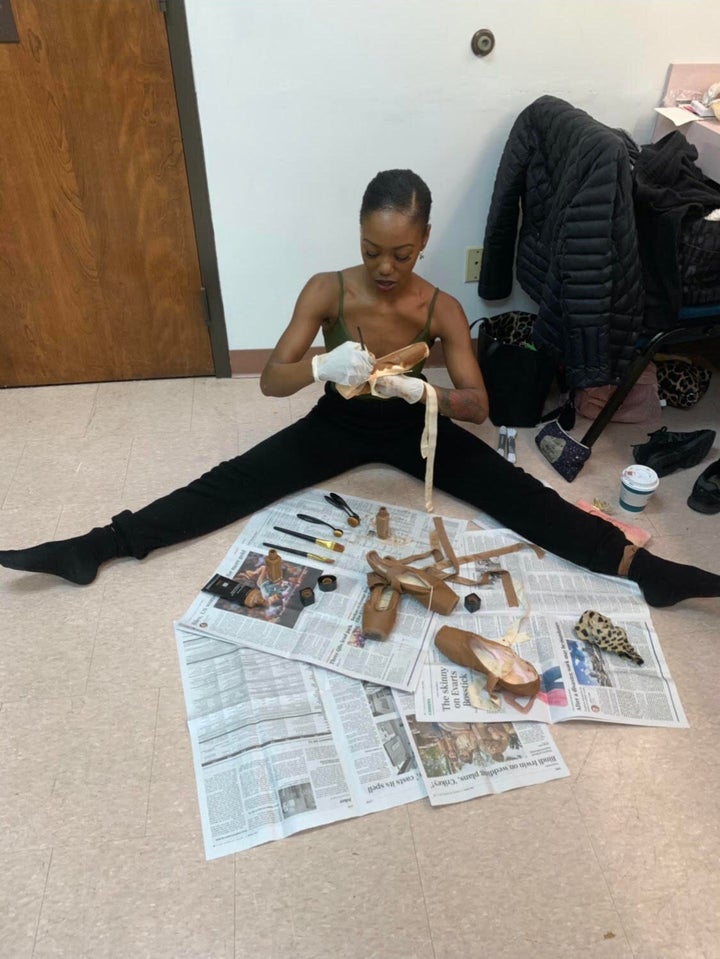 Dance scholar Brenda Dixon Gottschild explained this in her book, "Digging the Africanist Presence in American Performance," by framing it as a systemic problem, a case of Black people being "interrogated, tried, and convicted on the basis of a white aesthetic." In ballet, the uninflected, rod-straight spine is the organizing principle from which all movement flows and to which it must return. In contrast, Africanist dance animates the body with relatively "democratic equality." As a result, Dixon Gottschild said European standards deem Black dancing traditions as "vulgar, comic, uncontrolled, undisciplined and, most of all, promiscuous."
This has allowed ballet to normalize ugly racial and gender stereotypes as canonical.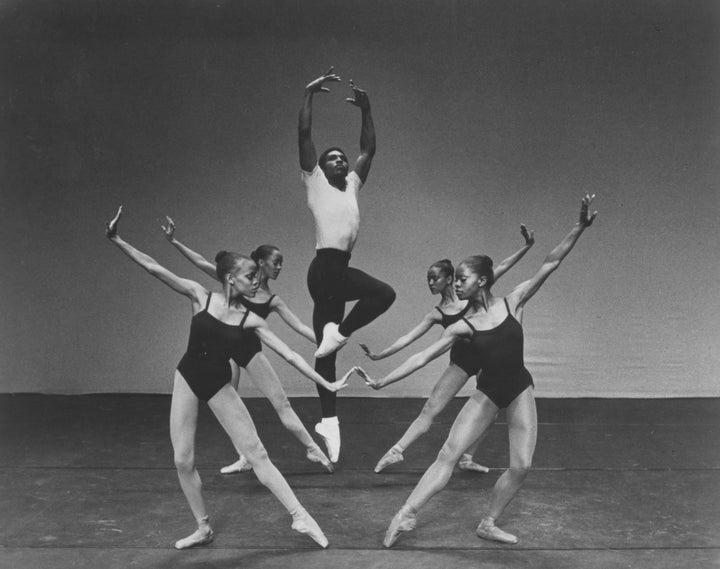 In 2018, when English National Ballet star Precious Adams rejected the regulation pink hosiery for a brown skin-matching one, her insistence left ballet purists enraged. In December 2019, Russia's Bolshoi Theatre defended their use of blackface in La Bayadère. Modern productions continue to peddle unfortunate Orientalist stereotypes, with year-end darling Nutcracker using Fu Manchu moustaches and outstretched index fingers (meant to approximate chopsticks). Appointed to head the Paris Opera Ballet in 2014, Black Swan choreographer Benjamin Millepied hit a wall with his push for diversity at the ancient 150-strong all-white company that traces its origins to the imperial courts of Louis the 14th. His refusal to let dancers present in blackface upset ballet conservatives, and his reformist zeal led to his resignation in a year's time.
Despite its historical impassivity to race politics, ballet has shown that it can rise to the ask of representation. While it's now well-known that Misty Copeland became the first female African-American principal dancer at American Ballet Theater in 2015, other examples abound.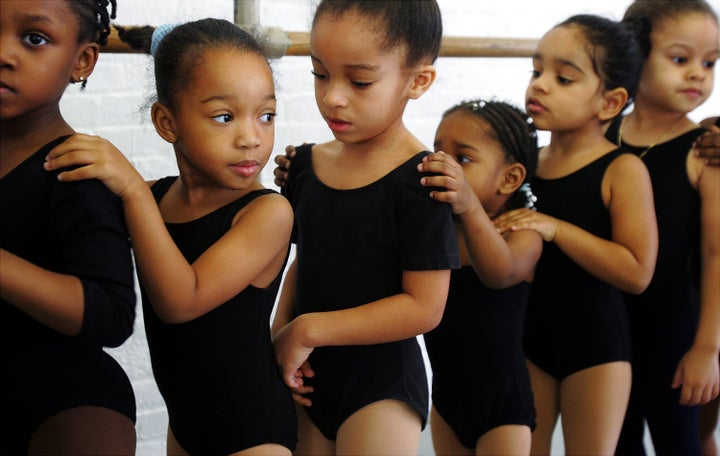 Founded in the wake of Martin Luther King's assassination in 1968, visionary choreographer Arthur Mitchell's Dance Theatre of Harlem (DTH) broke a 300-year-old rule by outfitting dancers in tone-true tights and pointe shoes that remain a hallmark of the company's productions to this day. DTH's reimagination of classics Firebird (1982) and Giselle (1984) are watershed moments in modern ballet history ― the former relocated Stravinsky's 1910 masterpiece to the Caribbean and the latter swapped its original landscape, the Rhineland, for the antebellum South. The soul-searching around George Balanchine's The Nutcracker's racially problematic second half has led to a public pledge to eliminate yellowface from productions. And award-winning scholar-choreographer Jeremy McQueen's ballet collective The Black Iris Project has staged several moving productions centred squarely on Black lived experiences while Hiplet, a ballet-hip hop hybrid conceived by choreographer Homer Hans Bryant, marries the energy of hip hop to the controlled precision of ballet.
And in 2019, Charlotte Nebres, born to parents whose families come from Trinidad and the Philippines, became the first black actor to be cast as Marie in the New York City Ballet's production of The Nutcracker.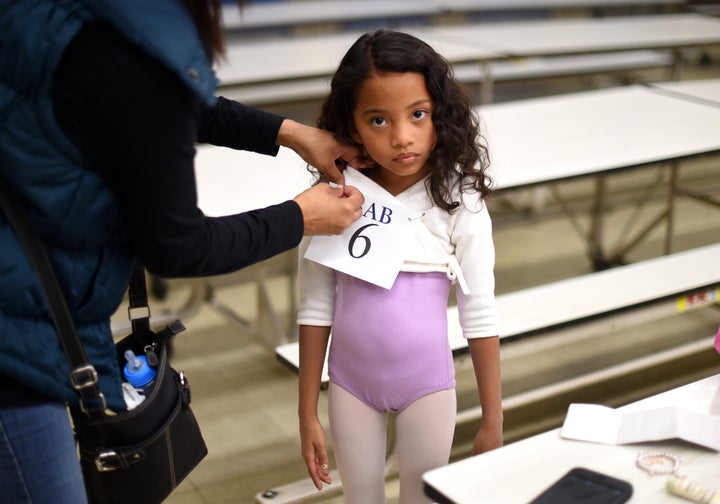 Dance gear manufacturers too are becoming color sensitive ― while heritage gear suppliers Freed and Gaynor Minden now make pointe shoes in inclusive shades, newer tights makers like NudeBarre and Ballet Cafe Naturals are addressing an entire spectrum of brown and black complexions.
HuffPost spoke with some ballerinas of color about their style and beauty secrets to understand how they bring individuality to a dance form premised on uniformity and exacting standards of self presentation.
Cortney Taylor Key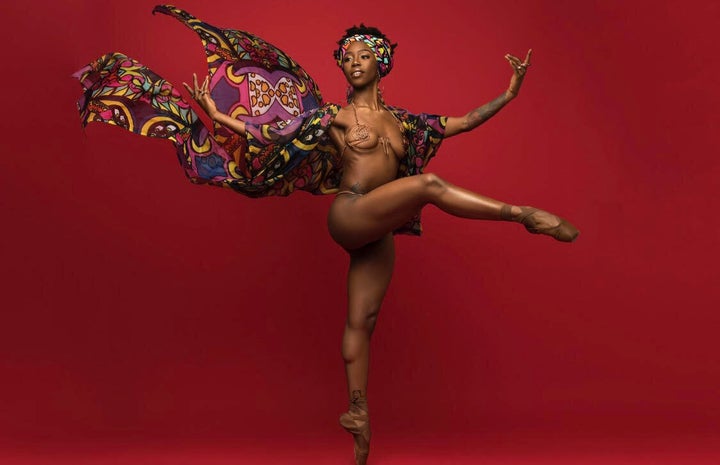 New York-based Key remembers feeling connected to and challenged by ballet even as a child. "I love the royalty of ballet, the theatricality and the stories, though I feel that the stories that women of color in ballet are telling are not their own," she told HuffPost. "I remember seeing Lauren Anderson with Julie Kent in a magazine and being amazed at how talented and beautiful she was, amazed that she looked like me, brown and toned. I could feel her glowing energy through the page. It wasn't until I got to the Dance Theatre of Harlem that I saw actual brown ballerinas like Charmaine Hunter, Endolyn Taylor, Lisa Attles, Bethania Gomes and Yvonne Hall. At the first university I went to, DTH came to the school and I was completely blown away by one ballerina in particular who is now a dear friend and one of my favorite ballerinas: Paunika Jones."
Key is concerned that funding for the arts has been diminishing, impacting the potential visibility of Black and brown people in ballet. "I think the government should provide funding for children of color to access all classical art forms from a very young age. If Black and brown students had more access, it wouldn't be such a culture shock. It wouldn't be so foreign to see someone doing something you only think about and keep to yourself. Sometimes seeing is believing. If more children of color saw what they can become, they would believe that it is possible."
In her own career, Key is relentlessly authentic and professional to a fault. She's gently insistent that her hair not be treated differently from anyone else's in ballet. "If you want a French twist, I'll give you a French twist, if you want a bun, I'll give you a bun. The goal is to be polished and present excellence. Whatever I have to do to present my tightly curly hair in its natural state and look as polished as possible, I do. That is my goal."
Key learned to pancake her pointe shoes with foundation from her brief stint at DTH, an experience she finds spiritual. She'd like to see dance gear suppliers develop a more comprehensive understanding of complexions though, not just limit themselves to a few shades. "My style of pointe shoes (Chacott Veronese II/III) have only now come in chocolate brown thanks to my dear friend Ingrid Silva. My hope is that all shades will be accessible in the future, because women of color come in shades with hints of red, purple and yellow."
Today, Key is working with fellow dancer Jones to create a safe space for women of color in ballet. Their Negus Ballerina Project is a dance incubator that strives to honor the bodies and voices of dancers who find themselves underrepresented in this Euroclassical art form.
Daphne M. Lee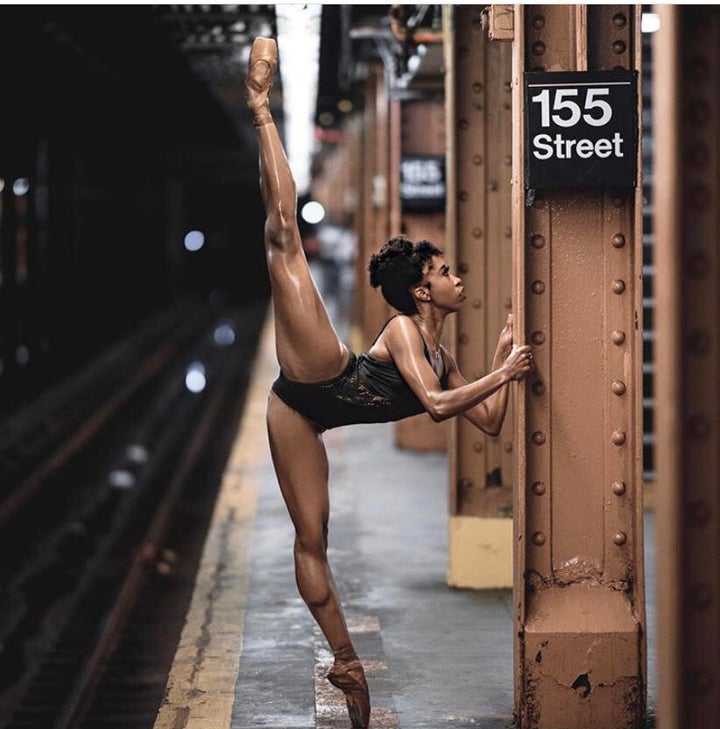 Daphne M. Lee, the 2017 Miss Black America winner, has been dancing professionally for a decade and is currently with the Dance Theatre of Harlem in New York. "I love challenging the public on what and who a ballet dancer is," she told HuffPost. "I love when people are like, 'Oh you have to have high arches' or 'you have to be flexible.' I am neither of those things. I guess I love to bust the myth of ballet and want the world (America in particular) to understand ballet the same way they know about American football and gain more knowledge and respect for the arts in general."
For her MFA paper, she's researching the role of Black hair in ballet. "I am looking at challenging how Black hair styles are incorporated into the classical realm of ballet. As dancers we usually go from a bun to French twist; a couple of ballets allow dancer's choice. But that comes with the tradition of keeping the hair up to showcase the neckline, portray elegance. Can I still have a bun if it's cornrowed? What about a French twist made from flat twists? Let's not forget that many of these ballets are based on a certain hair texture but today, dance companies and dancers are questioning what ballet beauty looks like in the 21st century."
When it comes to finding ballet wear to match her skin tone, she has found a solution. "I am a Gaynor Minden Artist, so they've helped develop a pointe shoe in my skin tone. I also get their leos, warm-ups and gear. For me it's about simplicity, clean lines and clothing that will make me feel my absolute best."
Miranda Silveira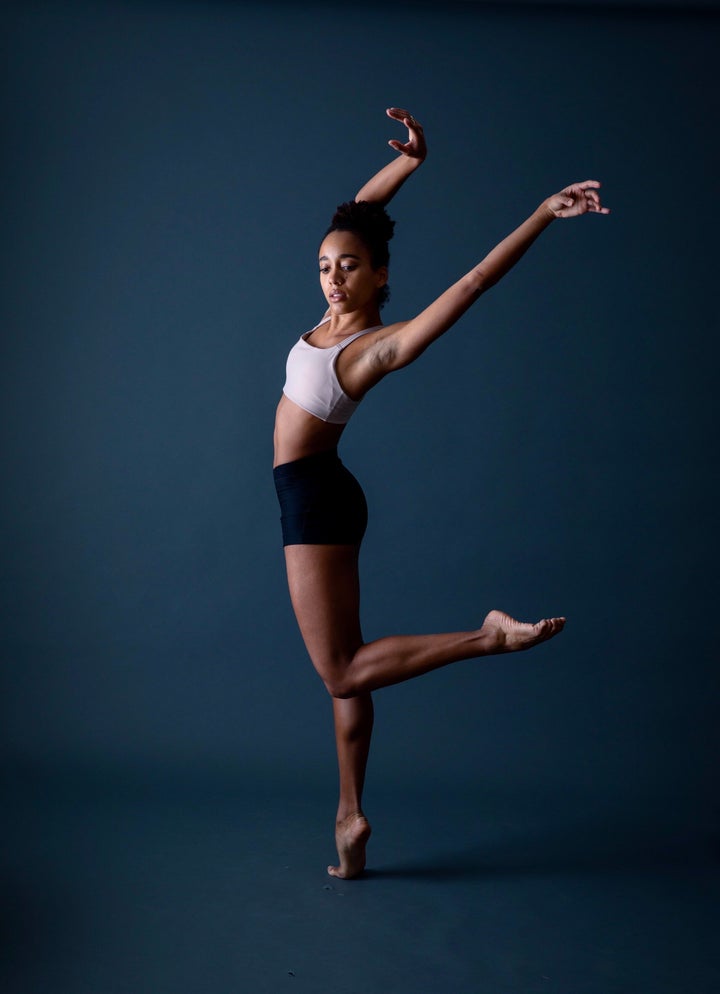 "We must rise for ourselves, for our sisters and for those who came before us and fought for us to be where we are now," said Silveira, who dances with the San Francisco Ballet. "Feeling represented in what you do for a living is crucial." She comes from a family with happy feet. "Dance has always been very present at home," she told HuffPost. "Dance parties often happen in the living room." Her mother danced for a New York-based jazz company and her father took dancing lessons for his acting career. "I've always seen the world in terms of movement ― maybe that's why I chose to dance," she said.
She was initially anxious that her hair and skin weren't ballet-appropriate, and couldn't shake off the feeling. "I have the kinkiest hair out there and it was a big worry of mine at work. It takes courage and a lot of self work to accept that you are you and what matters is how you dance and not what type of hair you have or skin color you are."
Silveira wears Yumiko leotards to work because they are well-made and last for years. "I've tried to stay away from pink tights for rehearsals and have only worn them for performances, where hopefully sooner rather than later we should be able to wear skin-colored tights and pointe shoes." (While contemporary ballet has embraced bare legs and flesh tone shoes, pink tights and pointe shoes remain a fixture in classical and neoclassical ballet.)
Raven Barkley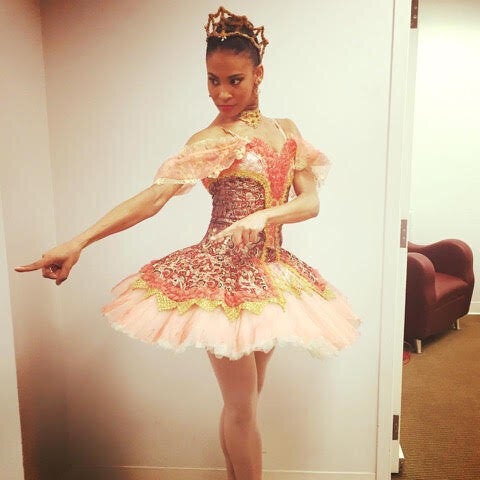 Charlotte-based Bronx native Barkley has been dancing professionally for five years now. "The thing I love most about being a ballerina is the beauty of it all," she told HuffPost. "I think it's awe-inspiring to be able to use the human body to create art and convey a message." She especially likes the idea of inspiring young girls of color: "I love receiving little letters and messages during Nutcracker from some of the young dancers at the academy. It warms my heart and shows me that in some sort of way I'm fulfilling my destiny."
In the studio, she wears Freed of London's custom shoe in bronze, a happy development that has eliminated the hassle of pancaking. Sometimes she likes to wear flesh-tone tights. "It completes my line and creates a beautiful aesthetic," she said.
Vaseline and its restorative properties are indispensable to her skin care routine. "Vaseline is definitely an ancestral favorite. My mother and grandmother and some of my late great-aunts all had a running joke that we were in for the night when we would "grease-up," meaning that it was bedtime when we would apply a bit of the petroleum jelly to our face."
Olivia Boisson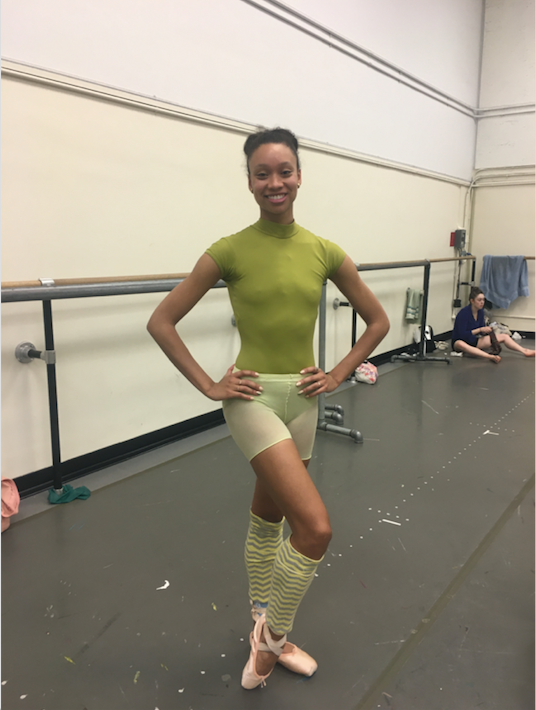 "I don't shop for dance gear all that often," Boisson, who dances with the New York City Ballet, told HuffPost. She's grateful for the new melanin-conscious thrust on product design by pointe shoe companies because "it makes girls feel like they're being factored in and being thought about deliberately. It's a huge step in making the ballet world more inclusive. More representation helps other young girls to see themselves in that role as well."
Since her hair is up in a bun for performances and rehearsals, she tries not to tie it too tightly so as not to break the baby hairs in the front. "For shows it's required to have a slick pulled back updo, so I just wet the front and add some leave-in conditioner before brushing it back."