A 29-year-old barber rallied support among his local community to give his 100-year-old customer a heartwarming birthday surprise.
Graham Griffiths, from Melksham, Wiltshire, regularly cuts pensioner Jack's hair in his shop.
As Jack's 100th birthday approached, Graham appealed to the local community for help organising a special treat for Jack. Both men were overwhelmed by the community's response.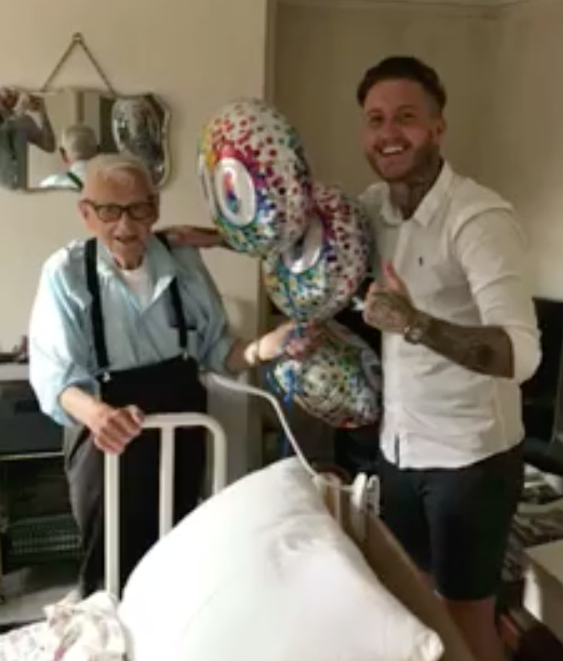 On 10 July Graham took to Facebook to ask friends, family and members of the local community to give Jack a happy birthday.
"The little old chap I have come in my shop, that I've mentioned before that doesn't have any family - it's his 100th birthday next Tuesday," he wrote.
"I'm thinking about getting a cake made for him, 100 years is incredible! Anyone locally able to do this for me please?
"If anyone fancies sending a birthday card to my shop for me to pass on, his name is Jack, he will be very grateful, he's a lovely bloke."
It wasn't long before local resident Ali Wilton offered to make a cake, complete with an icing figure of Jack riding his mobility scooter.
The barber was also inundated with cards from local residents, with almost 100 people sending their best wishes to Jack.
Graham delivered the cards and cake to Jack on his birthday along with a handful of balloons, much to the pensioner's delight.
Jack also seemed particularly chuffed to receive a £10 Greggs voucher.
The sweet video of Jack receiving his gifts has been viewed more than 40,000 times on Facebook, with hundreds of people commenting to praise Graham for his kindness.
"What a lovely thing to do, need more people in this world like you," one said.
Another added: "This is so thoughtful, be very proud of yourself! Well done."