 There's little in America that looks virtually the same as it did 55 years ago, but Barbie is an exception.
Over the years, Barbie maker Mattel has peppered the iconic doll with cosmetic fixes -- giving her a mod hairstyle like Jackie Kennedy in the 1960s, sending her to work in a skirt suit in the 1980s and turning her into an Olympic gymnast in the 1990s -- to keep up with Americans' changing preferences. Still, in popular imagination, Barbie is Barbie: The blond teenager with unrealistic proportions and delicate feet made just-so for stepping out in high heels.
The "disproportionately sized blond girl" is losing her appeal, said Matthew Hudak, an analyst at consumer analytics firm Euromonitor International. Instead of Barbie, parents are opting for dolls and toys less representative of the so-called the "princess culture" that teaches little girls they should strive to be white, thin, beautiful, and with a man.
"Parents aren't really going after Barbie for their daughters -- they're looking towards these other brands -- because Barbie has this running stigma that it creates a negative self-image for a girl," he said. "It's something that's been in the background for some time, and now it's really starting to develop more."
But if Barbie goes down, she'll fall as the icon Mattel created her to be, not as a doll catering to the whims of her critics. The company launched a campaign earlier this month featuring photos of Barbie and the hashtag "unapologetic," encouraging girls to follow Barbie's example and not apologize for how they look.
"Because Barbie is an icon, she often times gets dragged into the cultural conversation," said Michelle Chidoni, a Mattel spokeswoman. "Barbie is often asked to apologize for what she looks like, but she is who she is."
When Barbie first launched in 1959, she was controversial for different reasons. Unlike most other dolls on the market, she didn't look like a kid. She was 17, buxom and a fashion model. "Many people found her scandalous, and worried that she would make girls think about sex," said Elizabeth Chin, a professor of media and design practice at the Arts Center College of Design in Pasadena, Calif. Chin is working on a book about the doll as a cultural symbol, and how that plays out in how kids interact with her.
It's no wonder they were prudish. The first iteration of Barbie supposedly resembled a German sex doll named Lilli, who Handler spotted on a trip to Europe. Lilli's "main function in life was to try and chisel money out of men with her looks," according to Yona McDonough, the author of the Barbie Chronicles. (Mattel doesn't include Lilli in its official Barbie origin story, though McDonough and other historians have cited her as an inspiration for Barbie.)
McDonough said Barbie had more of an independent-woman bent than other dolls at the time. "There was definitely a subversive element in this doll because even though she conformed to a lot of the stereotypes of the day, the outfits kind of created identities for her," McDonough said. "Ken is an accessory, She's a bride but she is never a wife. The whole mythology did not include her being married."
Barbie's gumption and independence were part of what made her attractive to girls, Chidoni, the Mattel spokeswoman, noted, and she flew off the shelves within a few months of her launch. Barbie also transformed the toy and marketing world along with her, according to Chin.
"The first Barbie TV commercial is actually the first time that TV advertising is really aimed directly at the child," Chin said. "It's a changing moment of consumerism in America and the entire world, where they're now skipping the parents." Astronaut Barbie in the 1960s, 1980s and the 1990s.
"The history, certainly in the United States, of how families and mothers and girls have related to Barbie pretty much follows the other social things that are happening," Chin said.
Can Barbie keep up this time?
More moms and young women today are looking up to real live female icons -- people like Janet Yellen, who was named chair of the Federal Reserve earlier this year, Hillary Clinton, who could be the next U.S. president, and Tina Fey, whose humor and wit have won her acclaim. While many Barbies, including an Angela Merkel doll and a president doll, are modeled after powerful women, most associate the doll more with aspiring to own a Malibu dream house than becoming president. To some, giving a young girl a doll like that seems more out of touch than ever.
Karissa Taylor is one of those moms concerned about the message that Barbie could send to her girls. The 40-year-old Seattle attorney and mother of two said she knew from the day she had her first daughter that Barbies weren't welcome in her home. Taylor does what she can in the battle to draw some of her daughters' attention away from Barbies.
She brings her 5-year-old along with her to the gym and to watch women's sports, but images of "princess culture" have still managed to seep into her home, Taylor said. One recent afternoon, her 5-year-old came home from school complaining that she didn't want to wear a pair of pants because they made her look fat, and she wanted to look pretty like a princess, Taylor said.
"It's just everywhere," she said. "I caved in on the Disney princess stuff and kind of wish I hadn't. At least Disney has some kind of strong female figures, but Barbie I just don't get the same vibe."
In the past few years, more complaints have also surfaced about the doll's proportions. An attempt to imagine how a human with Barbie's same measurements would function in real life found she'd have to walk on all-fours, couldn't lift anything with her wrists, and would only have room for half a liver. But in an interview with Fast Company earlier this month, Barbie's head designer said there are no plans to change the doll's look, saying she "was never designed to be realistic" and there's an "issue of heritage."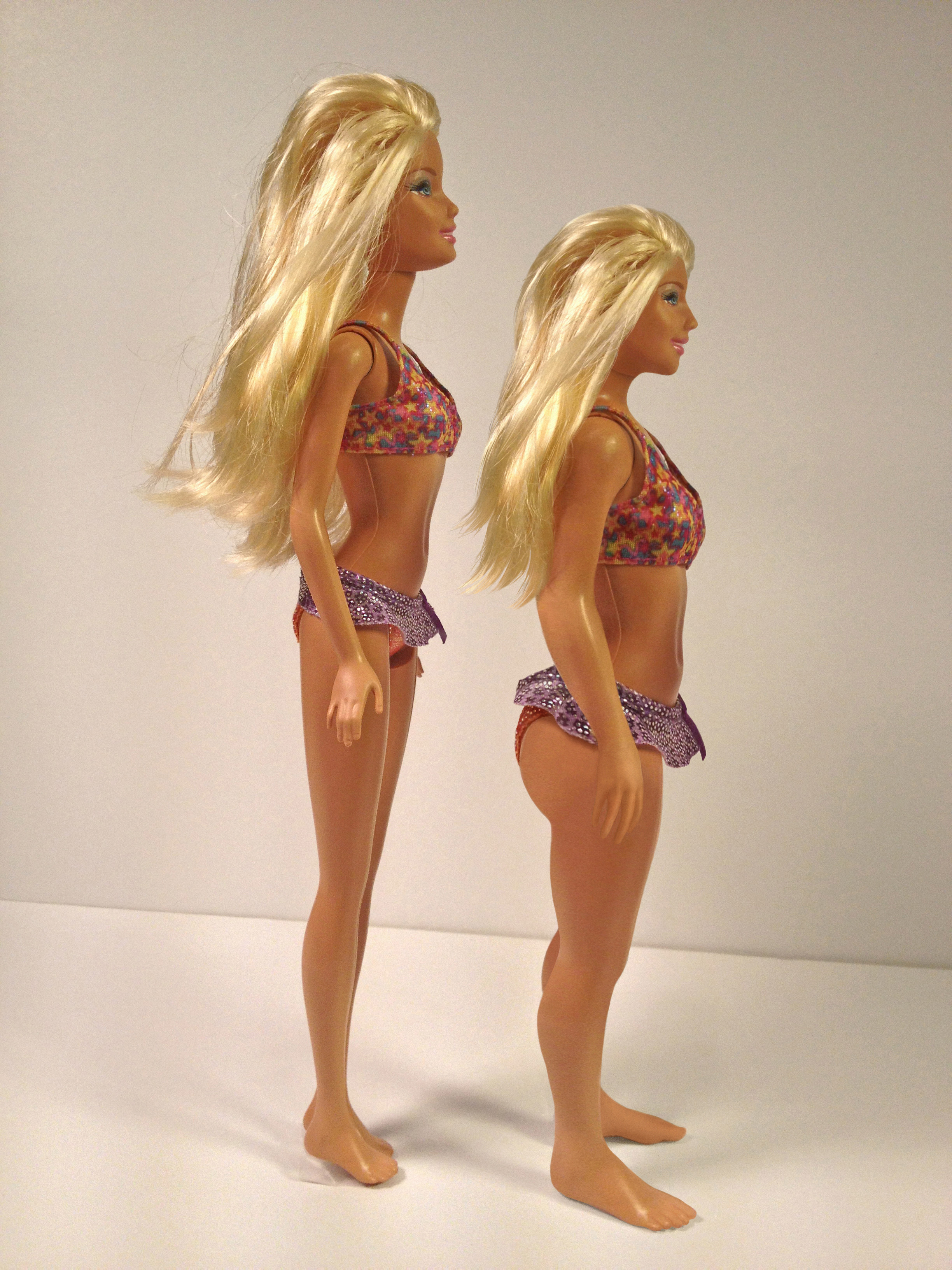 Nickolay Lamm's 3-D model of what Barbie would look like if she had the proportions of an average 19-year-old girl.
Chidoni, the Mattel spokeswoman, said the recent sales downtick isn't evidence that consumers might be changing their minds about the doll.
"As a 55-year-old brand we see ups and downs, but Barbie is an icon and she is a brand that girls continue to love," she said.
But Hudak, the toy analyst, said he expects things to get worse for the blond bombshell -- not better. As more American kids come from multicultural backgrounds, and interest in electronic games and toys continues to climb, Barbie likely will just become less attractive, he said.
"It's hard to think that the money is going to come back because future generations of kids will have more and more trouble relating to Barbie," he said.
But not all little girls are ready to throw away their plastic teen dolls just yet.
Tracy Stewart, a 46-year-old mom of two, said she always assumed she'd never buy a Barbie for her kids. "I kind of came up with a blanket response which was Barbie equals bad," she said.
Once her daughter started asking for the doll when she was about 6 and a half, Stewart said she decided that too much was being laid at the Barbie's petite feet. "I would watch my son playing Star Wars and making gun sounds, and never think that he was going to grow up and rob banks and use guns," she said. Since allowing Barbie into her home, creating Barbie stories with her daughter has given them an opportunity to talk about who her daughter wants to grow up to be, Stewart said.
"When I was young, my Barbies were essentially running a brothel, and I didn't grow up to be a prostitute," Stewart said. "Barbie takes a lot of heat and is sometimes more of a distraction from things that are actually really hurting girls. Now, I'm grateful for any toy that allows me to sit with my kids and hear what's going on in their heads. Today, Fruit Ninja is much more of an obstacle in my parenting than Barbie."
Chidoni also drew the focus to a child's experience with the doll. "If you watch your daughter experience Barbie through her eyes, it's very different from the cultural conversation that people have about Barbie," she said.
The way that Stewart's daughter plays with the doll is pretty typical of most girls, according to Chin, who has interviewed dozens of kids about their Barbie-playing habits for her research.
"Just because the company markets Barbie with a particularly kind of story, it's pretty clear that kids don't necessarily follow those scripts," she said, adding that kids do everything from chopping off Barbies' heads to making bowling games to creating Barbie porn videos.
"They're pretty complicated -- those darn kids -- and they're pretty smart," Chin said. "I'm less worried about Barbie than I am the culture that produces Barbie. At the same time, she is kind of this lightning rod representative of these things."
Related