A Tory peer has sparked anger after declaring that Britons caught out by the Spain quarantine changes should "accept the consequences" of booking a break "for pleasure" in a pandemic and should not be given any extra state help.
Baroness Buscombe, a former welfare minister, used an emergency Lords question on the row to criticise calls for fresh financial support to be given to workers forced to self-isolate for 14 days on return from holiday.
But she was quickly accused of "blaming the public" for Boris Johnson's chaotic handling of foreign travel arrangements between the UK and elsewhere.
Thousands of holidaymakers have had their plans disrupted after the government gave just a few hours' notice on Saturday that it was imposing a blanket quarantine requirement on everyone coming back from Spain.
On Monday, travellers were also told not to jet out to the Canary and Balearic Islands, even though the main sharp rise in Covid-19 cases has taken place in and around Catalonia on the mainland.
Labour, trade unions and other parties have all called for enhanced statutory sick pay to be made available to workers hit by the changes, but Baroness Buscombe was scathing.
"The trouble with Labour and the Liberal Democrats is they love spending other people's money," she said.
"They complain about austerity and then want to spend yet more of taxpayers' money on people who have chosen to take risks by travelling mostly for pleasure in the middle of a worldwide pandemic.
"Perhaps we should change the word 'pandemic' to 'plague'... Isn't it time to stop treating everyone as if they are incapable of taking proportionate risks and accepting the consequences?"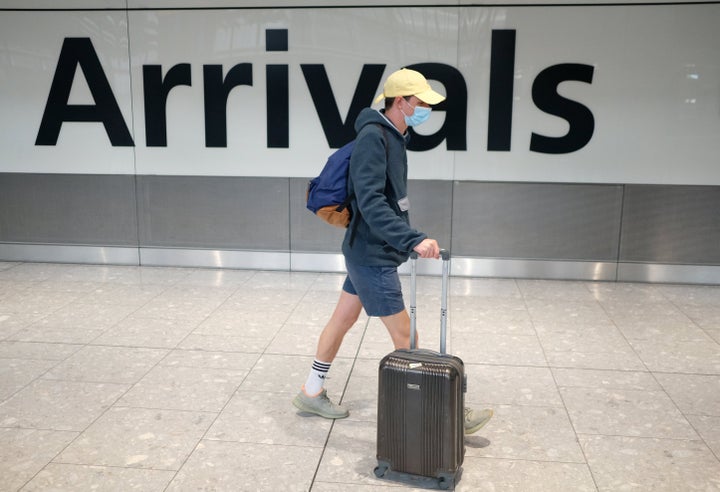 Buscombe, a former chair of the defunct Press Complaints Commission, then praised ministers for "doing absolutely the right thing" in acting swiftly to impose quarantine on travellers from Spain.
In answer, transport minister Baroness Vere replied: "I'd like to thank my noble friend for her comments.
"And of course to a certain extent she is right, whenever one travels during a pandemic or otherwise there are always risks that are simply not present when one is at home. And so at the moment with the pandemic the risks are much higher."
Baroness Vere stressed that the risks of travel could be "mitigated" with the right travel insurance and by booking with firms that offered flexibility to change the booking.
The minister had earlier said that some people may be eligible for Universal Credit if they face difficulties with employers refusing to pay their wages while they self-isolate on returning from abroad.
The row comes just a day after health minister Lord Bethell was accused of "blaming the poor" for their own deaths from coronavirus.
He had said that the disproportionate death rates were partly down to "the decisions that people make about social distancing, about their own health decisions…"
Labour's shadow Lords leader Baroness Smith was furious at Buscombe's comments and at the minister's apparent endorsement.
"I was appalled by Baroness Buscombe's comments but the minister really should have pulled her up on such deeply offensive views," she told HuffPost UK.
"Blaming the public for the government's own actions will seem deeply unfair to many."
Earlier, during her urgent private notice question relayed via video link, Smith had told the Lords: "The government has really failed to understand the practicalities and the financial impact of self-isolation."
The government advice to encourage employers to be "understanding" of those hit by the quarantine was "just not acceptable – and it is also totally irresponsible", Smith said.
"She and I are working from home today but for millions of people, usually in the lowest paid jobs, that just isn't possible. Even if employers are 'understanding', their landlords and others may not be. Pricing people out of self-isolation is dangerous – for all of us."
Transport minister Grant Shapps decided to break his own holiday in Spain on Monday, leaving his family in the country while he travelled back to help coordinate further government action.
However, he refused to rule out changing the quarantine rules to reduce the 14-day period to 10 days with the right kind of testing.
When asked whether 'regional travel corridors' could be introduced, Baroness Vere also gave further clues to possible changes to the rules in coming days.
She said: "For the time being we are taking the approach by country for border measures.
"But it is the case that it could be that we could put them in place for regions in the future. We are not there yet, but we are certainly looking at it because it is an appropriate consideration."
Tory peer Lord Hayward had also asked whether a new 40-minute covid test could be deployed at airports to avoid unnecessary self-isolation and loss of earnings on return.
"We are considering options to look at ways we can manage the risk of imported cases. We are looking at testing people on certain days...Obviously we would like to decrease the number of days in self-isolation if we possibly can."