The writer and former MP used a speech on Thursday night's Question Time programme to denounce the former Ukip leader over his apparent admiration of the Russian president.
She said: "I'll say to Nigel Farage that I think you are sucking up to this genocidal tyrant [Vladimir Putin], it's absolutely disgusting."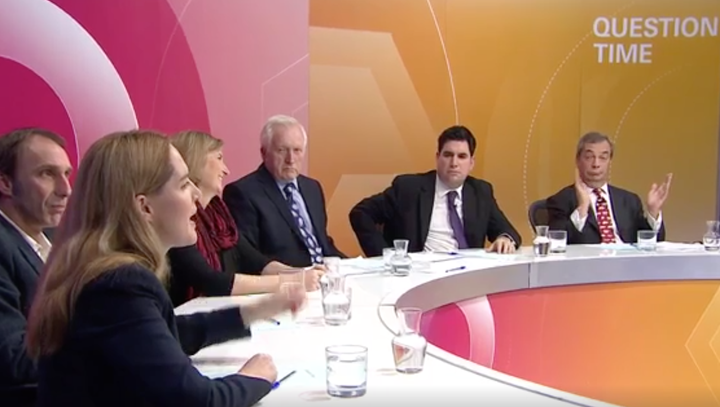 Watch the moment, above, read her speech in full, below.
I don't think that Boris was hard enough on the Saudis and instead of just saying it's a family war between two sides, Shia and Sunnis, I wish he'd said why are we giving money to this hideous nation that is Isis with an embassy, that treats women as slaves and chops off their heads in car parks and calls them terrorists if they drive.

We shouldn't have any sort of relationship with Saudi Arabia never mind sucking up to them as an ally.

What I like about Boris Johnson is he speaks his mind he is an intelligent man and he will stand up to Putin.

It's been a bit too much of a love fest tonight. I'll say to Nigel Farage that I think you are sucking up to this genocidal tyrant, it's absolutely disgusting.

This is a man that killed 20-year-old Richard [Mayne] and 10 other Britons, that shot down MH17.

The level of sucking up to this disgusting dictator is something that I hope Boris Johnson will put a stop too.

If he can stand up to the civil servants at the Foreign Office he'll be doing us a big favour.
Nigel Farage has previous spoken of his "admiration" for Putin.
Asked which current world leader he most admired by GQ Magazine two years ago, Farage replied: "As an operator, but not as a human being, I would say Putin.
"The way he played the whole Syria thing. Brilliant. Not that I approve of him politically. How many journalists in jail now?"
This week's panel included Tory MP Sarah Wollaston, Labour's shadow justice minister Richard Burgon, ex-Ukip leader Nigel Farage, writer Will Self and Louise Mensch, the author and former MP.
Popular in the Community