Nowadays, weight loss programmes aren't necessarily about getting thin, they're all about building healthy and strong bodies.
All you need to do is search the hashtag #FitNotThin on Instagram and you'll find almost 70,000 images showing amazing fitness transformations, workout videos and healthy meals.
The hashtag, which was originally created by The Sunday Times, has spread worldwide and is now a symbol of those who are looking to strengthen up.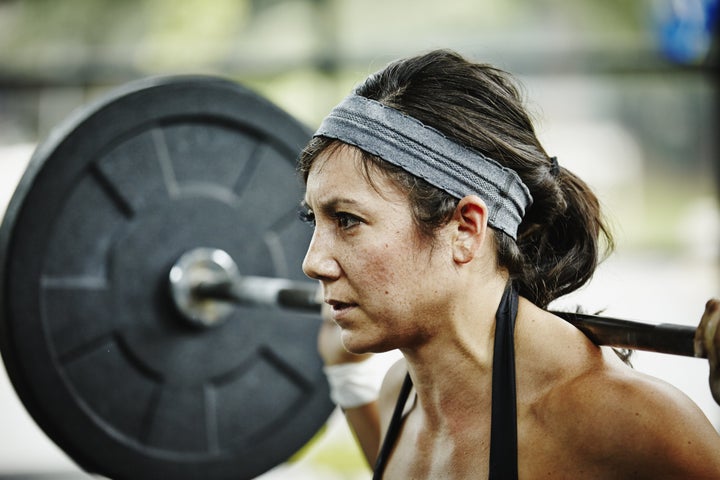 The quest for fitness and health isn't easy though and for many people it can take one hell of a lot of motivation to get started. However when they do get going, there's no stopping them.
From Kayla Itsine's workouts to The Bodycoach's 90-Day SSS Plan, here's how people on Instagram are getting fit, not thin, this summer.
Clean Eating
Clean eating isn't a diet, but more of a lifestyle choice which involves being mindful of a food's pathway between its origin and your plate.
For example, has it been manufactured or manipulated in some way? Or is it a fresh ingredient?
Simply put, clean eating is all about eating whole, natural foods that aren't processed or refined.
Alice, or Clean Eating Alice as she's otherwise known, is an advocate for clean eating and exercise. Thanks to her passion for cooking and dedication to keeping fit, she now has 288,000 followers on Instagram and has just published her first recipe and exercise book.
Sharing a snap of her transformation, Alice said: "Life has a funny way of surprising you. If you had told me in the photo on the left that I'd be publishing my first recipe and exercise book...I'd have absolutely laughed my head off.
"I guess we have no knowledge of how our paths may pan out, and that is the beauty of life. I can only pinch myself daily and be SO grateful that my passion to help, inspire and encourage others grows more and more each day."
Hitting The Gym
With the help of personal trainers and a shedload of motivation, people have managed to turn around their unhealthy lifestyles to build healthier, stronger bodies.
Through a lot of hard work and dedication, Rachel has managed to lose 100lbs (seven stone) in 15 months.
By teaming a healthy superfood-filled diet with an effective workout program tailored to her by a personal trainer, she was able to achieve her fitness goals.
Kristina is in the middle of her fitness journey. She has been hitting the gym hard over the past 90 days and, with the help of a personal trainer, has managed to change and sculpt her body.
She said: "This journey has no rules. No timeline. Just hard work and dedication. You will never see me quit!
"The last 90 days has changed and sculpted my body. I have never gone harder nor heavier. I'm a beast up in that place."
She added that she had always struggled with weight problems.
"A few years back I had just accepted that I would be fat forever," she explained in an Instagram post. "I wasn't happy about it. It actually was this darkness that affected every single part of my life. I was angry with God for making me this way.
"Little did I know what I was capable of.
"I made a change. I put in work. The little self love I had for myself realised I was worth health and happiness.
"It wasn't easy. Still isn't. But once I started seeing results it became addictive. I'm doing this for me and nobody else."
Fit Girl's Guide
Fit Girl's Guide provide a variety of weight loss bundles which offer meal and exercise plans to those looking to shape up.
Each bundle depends on what you are looking to achieve and in what timescale.
Natasha has lost 54lbs (just over three-and-a-half stone) with Fit Girl's Guide.
She said of her transformation: "Being able to see that my tummy has gotten smaller makes me super excited! Even though it's not as flat as I would like at least it's not like it was.
"Months of determination have brought me to the body I am in today and I couldn't be happier."
Naily said the picture on the left shows her prior to her fitness journey. The picture on the right is where she is now.
She explained that she was using the meal plan from Fit Girl's Guide mixed with workout programs by a bodybuilder on Instagram called 'Zoe Live Love Lift'.
"I would have never gotten to where I am at now without these awesome programs," she added.
The Bodycoach '90-Day SSS Plan'
The SSS plan, which stands for shape, shift and sustain, can help users adapt a healthier way of living by mixing 15 minute bursts of high-intensity exercise with balanced meals.
The aim is to help people shed excess fat and tone up, fast.
Ashleigh has so far tried four weeks of the plan and witnessed major results.
She said of her transformation: "Dare I say I enjoyed this cycle?! It was hard, don't get me wrong, but I definitely felt good when I had completed the HIIT workouts, it didn't take too much out of my day and I haven't once felt hungry!!
"I didn't feel like I had really lost any weight and was starting to feel a bit demotivated towards the end but now I have seen my photos it's given me the spring back into my step that I need to start Cycle Two."
Thomas shared before and after photos after trying Cycle 2 of the plan.
He said: "Really enjoyed this cycle.
"I have enjoyed the introduction of weights into my exercise routine although I still want to eat biscuits or chocolate.
"But as I am wearing clothes I haven't worn in years it motivates me to smash the next cycle."
Kayla Itsines '

Bikini Body Guide'
YouTuber Kayla Itsines has taken over the fitness world with her workouts.
Her 'Bikini Body Guide' costs $69.97 (roughly £50) and features a 12 week workout plan consisting of plenty of cardio exercises.
Each workout lasts for no longer than half an hour and, according to Itsines, you can see results in just one week.
Maegan has been following the Body Bikini Guide (or BBG) workouts since February 2015.
She said that it has "changed her life" and has helped her to tone up and get fit.
Nati is on week 66 of BBG. She said of her journey: "This is more than just having a bikini body or muscular body. It's the strength that I'm able to gain mentally and physically.
"The strength that I get every morning and night to continue living a positive life.
The courage I find within myself to try new things that will improve my way of living.

"The satisfaction I get from completing every workout and the feeling of being able to accomplish something I never thought was possible after giving birth.

"More and more women are embracing their strength and that's incredible to see. I love being part of this fitness community."
Weight Watchers
Weight watchers is a diet plan which helps to people to lose weight by encouraging them to make smarter food choices and become more active.
The plan is flexible in that people can either choose to attend weekly meetings led by a trained leader, do the plan online in their spare time, or opt to get the resources to do both.
One person who tried the Weight Watchers plan and reaped the benefits from it is Lobke. Since starting her fitness journey she has lost a total of 70lbs (five stone).
"I feel great," she said."I'm 70lbs down. That's an amazing achievement, especially for someone like me who never had determination and willpower ever!"
Slimming World
Slimming World, much like Weight Watchers, is all about teaching people to eat healthily and exercise.
Sometimes this means helping people to build an entirely new relationship with food.
Fiona weighed 15 stone 10lbs before joining Slimming World. After a lot of hard work, she lost more than five stone and now weighs 11 stone 4lbs.
She described herself as an "emotional eater" who has been overweight for as long as she could remember.
Fiona credited the Slimming World plan with teaching her how to have a normal relationship with food by eating healthily and avoiding binges.
"It's taken one year three months so far but this is a lifestyle change forever," she said.
"I've learnt to love exercise and have built up a serious love of running that has seen me change from being a non-runner to running 10k. I've just signed up for my first half marathon! This time it's forever. I'm never giving up."